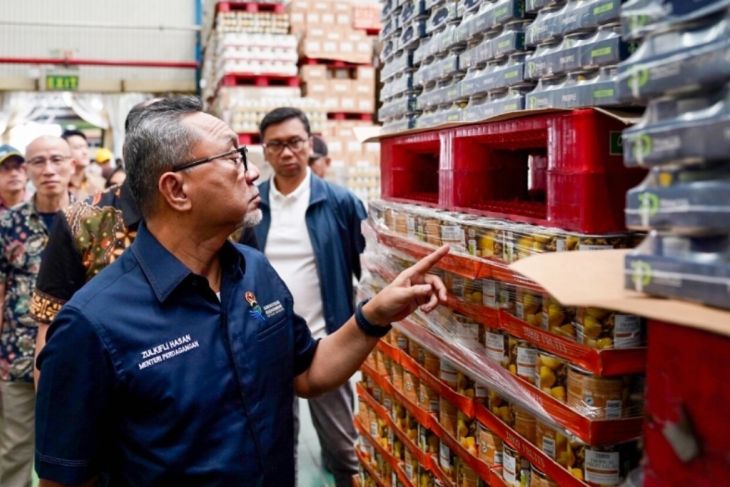 The Indonesian Ministry of Commerce is committed to increasing the export of horticultural products by removing export barriers through the establishment of cooperation agreements with partner nations.
INDONESIA'S Commerce Minister Zulkifli Hasan visited the PT Great Giant Pineapple (PT GGP) factory on 3rd March 2023 to examine the manufacturing and packaging procedures of processed pineapple goods in an effort to boost Indonesian horticultural exports. With an annual export value of US$350 million, PT GGP is known for its enormous daily production of 3000 tons of processed pineapples, making it the largest producer in the world.
According to the Minister, the Ministry is helping entrepreneurs who are having difficulties exporting to destination nations to promote these products. In his opinion, companies like PT GGP need support as they are sometimes treated unfairly by these countries. He said the government has a responsibility to assist Indonesian export-oriented businesses in removing such obstacles in recipient nations, particularly through trade agreements.
The Ministry is working to promote exports of horticultural products by promoting cooperation agreements with partner nations, such as the one with the European Union through the expedited completion of the Indonesia-European Union Comprehensive Partnership Agreement (IEU CEPA).
"This trade deal is anticipated to be finished in August. Entrepreneurs won't be required to pay import taxes for horticultural items to the European Union once it is decided," Hasan revealed.
Pineapples and bananas are also exported as value-added processed products with high export value and global demand, according to the Minister. Commodities have a wide-ranging impact on the national economy, particularly in terms of absorbing labour, increasing added value, and contributing to the growth of the country's foreign exchange through exports.
The total national pineapple production in 2021 reached 2.8 million tons where Lampung ranks first in Indonesia as a pineapple producer, with a total production of more than 700 thousand tons, followed by South Sumatra, Riau, Central Java, and West Java, (source: Statistics Indonesia / BPS). As for bananas, Lampung ranks third in Indonesia, with production reaching 1.12 million tons in 2021.
For further details about the Commerce Minister's visit, click here.