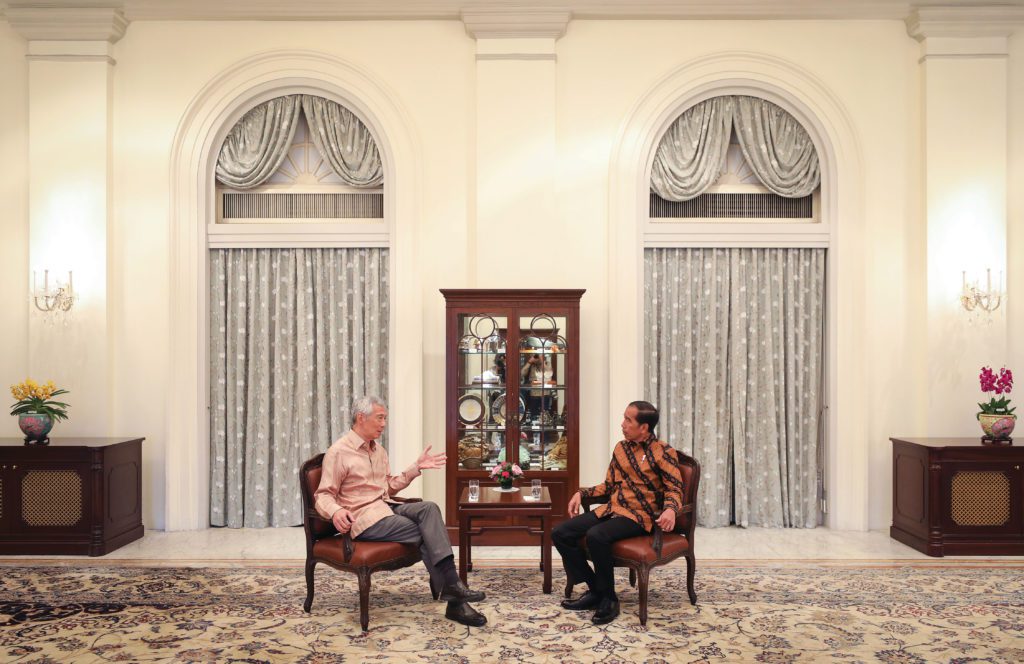 President Joko Widodo made two visits within months of each other – the Leaders' Retreat in March and a one-day visit in June to Ecosperity underscores closer ties and more areas of mutual cooperation in a wide range of sectors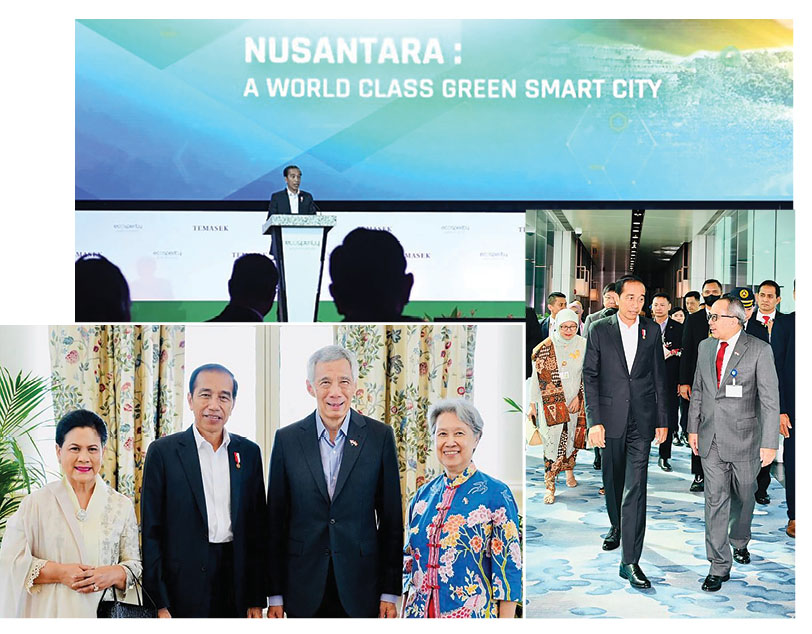 PRESIDENT Joko Widodo met Minister Lee Hsien Loong in Singapore on 16th March and followed it up with a one-day visit in June to secure cooperation from the Island Republic to participate in the development of the upcoming Ibu Kota Nusantara (IKN) or the capital city of Nusantara in East Kalimantan. The visit in the first quarter was for the sixth Singapore-Indonesia Leaders' Retreat with President Jokowi and the first to be hosted in Singapore since the COVID-19 pandemic. Both Leaders reaffirmed the excellent relations between Singapore and Indonesia and agreed that the bilateral relationship had strengthened substantially over President Joko Widodo's two terms as President, providing a solid foundation to develop new areas of cooperation that are deep, multifaceted, forward-looking, and mutually beneficial for future generations.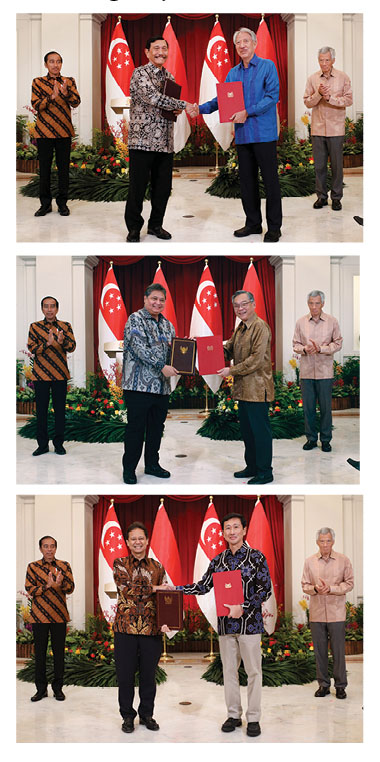 Agreements Ratified
The Leaders welcomed the ratification of all three agreements under the Expanded Framework, namely:
Agreement on the Realignment of the Boundary between the Jakarta Flight Information Region (FIR) and the Singapore FIR
Treaty for the Extradition of Fugitives
Defence Cooperation Agreement.
The Leaders looked forward to the completion of the next step of obtaining approval from the International Civil Aviation Organisation for the new arrangements under the FIR Agreement,
so that both countries can bring all three agreements into force on a mutually agreed date. The resolution of these longstanding issues is a testament to the strength and maturity of our bilateral relations.
Prime Minister Lee and President Joko Widodo agreed to deepen cooperation in sustainable and forward-looking areas of mutual interest. To this end, the Leaders' witnessed the exchange of six Memorandums of Understanding (MOU) in emerging sectors like the digital
economy, sustainability, and human capital development, as well as in traditional areas
like security. The Leaders noted the development of the digital economy in Singapore and Indonesia through cooperative projects like the Nongsa Digital Park in Batam. The Leaders welcomed the MOU on the Tech:X Programme between the Singapore Ministry of Trade and Industry and the Indonesian Coordinating Ministry for Economic Affairs, which allows young
tech professionals in both countries to undertake work opportunities in each other's markets. This will deepen networks between Singapore and Indonesia's tech
Sustainability & Renewable Energy
Focusing on common interests in sustainability, Prime Minister Lee and President Joko Widodo welcomed the signing of the MOU on Renewable Energy Cooperation between the Singapore Prime Minister's Office and the Indonesian Coordinating Ministry for Maritime Affairs and Investment. The MOU will put in place a framework for commercial cooperation on the development of renewable energy capabilities, transmission infrastructure and cross-border electricity trading. The Leaders also witnessed the signing of an MOU on Sustainable Urban and Housing Development between the Singapore Ministry for National Development and the Indonesian Ministry of National Development Planning, to facilitate knowledge-sharing and training in sustainable infrastructure development.
Human Capital Development
Prime Minister Lee and President Joko Widodo recognised that people remained the most important resource of both countries and witnessed the signing of MOUs to invest in human capital through knowledge-sharing, capacity-building and training across various sectors. This includes the MOU on Health Cooperation between the Singapore Ministry of Health and the Indonesian Ministry of Health, and an MOU regarding Collaboration on Knowledge Sharing, Capacity Building and Research between the Singapore Centre for Liveable Cities, Ministry of National Development, and the Indonesian Nusantara National Capital Authority. The Leaders also welcomed the announcements on new projects under the Human Capital Partnership Agreement between the Singapore Ministry of Education and the Indonesian Ministry of Education, Culture, Research and Technology, and the renewal of people-to-people exchanges in vocational training and between the respective civil services.
Visit to Ecosperity
On June 7, 2023, Indonesian President Joko Widodo embarked on an under-24 hours working visit to Singapore and Malaysia. The highlight of his Singapore itinerary was his participation as a speaker at Ecosperity Week 2023, a prestigious annual sustainability event organized by Temasek Foundation. President Widodo, along with his wife, First Lady Iriana Joko Widodo, was graciously hosted by Singaporean Prime Minister Lee Hsien Loong and Mrs. Lee for a lunch reception.
President Widodo and First Lady Iriana also played host to Prime Minister Lee and Mrs. Lee at the 42nd ASEAN Summit held in Labuan Bajo, Indonesia, in May. Such reciprocal visits underline the strong bilateral relations and cooperation between Indonesia and Singapore.
Ecosperity Week, held at the Sands Expo & Convention Center, brought together an esteemed gathering of investors, government officials, and academics. President Widodo utilized this platform not only to deliver a special address but also to promote investment opportunities in Indonesia. He emphasized key sectors such as energy transition, green infrastructure, and the development of the new capital city, known as Ibu Kota Nusantara (see accompany box story). The President's proactive approach to attracting foreign investments aligns with his administration's goal of boosting Indonesia's economic growth and sustainable development.
---
Invitation to Participate in IKN Development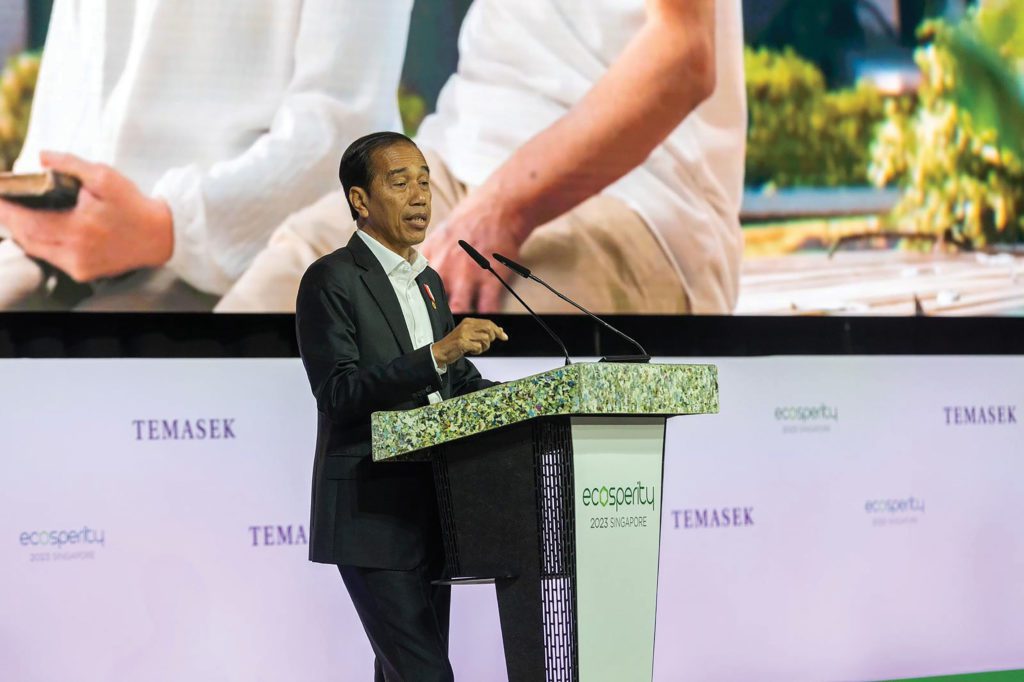 During his speech at Ecosperity Week 2023, President Joko Widodo urged Singaporean investors to seize the golden opportunity to participate in the development of Indonesia's new capital city; he also emphasized that this was a unique chance for investors to be part of building a future-proof smart city with a nature-based concept.
"I advise you not to wait too long. This is an incredibly attractive golden opportunity in Indonesia, and you can be a part of it," stated President Jokowi during his address at the Sands Expo and Convention Center.
President Jokowi highlighted the fact that Nusantara would be a comfortable place for both business and living conditions. The development of IKN has already commenced, with the construction of essential infrastructure and government centers targeted for completion next year.
"For the private sector, in the initial stage, we have prepared 300 investment packages worth a total of USD 2.6 billion in various sectors such as housing, transportation, energy, technology, and others," he added.
Furthermore, the President expressed Indonesia's commitment to green energy and green industry development. As a first step, the country has established nurseries in two different locations nationwide, with an annual capacity of 16 million seedlings in Rumpin and 15 million seedlings in Mentawir. President Jokowi also highlighted Indonesia's significant potential in renewable energy, estimating it to reach 434 gigawatts from geothermal, wind, solar, biofuels, and hydro sources. The country boasts 4,400 rivers, including the Kayan River in Kalimantan Island, which serves as a green energy source for the Green Industrial Zone in North Kalimantan.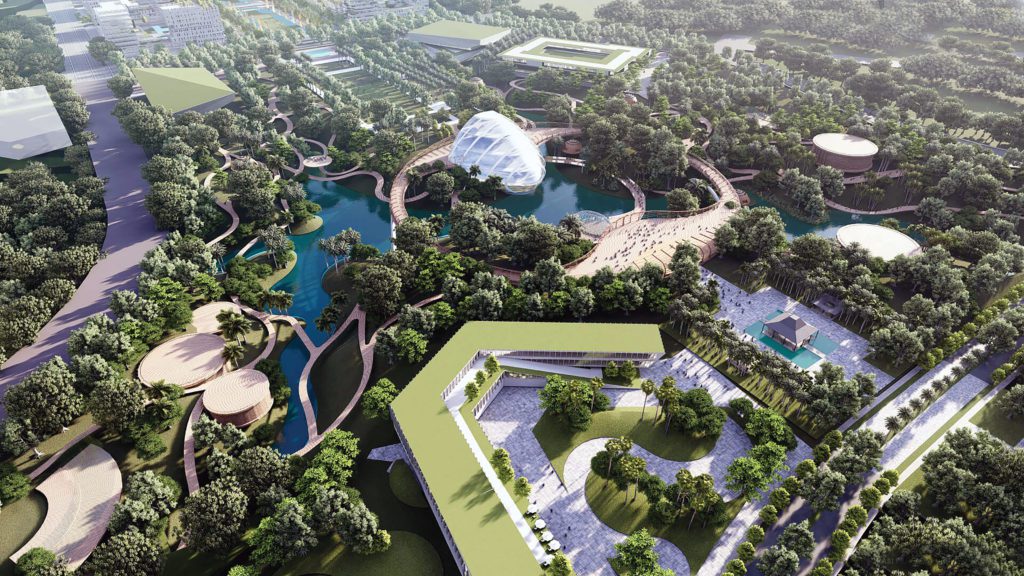 ---