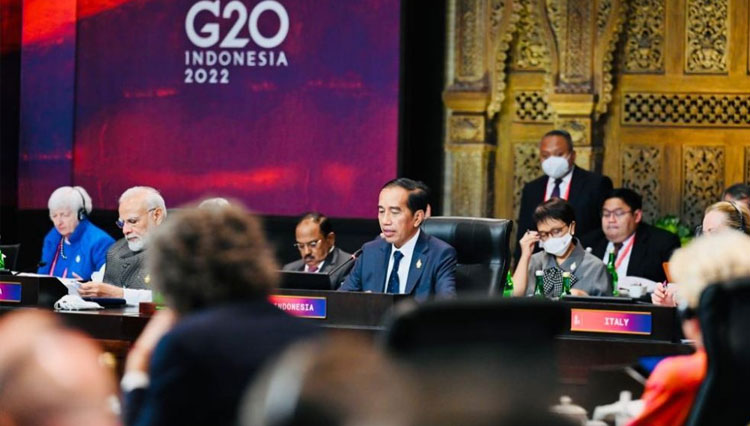 The President of Indonesia Jokowi or also known as Joko Widodo granted with the Global Leadership Award. The award was given by the Indonesian international relations community, which consists of the Foreign Policy Community Indonesia (FPCI) and a number of other associations, due to Jokowi's role during the Indonesian presidency at the G20 Summit 2022 in Bali
THE founder and leader of FPCI, Dino Patti Djalal said that the awarding night will be held at the same time the Conference on Indonesian Foreign Policy (CIFP), Saturday (26/11/2022) last two days.
As reported by Times Indonesia: "The last eight years, this is the best achievement of President Jokowi's foreign policy. The last eight years, there have been many foreign policy activities related to various things, but I think this is the most significant," Dino spoke, quoted from Antara.
Dino stated that the successful of the G20 Indonesia Summit 2022, amid a world situation that is in a crisis, is something that deserves appreciation. According to him, the successful of these event is not a small achievement.
"I believe Indonesia's history will also record this G20 presidency as a golden moment in Indonesian foreign policy, then we want the public to know that this is not a trivial matter, however something that should be appreciated and even proud of," he said.
He added that under the leadership of the President of Republic Indonesia Joko Widodo, the G20 Indonesia succeeded in mediating concerns that came from various parties related to the G20 itself as a forum that accommodates the world's 20 largest economies. Especially with the war in Ukraine.
Furthermore, many views that the G20 is already very divided and plunged into an atmosphere of feud that is difficult to bridge. In fact, during this year a few G20 meetings at the ministerial level were unable to produce a joint document, leading to speculation that a joint declaration could also not be reached at world leaders' level at summit conference in Bali.
For the full report visit here.