By Henny Scott
IndoConnect Art Correspondent, Henny Scott recently led a group of artists, collectors, gallerists and art enthusiasts from Singapore and the USA on a Bespoke Art Tour to Bali meeting luminaries in the art world, some in their homes and inner work sanctums!
Agung Mangu Putra
Born in Bali in 1963. Mangu Putra finished his education in Visual Communication Design at Institut Seni Indonesia Yogyakarta (Indonesia Institute of the Arts Yogyakarta) in 1990. After graduation, he worked as Graphic Designer for 7 years and eventually decided to engage in full time career as a painter in 1998. Obviously it was the right decision to visit Pak Mangu Putra who is regarded as one of Indonesia's most respected painters. In the early stage of his career, the works created were primarily focused on nature and environmental issues of Bali where he lives. However, recently, he has been conducting a lengthy investigation on Balinese history and the experiences of his own family. Through his paintings, he expresses his feelings and thoughts, following lengthy interviews he has conducted with people who informed him of their past personal stories which have never been documented before!
Mangu Putra's home and studio is in Denpasar, a fabulous space with separated quarters of residence, art studio and viewing gallery, and family temple. It was a treat for everyone to discover this hidden gem, which is not open to the public. The works by this multiple award winning artist have been featured at Jeju Museum of Contemporary Art (Korea), Ho Chi Minh City Fine Art Museum (Vietnam), Seoul Museum of Art (Korea), Museum of Contemporary Art (MOCA), Shanghai (China), and Haus der Weltkulturen, Berlin (Germany) and most recently at Art Stage Singapore, Art Fair Philippines and the inaugural Art Stage Jakarta (2016). Our group enjoyed a lively conversation and a delicioius afternoon tea spread prepared.
 Made Djirna
Fresh from viewing his significant works of different mediums including vintage boat, thousands of ceramic figurines and found object entitled 'Beyond Border' or Melampaui Batas at 2016 Singapore Biennale, discerning art lovers eagerly visited the studio of Made Djirna in Ubud.
A highly versatile artist whose works range from abstraction to figure inspired by Balinese primitive art. His works have been exhibited widely in Indonesia, Singapore, Australia, Canada, Malta, Switzerland, United States and other countries.
Made Djirna's home is located opposite Kedewatan cemetery and the moment you enter, you know that you have arrived in a house of a Balinese Artist who is clearly fascinated by depiction of good and evil spirits, highly spiritual and primitive.
The absence of bright light added the drama. However, the friendly artist soon emerged and comforted us. Oom Djirna, as we call him, was born in 1957, started painting from a very early age and grew up in a world of Balinese spirit and mythology.
Like most of his celebrated fellow artists, Made Djirna also attended Institut Seni Rupa in Yogyakarta and graduated in 1985. The participants enjoyed the debate and discussions that ensued on the works created by Oom Djirna. The artist has received numerous awards and it is not surprising that his works have been collected by important institutions such as the Singapore Art Museum, The Northern Territory Museum of Art & Science (Darwin, Australia) and many other institutional collectors.
Made Bayak
Made Bayak has called himself a Seniman Gadungan or fake artist. Born in 1980 in Tampaksiring, Gianyar, he showed promising artistic and musical talent from an early age. He went on to study at the Indonesian Art Institute (ISI) Denpasar, where he spent seven years to complete his studies and it was there he also met his future wife, Komang Kartika Dewi on campus. They have one son, Damar Langit Timur, another gifted artist who began creating figurative representations on his own when he was just two years old. The family collaborative art works were shown in a unique art exhibition proudly presented by Nusa Dua Beach Hotel & Spa from 22 March to 22 June 2017 entitled 'Arm our Family.'
In this exhibition he and his wife emphasized the importance of parents and adults being positive role models to children and to impart to them the tools of knowledge and holistic education to inspire their budding creativity and imagination.
Made Bayak is also an active environmentalist who raises awareness about the need for plastic waste management through his art works and workshops. He has also created a series of art projects themed "Plasticology," a concept that fuses the words "plastic" and "ecology." It is an ongoing project as he plans to exhibit other works within the "Plasticology" series, in other exhibit settings in the future. Made Bayak exhibits his works regularly in Bali and recently exhibited in Germany and Poland and was one of the distinguished nominees of Singapore's prestigious 2013 Sovereign Art Prize.
Recently, I invited him to conduct workshops for students at Widhya Asih orphanages and UWCSEA Dover during the school's annual Bali Bridges visit (see photo below). It shows Made Bayak with UWCSEA Dover students and Children from Widhya Asih Orphanages. Widhya Asih is a Bali Children Foundation, and a Non-Profit Organization working to eliminate poverty through education, charity, sponsor projects. UWCSEA has been supporting the centres for 11 years.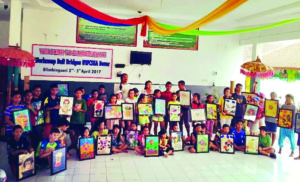 Nyoman Sujana Kenyem
Born and living in Sayan, Nyoman Sujana Kenyem is very popular with art lovers visiting Ubud. No visit is complete without visiting Bli Kenyem Studio a stone throw away from the Four Season Resort. He pursued study in the local art school in Denpasar and progressively moved on to abstraction in which he develops a discourse about the place of humans that begins in nature. His works are highly distinctive as he created repetitive patterns. Bli Kenyem as he is better known, enjoys a successful career and many art lovers who follow his works in Instagram are becoming more familiar with his works without even visited his works in the studio or an exhibition. Bli Kenyem has exhibited his works in China, Korea, Malaysia, Myanmar, Singapore and Sweden. He is one of the many artists who taken advantage of social media platforms to promote his art and engage with international art lovers.
To join a Bespoke Art Tour, please contact Henny Scott IndoConnect's Art Correspondent for the upcoming trips to Bali, Bandung, Jakarta and Yogyakarta email at ghjscott@gmail.com