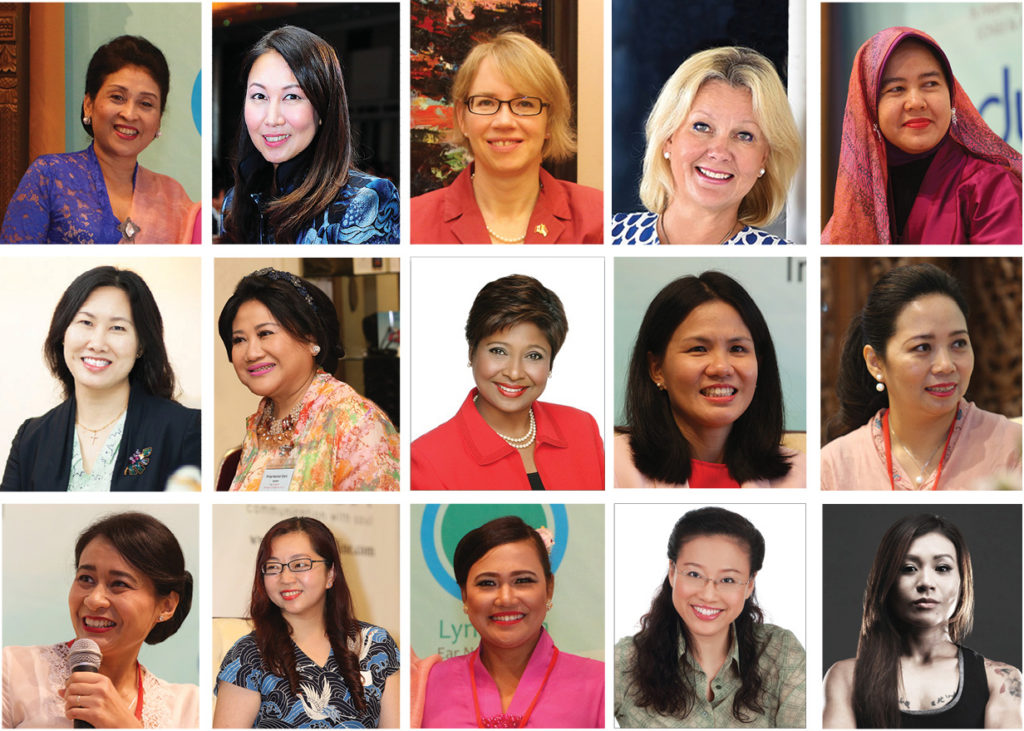 IBU Kartini's POWER Transcends Borders
Contemporary issues facing women are discussed at the IBU POWER Women's Conference by influential Indonesian, regional and international speakers
The year 2017 is a hallmark year as Indonesia and Singapore celebrate RISING 50 to commemorate half a century of diplomatic ties, and Sun Media Pte Ltd, publishers of IndoConnect Magazine, marked this auspicious occasion by organising the well-attended IBU POWER Women's Conference. The conference — based on the theme of 'women working together to inspire and empower each other', not only emphasised regional collaborations, but also celebrated the life of a hero from the Asian region – none other than a woman of exceptional vision in her times—Raden Adjeng Kartini – more popularly known as Ibu Kartini amongst her fellow Indonesians. The conference, held on Kartini's birthday, 21st April, highlighted the inspiration she provided to the women's emancipation and empowerment movement throughout the Indonesian archipelago; it also paid homage to the relevance of that movement to women today.
The event presented 16 accomplished panelists, moderators, and speakers, not just from Indonesia and Singapore alone, but from several other countries as well. These speakers, drawn from the varied disciplines of medicine, wellness, diplomacy, social service and also from the corporate world, came together and spoke about the different ways of understanding women's issues, their strengths and the challenges they faced in their world. The event was supported by the Indonesian Embassy in Singapore. HE Ngurah Swajaya, the Indonesian Ambassador in Singapore, welcomed the 300 special invitees from Singapore, Indonesia and other participating countries. The guests included the members of Diplomatic Corps, the heads of institutes and representatives from various women's organisations.
Kartini Life Story
Sharing a brief introduction on Ibu Kartini's life in his opening address, HE Ngurah Swajaya narrated how Kartini came from a wealthy family, but still could not continue schooling after twelve, as she was married early in accordance to the Javanese tradition of the time. However, soon after, she began writing numerous letters that were later compiled into books: Out of Darkness to Light, Women's Life in the Village and Letters of a Javanese Princess. In total, there were about 160 letters, many of which spoke of
the importance of education for girls and women, and about how girls should receive the same opportunities for education as boys. In HE Ngurah Swajaya words, "she talked about many other topics, including socio- politics, welfare of the people and was always fighting against inequality". The ambassador highlighted how Ibu Kartini did not agree with the social norms and systems of her time, and continued, "if she was alive today she would be happy but not satisfied, as there is still a lot to be done." Linking her story to the day's event, he further added that the conference celebrates the successes that have already been achieved and it discusses how "we can further advance Kartini's cause not only
in Indonesia and Singapore, but also in the world."
Nobel Cause
HE also expressed his appreciation to the panel speakers who had taken time to share their perspectives and who continue "working together in this noble cause". He especially thanked his counterparts from the High Commission of Canada in Singapore, HE Lynn McDonald and Ambassador of Finland in Singapore, HE Paula Parviainen, who participated as panel speakers. The Ambassador also highlighted how the topic of Ibu Power was timely for the region, as the year marked the 50th anniversary
of ASEAN. According to him, the issue of women empowerment crossed all borders, and ASEAN was "dedicating a special committee on women empowerment for advancing the role of women in every sphere in society."
He summed up by saying that he was confident that a "positive inspiration can be developed by our distinguished and influential speakers" and the participants "will give further inspiration to our younger generations."
The Ambassador ended his speech with a note of thanks to all the sponsors. He also thanked Mrs Nomita Dhar, publisher of IndoConnect Magazine, who had been "very active and creative – adding many ideas" and he further mentioned that without IndoConnect's support and participation, "this event might not have been possible." In tribute to Ibu Kartini, the Ambassador lastly thanked his wife, Ibu Mahaswi Swajaya, who also chairs the Dharma Wanita Persatuan (the Indonesian Embassy's Women's Association) for co-organising the event.
Meaning of Ibu Power
Ibu Mahaswi Swajaya, the wife of the Indonesian Ambassador in Singapore HE Ngurah Swajaya, paid homage to Ibu Kartini by quoting the lyrics of a song dedicated to her. The song spoke of Kartini's grand ambitions for Indonesia and her belief in the power of education for women for a better world. Ibu Mahaswi Swajaya further explained that the theme 'IBU POWER' was chosen to emphasise the influence of women, which encompasses the capacity and energy to influence or form something that can be represented in its simplest form – a candle or fire – to something as big as the sun. "So the power of an ibu can be as delicate as the candle or as strong as the sun," she said. Ibu Mahaswi, a lawyer by training herself, said she was proud to see how Indonesian women of today are more involved in the community, government and business, and how in many areas things have changed for them.
"It is
said we are now more independent and there are more opportunities for us to be financially independent. It is changing the stereotype of the man being the sole breadwinner of a family. I can also see more married women whose husbands are coming round to support their wives' careers. Having said that, I have also seen many women, who are happy to make the choice to leave behind careers and take up traditional roles as homemakers – I am one of them," she added.
She also said that it was with great pride that the Indonesian women enjoy the luxury and flexibility to have these options and a voice in society. Through the IBU POWER Conference she hoped that the women in Singapore and Indonesia, as well as other countries represented that day would be able to discuss the challenges that they face. "I believe that if we bring together the power of ibu – as what we are doing today – we can bring about a powerful influence and support for bettering the community of our children and future generations." Finally, she urged all the ibus to, "be strong women" so that "your daughter has a role model and your son will know what to look for in a woman when he becomes a man." This thought resonated with the audience and the speakers alike, and many subsequent speakers found inspiration in her statement.