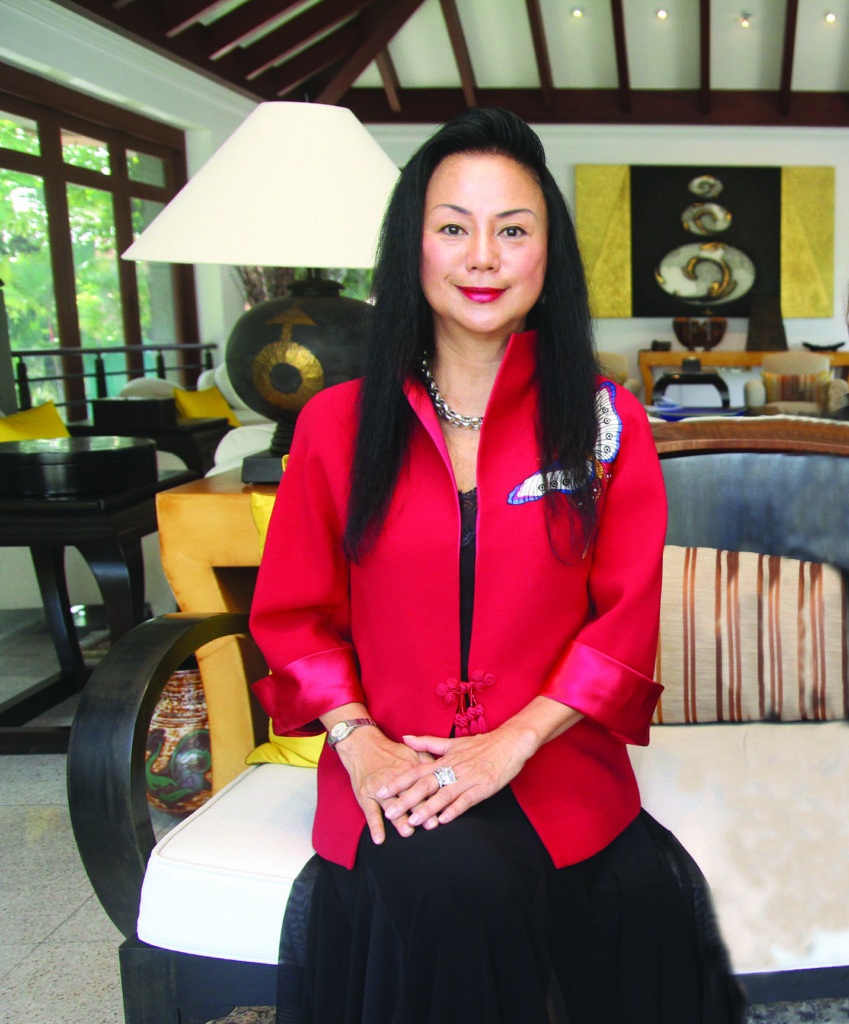 The award-winning entrepeneur, social activist and author was interviewed by IndoConnect's Editor in Chief, Mrs Nomita Dhar, digging deep into her personal history and family ties, to reveal the pivotal role they play in one's learning curve as an adult, in a world fraught with challenges
The lessons she learned as a child, from her mother and grandmother, living in a two-roomed flat in the multi-ethnic quarter of Race Course in the Singapore of old, have moulded the life of one of island nation's most successful female business entrepreneurs, Claire Chiang the co-founder of Banyan Tree Hotels and Resorts. If anything the story of Claire today is a beacon of hope for women across the world who feel mired by their circumstances—not only by those who put up walls around them…blinkered parents, husbands, families…organizations— but even themselves.
Raised by two strongly protective, courageous women, who beat the odds to make a life for those in their charge, Claire wants women to break the walls and get out there —not just for themselves but for generations of young girls who will be born of their line and will carry on the legacy of individuality, independence and empowered responsibility of their own lives and those around them.
Childhood Landscape
It is from her mother that Claire Chaing, as a Tomboy in a family of five elder brothers and five boy cousins, learned the wisdom and imbibed richness of how to live in an integrated ethnic community with grace and joy and friendship and affection, giving and sharing. It is from her paternal grandmother, her great support and co-conspirator (when she was out on a date) that she learned about womanliness and creativity. These twin fundamentals were to play a very important part in her work area years later when she set up her hospitality business with her husband. With ownership of resorts and hotels across 28 nations Claire put to use her basic skills and comfort level of working with her team drawn from different nationalities around the world. It was her exposure to creativity from her grandmother— and later a friend, who introduced her to local crafting skills which opened up the avenue for the retail business of handicrafts for her company. Look to your personal history (is her common refrain), to remember your genetic history that brought you to where you are today….use it to anchor yourself, find inspiration in things you learned when you were young.
True Grit
Invaluable for a woman are heroes who mentor her in honing her own skills to deal with the trials and tribulations in the journey of life. What sustained her, Chiang says, is the spirit of resilience she absorbed from her grandmothers and mother. Her maternal grandmother – for folding up her tent and quitting Malacca with her daughter – and uneducated though she was, to have the guts to make a new life for them in Singapore. And her mother, despite being abandoned as a child, by her father, and raised by a single parent, the breast cancer (Claire was only 17 at the time), or the stroke (when Claire was in her 20s) her mind was razor sharp as was her determination that all her six children got a good education and solid moral values at home to take them forward.
Getting over it… the hard lesson life teaches you when things go so completely wrong and learning to just move on and survive, has been one of the most precious lessons she wants to share with women who are too frozen to act when terrible things are done to their body and spirit. Never give up. Get up and get on with living life, for life gives no quarter to anyone, she urges.
Parenting and the Legacy for your Children
Children are the hope for future generations, and time and again the women speakers at the IBU POWER Conference could not stress this strongly enough. For Ms Chiang the most important legacy she would leave her three children was the power of choice as individuals— driven by two fundamentals of life. No matter the wealthier circumstances they grew up than she did as a child, true success is not God-given or something one can buy. It is something you can only achieve by your own hard efforts. It's about how much work, and the quality of that work, you put into it to get there. The other fundamental—don't whine—it's not going to get you that school programme or that award. You made the effort sure…but you did not perform. So move on—work harder and perform better next year.
Privilege, clearly, has never been the driver for achievement, for the Chiang children. Happy about their development (no drugs…no getting into trouble) she believes their academic achievements and what they are today are rooted in these teachings she inculcated in them as a mother. 'They can do whatever they like now, they have integrity and the qualities that I respect, and this is something I am grateful for. As to what they will become—this is their own destiny. They have to create their own dreams and destinies and then the credit is entirely theirs. I am besides them to pick them up should they fall. I am there should they need counseling. I am there to assist —but they have to walk this journey on their own,' says Claire.
She feels women should not spend so much time pushing their children to be competitive. 'We must teach, coach, demonstrate, explain and communicate the value of things— the value of household sharing, the value of marriage and family, of gender equality, of friendship of sports of water conservation…' she points out.
We are Family
The deep reserves to cope with life evolve from recognizing the fact that nothing can take away from the collective family history and memory you have built together— and this is one of the most important binding forces to keep a family unit together. You cry together…you fight with each other, you laugh together you share precious memories together, says Claire—and that is what one has to cherish —and what one cherishes one defends. It is the best foundation for tackling the troubles we are beset with on life's journey
Girl Power
Many speakers at the IBU Conference talked of the painful reality of the terrible things that some women all over the world face…the physical and mental abuse…the neglect and how overcome they feel by their circumstances to improve their lot. Ms Chiang is saddened by it but also is of the firm belief that one can overcome any brutality and bullying by the other—it could be a husband… a father… a mother …a boss or even a friend… with the nurturing of one's mental health to overcome these horrors. This is where women such as these need the sisterhood support to help them maintain and sustain a positive mental health, which is so vulnerable in this modern world. Education, support and counseling are the most important engines that will drive change in the lives of these women. It will also give back the control over their lives and their circumstances. Claire is of the opinion that it will take another generation for this change to kick in—a time when the tipping point will be reached and then it will be irreversible.
Because education amongst women has gone up by 50 %, they are now increasingly exposed to the Internet and related IT and they are better positioned to control things in their lives. 'When my grandmother came to Singapore it was for survival, my mother was looking at progress during Singapore's nation-building years. I am looking at equality and my daughter has 'choices' —and for her daughter, it will be about exercising choices and personal control. It's a journey of life and you need to not lose the vision and the courage to life in a purposeful manner, for which we women need to continue to work collectively together,' she shares.
But, she quickly adds, we must take the men along with us…after all we don't need to create another level of inequality in our quest for women empowerment.—there's nothing like men and women working together to achieve great things.