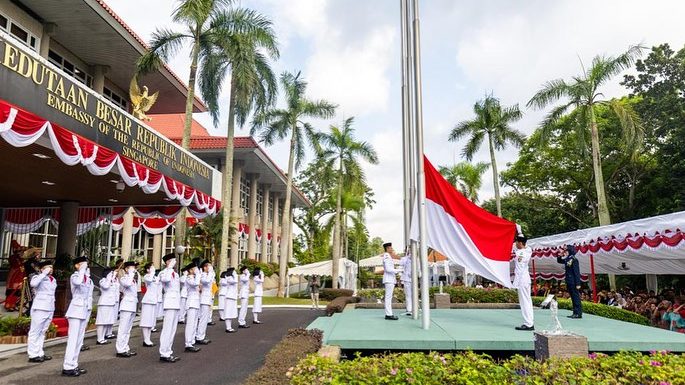 Indonesian Embassy in Singapore Marks 78th Independence Day with Dignified Flag Hoisting Event
Singapore – In commemoration of the 78th anniversary of the Independence of the Republic of Indonesia, a flag hoisting ceremony was held at the Indonesian Embassy (KBRI) in Singapore. The event was graced by the presence of the Indonesian Ambassador to Singapore, Mr. Suryo Pratomo, who also served as the Inspector of the ceremony. The flag was proudly raised by a flag bearer contingent from the Indonesian School in Singapore (Sekolah Indonesia Singapura).
The ceremony, characterized by solemnity, was attended by the entire staff of KBRI Singapore and their families, representatives of Indonesian state-owned enterprises (BUMN) and the Indonesian Banks Association (HIMBARA) in Singapore, students from the Indonesian School, as well as the Indonesian community residing in Singapore. The event symbolized unity and patriotism among Indonesians living abroad.
The 78th anniversary of the Republic of Indonesia's independence was celebrated with enthusiasm, signifying the nation's continuous progress and advancement. The Indonesian Embassy in Singapore expressed its heartfelt wishes for the country's enduring success. The ceremony not only honored Indonesia's rich history but also highlighted the close bonds between the two nations.
Source : KBRI Singapura