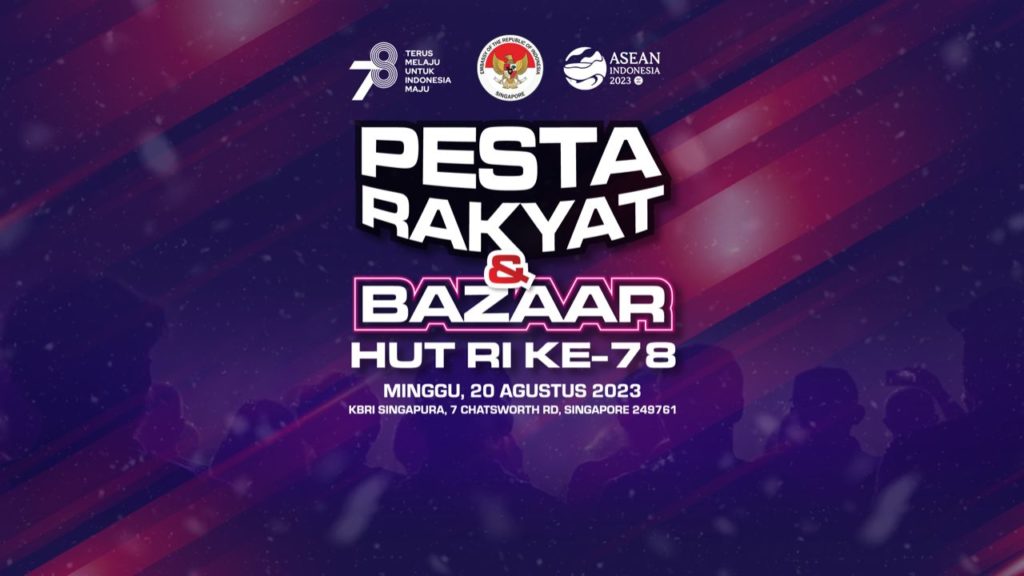 The eagerly anticipated Pesta Rakyat & Bazaar in honor of Indonesia's 78th Independence Day came alive with a vibrant array of cultural festivities and celebrity performances at the Indonesian Embassy in Singapore.
The long-awaited moment finally arrived as the Pesta Rakyat & Bazaar in commemoration of Indonesia's 78th Independence Day took place on Sunday, August 20, 2023, at the Indonesian Embassy in Singapore.
The highlight of the day was the electrifying performances by some of Indonesia's top artists. The festivities were kicked off by the talented young singer, Anggi Marito, who had secured the third position in the Indonesian Idol 2020-2021 competition. Anggi mesmerized the audience with his rendition of several songs, including the crowd-favorite "Tak Segampang Itu."
Following Anggi's outstanding performance, Arlida Putri, a well-known and enchanting dangdut singer, took the stage. Her melodious voice resonated through the venue as she charmed the crowd with her rendition of "Ikan dalam Kolam." Arlida's performance was accompanied by her signature dance moves, igniting the stage and captivating the audience's attention.
The music continued to fill the air as the renowned music group RAN stepped onto the stage. With their dynamic presence and energetic tunes, RAN brought an atmosphere of exhilaration to the celebration. Duta Besar RI (Indonesian Ambassador to Singapore), H.E. Suryo Pratomo, was also seen joining the audience in dancing to RAN's lively rendition of "Gemu Fa Mi Re," a traditional song from East Nusa Tenggara.
The bazaar section of the event was equally vibrant. Booths lined with a diverse array of Indonesian goods, crafts, and cuisines offered a true taste of Indonesia's rich culture. From traditional garments to delectable culinary delights, attendees had the opportunity to immerse themselves in the Indonesian experience. The bazaar added a lively and festive dimension to the event, allowing attendees to explore, shop, and savor the flavors of Indonesia.
The special guest appearance of King Nassar, a renowned dangdut sensation, added an exciting finale to the event. King Nassar's performance drew fans from all corners of Singapore, as his charismatic presence and captivating singing style left a lasting impression.
In conclusion, the People's Celebration and Bazaar in honor of Indonesia's 78th Independence Day brought together a vibrant showcase of music, culture, and community spirit. Attendees were treated to a memorable day filled with remarkable performances, lively bazaar activities, and an overall atmosphere of joyous celebration.