Jakarta has rapidly developed into Indonesia's booming business capital and the world's second most populous urban area after Tokyo. While many think of Bali's beaches or Jogja's temples when thinking about tourism in Indonesia, the capital city also has its own charms with hidden gems that are beyond the mainstream. We would like to burst the bubble that Jakarta is merely an overcrowded business hub as we invite you to skip the tourist traps and head straight to these off-piste attractions and and savour a slew of exciting new activities
Museum di Tengah Kebun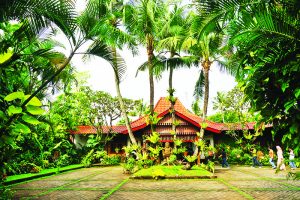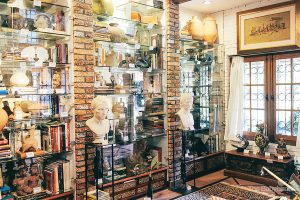 It is called the Musuem in the Middle of a Garden and chancing upon a serene garden in the heart of a concrete jungle is a delight to many; but imagine the thrill of spotting a bucolic museum that peacefully lies within the same garden. Located in the fashionable and trendy district of Kemang the Museum di Tengah Kebun is a tranquil haven amidst the crowded streets that line the neighbourhood. The neatly arranged interiors boast a collection of over 4000 antiques and Indonesian artefacts bought from auctions across all over the world as well as the archipelago. After finishing a personalized tour of the museum, one can then relax at the spacious garden outside of the building which completes the experience. Do note that the museum is only open on the weekends and a visit requires prior reservation.
Address: Museum di Tengah Kebun, Jalan Kemang Timur Raya Nomor, RT.7/RW.3, Bangka, South Jakarta City, Jakarta, Indonesia; Phone: +62 217196907. The museum is open for reservations from 9.30 to 2.30pm on Saturdays and Sundays.
Shop and Dine at Pasar Santa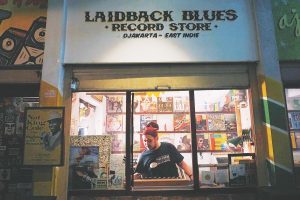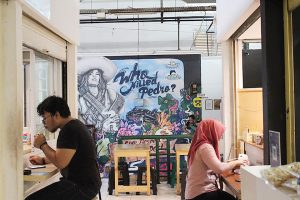 For the foodies out to get their culinary fix as well as for those adventurous shopaholics, Pasar Santa is a former traditional market turned hipster bazaar that invites you to flee the local malls and get a unique local experience instead. The Modern Market features new and creative vendors who pride themselves in innovative food experiences or vintage clothes and items that they may be up for sale. For food, our favourites include the ice cendol oreo at Beyond Cendol and the black martabak brownies at Mabro. Once done eating, hunt for rare vinyl records at Laidback Blues Record Store or shop for clothes at Tokio Fuku, a clothing joint with T-shirts that have a unique Japanese spin on pop culture icons.
Address: Jalan Cisanggiri II, RT.5/RW.4, Petogogan, Kebayoran Baru, Jakarta Selatan, Daerah Khusus Ibukota Jakarta, Indonesia.Most of the vendors open from 2 to 9pm from Tuesday to Sunday
Café-hopping at Panglima Polim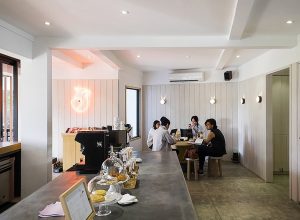 The hip neighbourhood Panglima Polim is a must-do on your list if you fancy winding down at hipster-inspired cafés with an exquisite cup of coffee and a good read by your side. The trendy spot is home to many such coffee shops, restaurants and even concept stores – just perfect for those who enjoy an off the beaten track experience. Panglima Polim's quirky vibe also makes it home to Jakarta's hipsters and creative folk. Recommended places to try include Woodpecker Coffee. It's a cosy hangout with chic minimalist interiors and artisan coffee made from selected local coffee bean blends.
Address: Jl. Panglima Polim V No.23, RW.7, Melawai, Kec. Kby. Baru, Kota Jakarta Selatan, Daerah Khusus Ibukota Jakarta 12160, Indonesia. Opening hours: Monday to Sunday from 7am-9pm.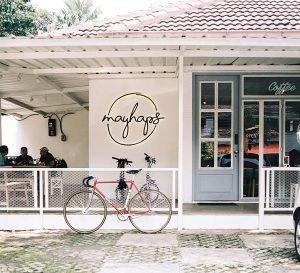 Another Panglima Polim favourite is Mayhaps Gelato & Coffee which is a relaxed hangout serving creative coffee drinks, light cafe fare and a variety of snacks as well as ice cream.
Address: Jl. Panglima Polim V No.21, Melawai, Kec. Kby. Baru, Kota Jakarta Selatan, Daerah Khusus Ibukota Jakarta 12160, Indonesia. Opening hours: Sunday to Thursday from 7am-9pm, Friday to Saturday from 7am-10.30pm.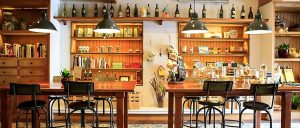 Finally, Convivium is a cheery, contemporary cafe serving creative coffee, pastries and light fare in warm environs.
Address: Jl. Panglima Polim V No.8A, Melawai, Kec. Kby. Baru, Kota Jakarta Selatan, Daerah Khusus Ibukota Jakarta 12160, Indonesia. Opening hours: Tuesday to Sunday from 7.30am-10.30pm. Closed on Mondays.
Photoshoot at Rumah Akar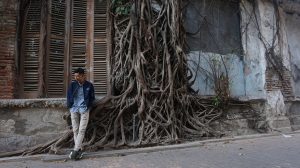 Kota Tua the historical district containing stylish European-style buildings and centuries-old museums also contains perhaps the most ominous looking building in Jakarta. Rumah Akar, or 'Root House', is an abandoned building that has long been taken over by Mother Nature. Massive roots and vines creep up on the sides of the building and imbue an eerie ambience to the place, making it reminiscent of jungle huts in the Borneo rainforest. Regardless, the building has become a popular photography spot amidst the locals. From being constantly featured in Instagram posts to wedding photoshoots, the unique building now carries a nostalgic warmth for locals and tourists alike.
Address: Kota Tua Jakarta, Jalan Kali Besar Timur 4, RT.7/RW.7, Pinangsia, West Jakarta City, Jakarta, Indonesia
Art Appreciation at Ciputra Artpreneur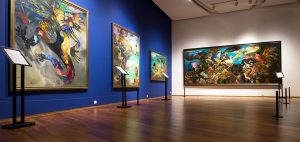 Ciputra Artpreneur is an innovative art concept space that combines gallery, museum and theatre and is the perfect spot to spend a day for any art aficionado. The mission of the multidisciplinary arts venue is to celebrate Indonesian culture and empower the local arts scene. The gallery displays contemporary art as well as the private collection of its founder, the late property magnate Ir. Ciputra, which includes 32 paintings and 18 sketches of the legendary Indonesian painter, Hendra Gunawan. Moreover, the in-house theatre has played host to a myriad local and international shows which include Broadway musical Beauty and the Beast among others; so do check their events and program listings before visiting.
Address: Ciputra World 1, Retail Podium Level 10, Jalan Professor Doktor Satrio Kav. 3-5, Setiabudi, Ciputra World Jakarta 1, Daerah Khusus Ibukota Jakarta, Indonesia. Opening hours: Tuesday to Sunday from 9am-6pm. 
More Makan Places
Sederhana A popular chain restaurant offering authentic Indonesian food from Padang. Address: We recommend the outlet at Rumah Makan Sederhana, Jalan Kebon Kacang Raya no. 19
Soto Betawi H Husein  The best place to get Soto Betawi, a deeply flavorful beef soup rich with coconut milk and spices. Affordable and popular; so try getting here before noon or be prepared to wait! Address: Jl. Padang Panjang No 6B – 6C, Manggarai
Ayam Goreng Suharti  Famous fried chicken chain in Jakarta that has perfected the ayam goreng kremes style, which uses an indulgent chicken batter containing crispy flour bits (kremes). There are 13 locations throughout Jakarta
Nasi Goreng Kambing Kebon Sirih  The original street eatery that serves arguably the most famous nasi goreng in Jakarta. Known for its signature nasi goreng kambing aka goat fried rice spiced with their special in-house blend. Address: Jalan Kebon Sirih Barat Dalam I, RT.3/RW.2, Kb. Sirih, Menteng/0811 190775
Bandar Djakarta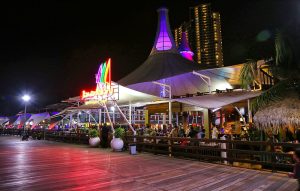 Beautiful seaside restaurant with a fish market concept, where diners can select their seafood right from the aquarium and personalize their meals with the chef. Address: Jalan Kawasan Wisata Ancol, Ancol, Jakarta
Le Quartier  Concepted by the renowned restaurantier Chris Janssens, Le Quartier serves non-pretentious French fare with bespoke quality and presentation. Address: 34 Gunawarman, Jakarta
Nusa Gastronomy  A contemporary restaurant set in a charming colonial house, Nusa Gastronomy prides itself in serving elevated Indonesian cuisine with an ever-changing menu. Address: Jl. Kemang Raya No.81, South Jakarta
Martabak Boss  A must-try for their martabak manis, a thick pancake-like confection slathered with butter and various toppings like chocolate sprinkles, nuts, and cheese. For those with a sweet tooth! Martabak Boss has multiple locations throughout Jakarta
COVID-19 Notification
For the duration of the COVID-19 Outbreak many business and retail outlets may be temporarily suspended or travel and quarantine restrictions may be enforced. Please check with the travel advisories issued by the Government of Singapore or enquire with the Republic of Indonesia Embassy in Singapore (www.kemlu.go.id) to receive the latest updates when the restrictions on travelling and visiting to Indonesia has been eased or lifted.