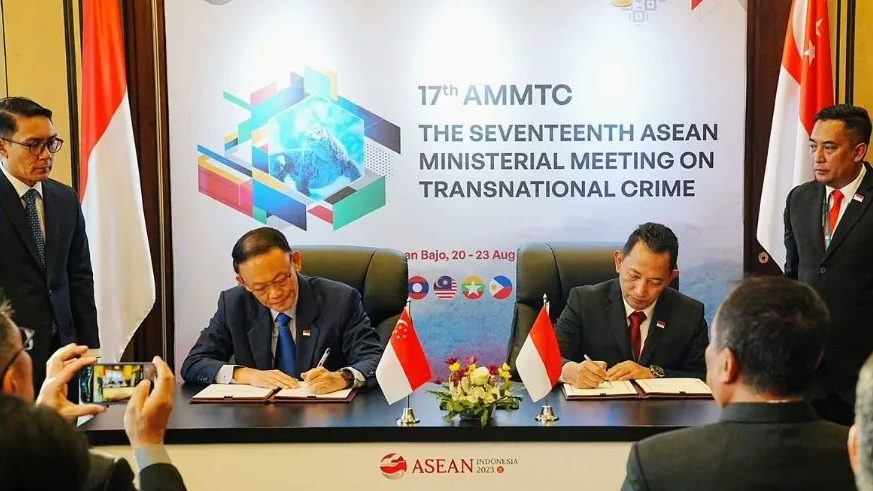 Indonesian and Singaporean police forces elevate collaboration to a new level during the 17th ASEAN Ministerial Meeting on Transnational Crime.
In a significant development, the collaborative efforts between the Indonesian and Singaporean police have entered a new phase. The Chief of the Indonesian National Police, General Polisi Listyo Sigit Prabowo, and Singapore Police Force's Commissioner, Hong Wee Teck, have officially inked a Memorandum of Understanding (MoU) between their respective forces. The signing ceremony took place on Monday, August 21, 2023, at 17:00 WITA, amidst the proceedings of the 17th ASEAN Ministerial Meeting on Transnational Crime (AMMTC) in Labuan Bajo, East Nusa Tenggara.
This historic MoU marks the first bilateral agreement between the Indonesian National Police and the Singapore Police Force. The agreement underscores their joint commitment to tackling transnational crime, facilitating the exchange of crucial information, and fostering the enhancement of law enforcement capacities in both nations. The pact aims to bolster regional security and strengthen the fight against various forms of cross-border criminal activities.
The AMMTC, established in 1997, serves as a ministerial-level platform exclusively focused on addressing transnational criminal concerns across ASEAN member states. As the 17th edition convenes, representatives from various nations are engaging in comprehensive discussions to formulate strategies for more effective collaboration in combating transnational crime.
Source : KBRI Singapura