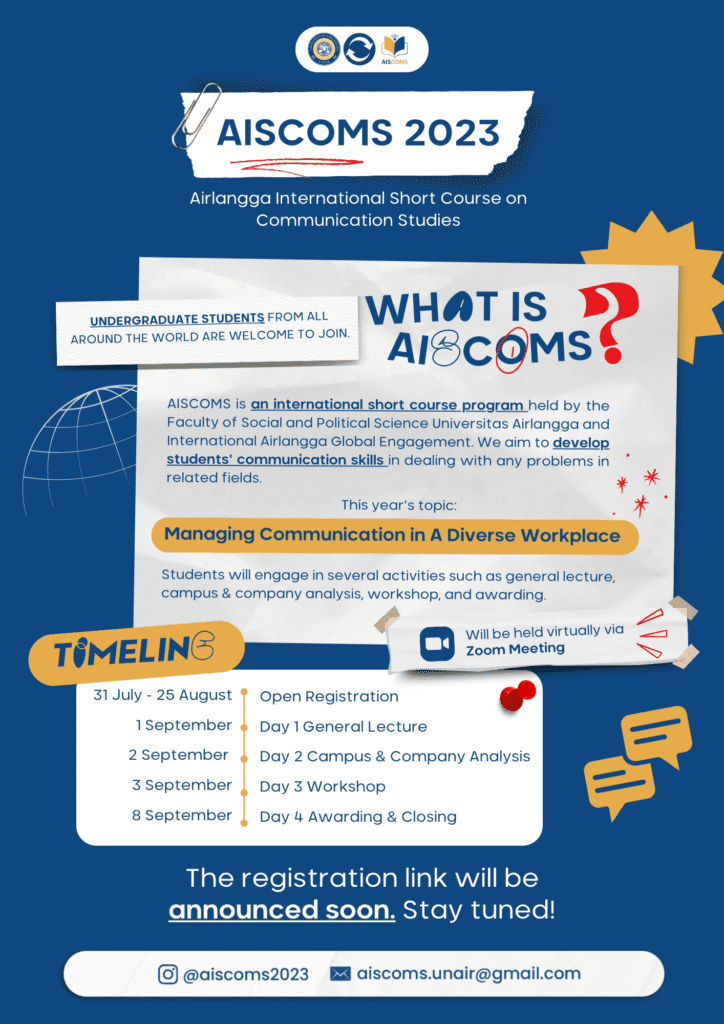 Universitas Airlangga collaborates with Payap University and Ngee Ann Polytechnic for a cross-cultural webinar on "Managing Communication in a Diverse Workplace," fostering discussions and learning among students from Indonesia, Thailand, and Singapore.
In a landmark collaboration, Universitas Airlangga (UNAIR) is gearing up to host a four-day webinar centered around the theme "Managing Communication in a Diverse Workplace." This novel initiative marks the first tripartite partnership between UNAIR, Payap University from Chiangmai, Thailand, and Ngee Ann Polytechnic from Singapore. The event, titled the Airlangga International Short Course on Communication Studies (Aiscoms), aims to foster cross-cultural interactions and facilitate discussions on Diversity, Equity, and Inclusion (DEI) among students.
Pak Satrya, representing the Indonesia Embassy in Singapore, played a pivotal role in orchestrating this collaborative effort. Recognizing the potential for synergy, the participating institutions are joining hands to provide students with a unique opportunity to engage with peers from different countries and explore varied perspectives on workplace communication strategies.
Scheduled from September 1 to 3, 2023, with a follow-up session on September 8, the webinar offers an extensive program featuring insightful talks by esteemed faculty members from the participating universities. The event schedule is as follows (all times are in Singapore Time):
Day 1 (Fri, 1 Sep): 2:00pm to 5:00pm
Day 2 (Sat, 2 Sep): 2:00pm to 4:15pm
Day 3 (Sun, 3 Sep): 2:00pm to 3:55pm
Day 4 (Fri, 8 Sep): 2:00pm to 3:25pm
The event is designed to provide students with a holistic understanding of effective communication practices in diverse workplaces. Through meaningful discussions and interactive sessions, participants will gain insights into the cultural nuances that shape workplace dynamics across Indonesia, Thailand, and Singapore.
A notable feature of the webinar is the video challenge, wherein students can submit 1 to 3-minute videos related to the webinar's theme. Exceptional videos stand a chance to win attractive prizes, injecting an element of creativity and enthusiasm into the learning experience.
This virtual event is open to all at no cost and aims to transcend geographical boundaries, facilitating a robust exchange of ideas. The Aiscoms webinar holds the promise of enhancing communication skills and fostering cross-cultural appreciation among participants. With its potential to establish a precedent for future collaborations among educational institutions, this event is set to make a positive impact.
For additional details and registration for the Aiscoms webinar, interested individuals are encouraged to visit Universitas Airlangga's official website. This is an exceptional opportunity to explore the multifaceted dimensions of communication in diverse workplaces and connect with peers from across Asia.