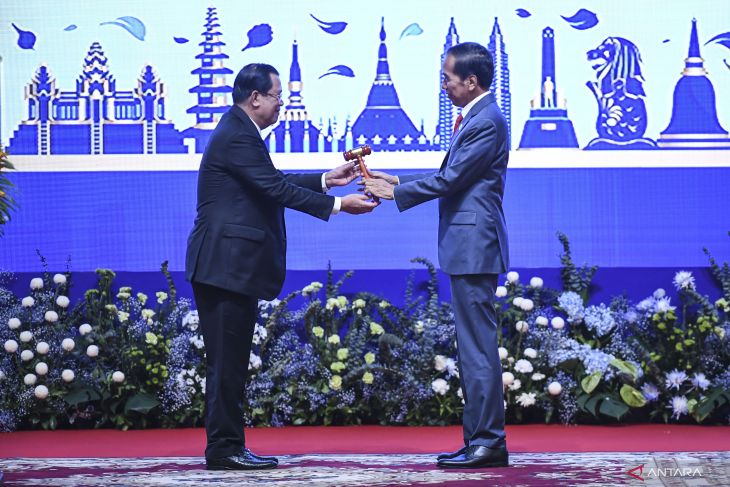 Indonesian President Joko Widodo symbolically received the ASEAN chairmanship from Cambodian Prime Minister Hun Sen to become the ASEAN Chair in 2023
THE handover of the chairmanship fo ASEAN took place at the closing ceremony of the 40th and 41st ASEAN Summits and other related summits at Phnom Penh, Cambodia, on Sunday 13th November2022. Together with the chairmanship was the launch of the theme "ASEAN Matters: Epicentrum of Growth." Through the theme, it is expected that ASEAN will become a stable and peaceful region — an anchor for global stability.
ASEAN will also uphold international law, humanitarian values, and democratic practices, and will not act as a proxy for any party.
According to the report by Antara News: President Widodo said he hoped that ASEAN would become a fast-growing, inclusive, and sustainable economic region, in accordance with the spirit of mutual cooperation and the implementation of the ASEAN Charter.
Hence, the capacity building of ASEAN institutions must also be strengthened to enable them to answer various international challenges for the next 20 years.
The Indonesian President said he expects that by 2045, ASEAN will be more adaptive, responsive, and competitive
At the ceremony, he also invited ASEAN leaders to attend the 2023 Summit in Indonesia.
Prominent and Relevant
According to Foreign Affairs Minister Retno Marsudi, Indonesia wants ASEAN to remain prominent and relevant in resolving various issues faced by its people as well as the Indo-Pacific region and the world.
Regarding the logo of Indonesia's 2023 ASEAN chairmanship, which was revealed by President Widodo at the handover ceremony, Minister Marsudi said that it depicts the sky, mountain, sea, and earth, as well as the Maleo bird.
The sky symbolizes embracement and protection, she added. The mountains and the earth reflect solidity and stability.
She also explained that the mountain is a symbol of optimistic growth to help all ASEAN members advance better..
Meanwhile, the ocean connects and unites all islands of countries in the region, she noted and that the Maleo bird represents Indonesia's rich biodiversity as the bird is endemic to Sulawesi. Overall, the logo emphasizes dynamism, responsiveness, and adaptivity in addressing all global and regional challenges.
ASEAN has three pillars of cooperation, namely the political security pillar, the economic pillar, and the sociocultural pillar.
For the full report by Antara News agency visit here.