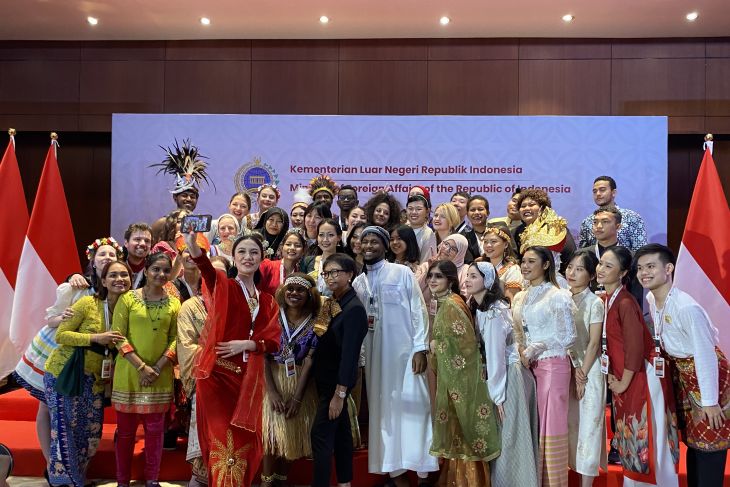 The Ministry of Foreign Affairs brings together 45 international youth to explore Indonesia's arts and culture, promoting unity in diversity and fostering global understanding through the Indonesian Arts and Culture Scholarship (IACS) programme
IN a bid to promote Indonesian arts and culture, the Indonesian Ministry of Foreign Affairs has extended a warm invitation to 45 international youths from 34 countries to participate in the Indonesian Arts and Culture Scholarship this year. The programme aims to offer an immersive experience into the rich cultural tapestry of the nation and foster an understanding of its diversity, spirit of unity, and the principle of gotong royong or cooperation.
During the opening ceremony held in Jakarta on Monday, Foreign Affairs Minister Retno Marsudi emphasised the significance of the IACS in showcasing Indonesia's arts and culture to the world. Minister Marsudi stated, "Indonesia is a nation comprised of more than 17 thousand islands and 300 ethnicities. However, we have transformed our diversity into a source of strength by embracing tolerance and unity, rather than ignorance and adversity."
The esteemed minister went on to highlight that participants in the programme would have the unique opportunity to witness firsthand how the culture of gotong royong and diversity are embraced in every corner of the archipelago. This spirit of cooperation also underpins Indonesia's interactions with other nations, acting as a bridge-builder and a consensus-maker.
Among the 45 participants from various countries, Zhou Qingqing from China expressed her enthusiasm for the programme, citing her desire to improve her command of Bahasa Indonesia. Zhou, who studies Indonesian at university, said, "I decided to join this programme because I love Indonesian culture. By participating, I hope to gain a deeper understanding of Indonesia's arts and culture."
Another participant, Syahira from Malaysia, expressed her amazement at Indonesia's diversity and her eagerness to learn more about the country. "I have a great passion for arts and culture, and I am captivated by Indonesian culture. Despite having numerous ethnicities, Indonesia has managed to foster unity in diversity. I hope to take the knowledge I gain from this programme back to Malaysia and strengthen our unity as well," Syahira said.
The Indonesian Arts and Culture Scholarship is a flagship programme in the Ministry of Foreign Affairs' public diplomacy efforts to promote Indonesian arts and culture globally. Launched in 2003, the scholarship has been awarded to 1,024 alumni from 83 countries to date.
The programme offers a non-degree scholarship to young individuals, enabling them to explore Indonesia's arts, culture, and local wisdom in person. This year's IACS is centered around the theme "Indonesia, Home of Diversity." Over the course of two months, from June to August, scholarship recipients will partake in Indonesian arts and culture training.
To facilitate a comprehensive experience, the awardees will be assigned to different art centers located in five provinces: Jakarta, Bali, West Sumatra, East Kalimantan, and East Java. This arrangement will allow them to immerse themselves in the local heritage and engage with the local community.
As the 45 international youths embark on their journey of cultural discovery, the Indonesian Arts and Culture Scholarship programme continues to strengthen cultural diplomacy and foster international understanding through the power of art and heritage.