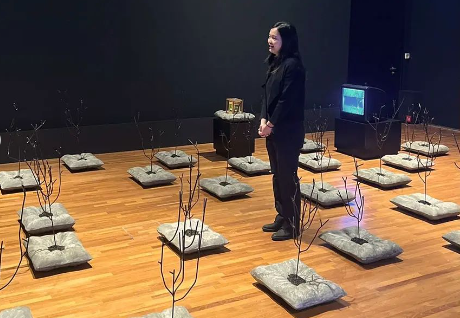 NATIONAL GALLERY MUSEUM HOSTS A RETROSPECTIVE JOURNEY INTO INDONESIA'S VIDEO INSTALLATION ART HISTORY
TWO Indonesian installation artists, Herry Dono and Krisna Murti, are part of the "See You, See Me" Installation Art Exhibition at the National Gallery Museum in Singapore. Running from October 14, 2023, to February 4, 2024, the exhibition explores the history of video installation art. Herry Dono presents a reimagined 1992 work, "Hoping to hear from you soon," depicting the significance of roadside stalls during the Orde Baru era. Krisna Murti's 1993 piece, "12 hours in the life of Agung Rai, the Dancer," combines natural materials on a TV screen, showcasing Balinese dance maestro Agung Rai's daily life.
This event is supported by the Indonesian Embassy in Singapore by providing the artists with the venue and assisting in communicating with various stakeholders in Singapore.
Source: KBRI Singapura