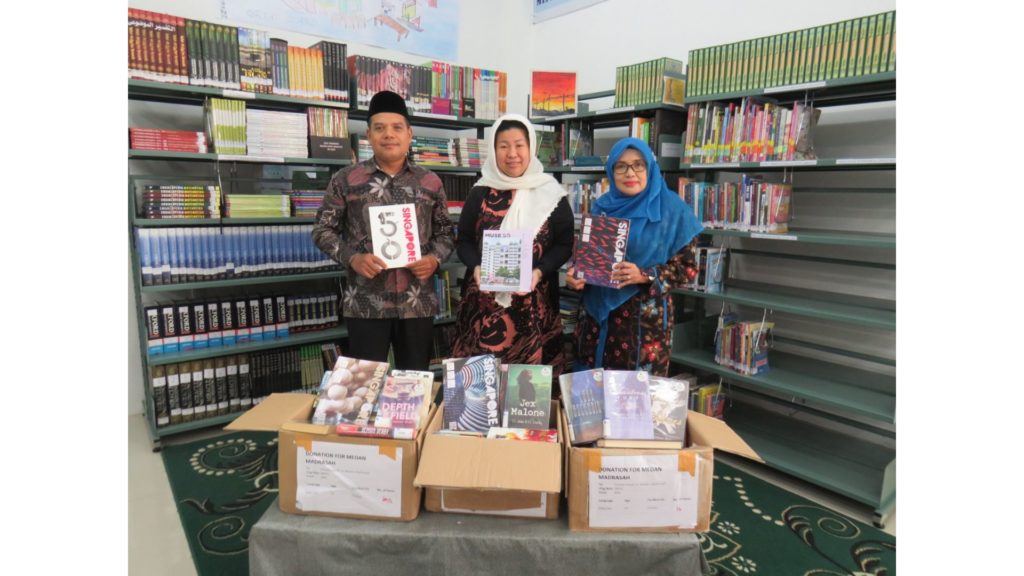 Mrs. Jerrica Yap visited MTsN 2 Medan on behalf of Singapore's Consulate General in Medan, Dr. Edmund Chia, to finalize the reading book donation process to MTsN 2 Medan Library on March 2, 2023
Dr. Edmund Chia, Singapore's Consulate General in Medan, sent Mrs. Jerrica Yap to MTsN 2 Medan to complete the donation of reading materials to the library on March 2, 2023.The Head of MTsN-2 Medan, Syamsurizal, and the Head of the MTsN-2 Medan Library, Nita Ariani, personally greeted the Singapore Consul's attendance
Jericca Yap thanked everyone on behalf of Singapore's Consulate General in Medan, Dr. Edmund Chia. Jericca also relayed the Singapore Consul General's great appreciation for the correspondence and friendship with the MTsN-2 Medan Library .She also emphasized her complete support for the designed programs, particularly those that focus on literacy development.
The collection of reading materials that was previously sent by the Singapore Consulate General in Medan in the middle of September of last year is supplemented by this second round of book donations. This time, the collection included 83 copies of reading materials in the categories of science and technology, fiction books, robots, languages, particularly English, and, of course, Singapore's history and culture, including its distinctive aspects.
In his capacity as the Head of MTsN 2 Medan, Syamsurizal expressed his deep gratitude to the Head of the Singapore Consulate for his assistance and support. He also expressed the hope that one day the MTsN 2 Medan Library will house a Singapore Corner.
The director of the MTsN 2 Medan Library, Nita Ariani, MS, expressed her gratitude and emotion in response to the visit of the Singapore Consul General in Medan. One day, she hoped, the Singapore Consulate General would visit MTsN 2 Medan and interact with the students in person.
Sourced from Indonesian Ministry of Religious Affairs West Sumatra Province Branch