Pesan dari Bapak Andri Hadi Duta Besar Indonesia di Singapura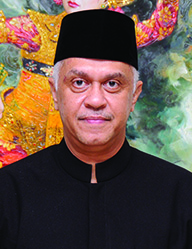 Pada bulan April 2014 yang lalu kita telah menyelenggarakan pesta demokrasi untuk memilih anggota legislatif. Tingkat partisipasi warga Indonesia pada Pemilu legislatif 2014 di Singapura mengalami peningkatan tajam dibanding pada Pemilu legislatif tahun 2009. Pada Pemilu legislatif tahun 2009, tercatat sebanyak 18.286 peserta yang menggunakan hak pilih, baik yang melakukan pencoblosan langsung maupun melalui pos. Sedangkan pada Pemilu legislatif tahun 2014 terdapat jumlah pemilih sebanyak 23.851 orang. Dengan demikian, terdapat lonjakan sebanyak 5565 pemilih, atau terjadi peningkatan jumlah pemilih sebesar 30% dibandingkan pada Pemilu legislatif 2009.
Saya pribadi merasa bangga atas peningkatan partisipasi tersebut. Sebab, hal ini menunjukkan bahwa masyarakat semakin sadar untuk menggunakan hak pilihnya untuk ikut menentukan nasib bangsa. Meski demikian, tingkat partisipasi tersebut belum optimal karena jumlahnya masih jauh dari jumlah warga Indonesia di Singapura yang memiliki hak pilih yaitu sebanyak 112.123 orang.
Tak lama lagi bangsa Indonesia akan menggelar Pemilihan Presiden. Pilpres kali ini akan memasuki babak baru dalam perjalanan bangsa Indonesia, yaitu memilih Presiden baru. Saat ini Komisi Pemilihan Umum (KPU) telah mensahkan 2 pasangan calon Presiden dan Wakil Presiden. Kedua pasang calon tersebut memiliki visi dan misi masing-masing, namun tujuannya sama yaitu memberikan yang terbaik bagi bangsa dan negara.
Untuk itulah, saya mengimbau seluruh masyarakat Indonesia di Singapura yang telah memiliki hak untuk memilih, gunakanlah kesempatan ini sebaik-baiknya. Karena masa depan negeri kita ditentukan oleh kita semua. Marilah kita mempersiapkan diri untuk mengikuti Pemilu sebagai wujud kepedulian pada arah dan tujuan bangsa ini.
Saya juga ingin menyampaikan terima kasih dan apresiasi kepada Panitia Pemilihan Luar Negeri (PPLN) di Singapura yang sejak dibentuk pada bulan Juni 2013 lalu telah bekerja maksimal tanpa kenal lelah untuk membantu terwujudnya penyelenggaraan Pemilu di Singapura.
PPLN Singapura atas persetujuan Komisi Pemilihan Umum (KPU) telah menetapkan pelaksanaan pemungutan suara Pilpres di Singapura pada tanggal 6 Juli 2014 bertempat di KBRI Singapura. Bagi WNI yang namanya telah terdaftar, hadirilah pelaksanaan pemungutan suara dan gunakanlah hak pilih Saudara untuk menentukan pilihan Saudara. Bagi WNI yang sudah memiliki hak pilih namun belum terdaftar, PPLN masih membuka kesempatan pendaftaran melalui website
www.pplnsingapura.com atau datang langsung ke Sekretariat PPLN di KBRI Singapura yang beralamat di no. 7 Chatsworth Road, Singapore 249761.
Untuk memudahkan kedatangan para pemilih ke KBRI pada hari pemungutan suara, akan disediakan shuttle dari stasiun MRT Redhill ke halte bus terdekat di KBRI Singapura yaitu Lucky Tower, dan dari Tanjong Katong complex ke Lucky Tower.
Mari kita berdoa bersama agar kiranya pelaksanaan Pemilu tahun 2014 ini berlangsung dengan aman dan lancar, dan Presiden yang terpilih akan membawa Indonesia ke masa depan yang lebih baik dan mewujudkan kesejahteraan bagi seluruh rakyat Indonesia.
INDO to ENGLISH
Assalamualaikum Wr. Wb.
We have just held the Indonesian legislative election in April 2014 where there was a sharp increase in the number of voters here compared to the 2009 legislative election. Altogether 23,851 people voted, this was a 30 per cent increase over 2009. I personally feel proud about the higher level of participation but it is not optimal as the numbers are far less than the number of Indonesian citizens in Singapore which number 112,123 people.
Soon Indonesians will vote in the Presidential Election. The General Elections Commission (KPU) has adopted two sets of candidates who might possess different visions and missions but they have the same goal of wanting the best for the nation. For this reason, I call upon Indonesians in Singapore who have the right to vote, to take the opportunity to exercise this right as the future of our country is determined by us all.
Also, I would also like to thank the Electoral Committee of Foreign Affairs (PPLN) in Singapore. Since its formation in June 2013, PPLN members have been working tirelessly in the administration of the elections here. Singapore PPLN with the approval of KPU has set the date of the Presidential ballot in Singapore to be 6 July 2014. It will be held at the Indonesia Embassy in Singapore. For those citizens whose names have been registered, please come to the Embassy to vote. For citizens who already have the right to vote but are not registered, the PPLN register is still open for enrolment through the website www.pplnsingapura.com/registration or please visit in person the PPLN Secretariat which is located at the Indonesian Embassy at 7 Chatsworth Road, Singapore 249761.
To facilitate transport to the Embassy on polling day, there will be two shuttle bus services from Redhill MRT station and from Tanjong Katong Complex which will travel to the nearest bus stop to the Embassy which is at Lucky Tower.Let us pray that the 2014 Presidential Election take place safely and smoothly, and the President-elect lead Indonesia to a better future and improve the welfare of the entire people of Indonesia.