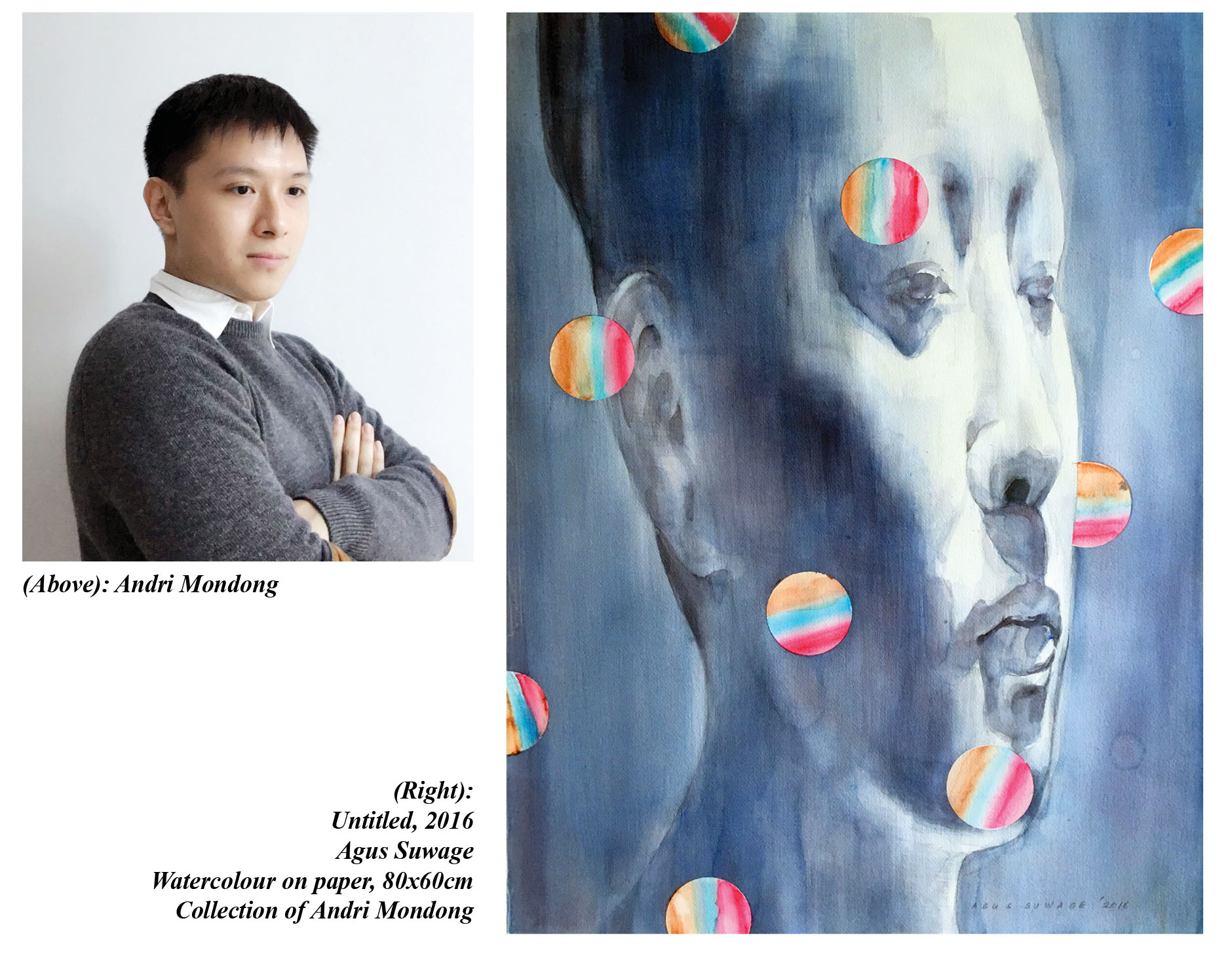 Meet the New Generation of Contemporary Art Collectors
By Henny Scott
Pablo Picasso once said art washes away from the soul the dusts of everyday life. With so much hype about the Indonesian art market, IndoConnect talked to two young people who are passionate in supporting Indonesian art. Through the interviews and selected works of the Indonesian artists nestled in the private spaces of their homes, we hope to share with our readers an understanding and appreciation of contemporary Indonesian art
We all have read about veteran art collectors who have amassed artworks over a few decades, spread over multiple homes, offices and private museums. They often loan some important pieces by artists to blockbuster exhibitions in international museums.
In this issue, IndoConnect features two young collectors under 40, fresh in the field of contemporary art collecting. The Indonesian nationals, who are educated overseas, frequent the regional art fairs, art galleries and museums. Despite their young age, IndoConnect found that they are quite methodical about the way they acquire the pieces they love by conducting research and discussion to avoid making mistakes in purchasing. More importantly, they only have just begun collecting. Let us take a look at the pick from their personal treasure troves.
ANDRI MONDONG, 29
Andri is a Director of a logistics company in Singapore. Growing up in Singapore, Andri went to Sydney, Australia to further his study and subsequently worked there for a couple of years. He then relocated back to Singapore to join the family business in 2013. Andri enjoys a close relationship with his family and often spends his spare time attending to his parent's needs whenever they visit from Jakarta.
During our discussions, Andri admitted that his collection is not yet large in comparison to those of seasoned collectors. However, given his young age and enthusiasm in further developing his appreciation and collection, it is very interesting to hear his views on art collection. Andri is taking drawing classes, after work, at Nanyang Academy of Fine Arts (NAFA), Singapore's pioneer arts education institution.
Henny: How and when did you begin your interest in Indonesian art or even art in general?
Andri: My interest in Western art started at a very young age, long before I followed Indonesian art. When I worked for a graphic design company, my former boss, Henricus Linggawidjaja, introduced me properly to the Indonesian contemporary art scene as we were involved in the production of many art projects by prominent art collectors and commercial galleries. Through him, I got to know many local artists and (art) galleries and that quickly grew my interest for Indonesian art. Art fairs such as Art Stage and online platforms such as Indoartnow.com (a comprehensive online platform to promote and support Indonesian contemporary arts founded by Tom Tandio) also played a role in cultivating my interest.
Henny: We have to know – where did you go and find good arts?
Andri: Fortunately for us in Singapore, we have (commercial) galleries that offer a good mix of international and Indonesian artists. In addition, I find auction houses, particularly those based in the Asian region, are a great way to find good art.
Henny: How about this work by Agus Suwage… Did you exercise patience in acquiring this piece or is it love at first sight?
Andri: I first learned about Agus Suwage through a former high school friend who is a product designer, Carissa Santoso, who also happens to be the niece of the artist. She took me to one of Suwage's shows in Singapore.
As I mentioned before, I was not that educated about Indonesian art or other artists then but I do follow Suwage's works very closely since we met. So when I had the opportunity to acquire one of his works, I jumped at it. This piece stood out for me, and it was love at first sight.
Henny: Share with us your most memorable encounter with any artist.
Andri: I have always admired the works by Handiwirman Saputra (a visionary artist from West Sumatra, co-founder and member of Jendela Art Group who uses everyday objects to create his multimedia works). He finds beauty in simple things around him. It's never clichéd and incredibly engaging. So when I had the opportunity to visit his studio in Jogja to meet him, it was very memorable. His studio was a very beautiful space.
Henny: Are there any big time collectors who inspire you? People who have devoted their time and resources to collecting?
Andri: I look up to couples like (American collectors) Victor and Sally Ganz and Filipinos, Lito and Kim Camacho. Through smart acquisitions, the Ganzes have privately amassed one of the most important art collections in the 20th century.
As for the Camachos, they are tireless proponents of the art scene, generously inspiring and educating the public through the works they accumulated. Both couples are very focused and well-abreast of the artists they collect. (Henny's note: The Camachos are a Singapore-based Filipino couple known to have collected large number of works by Yayoi Kusama who is considered the most important living, contemporary Japanese artist).
Henny: The Camachos keep all but two artworks they have accumulated over nearly 30 years. Do you buy to keep or to resell?
Andri: I bought the piece for keeping. I only acquire pieces that I really like, and imagine it would be difficult for me to part with any of them.
Henny: Do you have any ultimate plans for the artworks
you accumulate?
Andri: At the moment, no.
Henny: What do you think of the inaugural Art Stage Jakarta? Although I did not see you there, I understand that you managed to visit the Fair.
Andri: Unfortunately, I was held up in Singapore due to work and only managed to visit on the last day of the fair. Regardless, it was heartwarming to see friends and catch up with them there. One highlight for me was the Affandi's exhibition (Affandi – The Human Face exhibition co-curated by Lorenzo Rudolf and Jasmine Prasetio) which showcased 17 of his masterpieces from private collections. I find his layered and extremely rich paintings visually stimulating.
ABOUT AGUS SUWAGE
Born in 1959 in Purworedjo, Agus Suwage is a celebrated multi-media artist with Graphic Design background from Institut Teknologi Bandung (ITB). Suwage has participated in over 150 exhibitions locally and internationally including Singapore Biennale (2016), Havana of Havana, Cuba (1997), Asia Pacific Biennale (1996). His last exhibition in Singapore was After Utopia, a group exhibition at Singapore Art Museum in 2015. Suwage's works have been collected by international museums including those at Singapore, Japan and the USA.
(Above extracted from IndoConnect Vol 4 No 5)