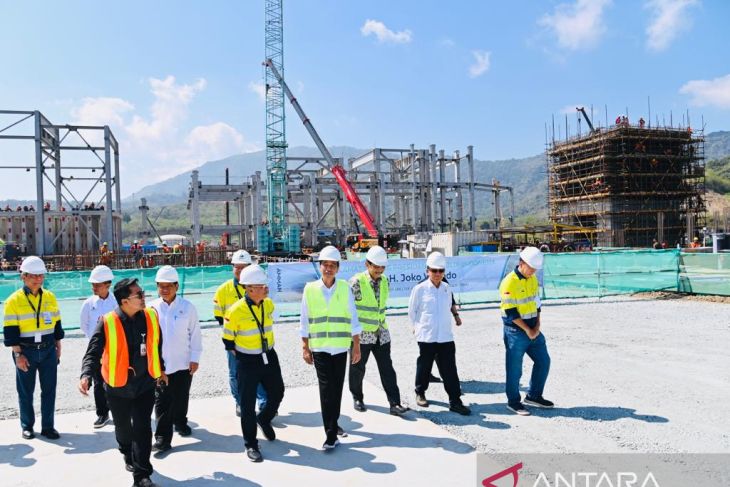 President Jokowi anticipates the timely completion of a new copper smelter in West Nusa Tenggara, which will boost copper production, create job opportunities, and increase export values.
President Joko Widodo (Jokowi) expressed his anticipation for the timely completion of a new copper smelter in West Sumbawa District, West Nusa Tenggara (NTB) Province, with expectations set for mid-2024. During his visit to the smelter, the president emphasized the importance of adherence to the construction timeline, stating, "I want to ensure that the development runs according to the plan and will be finished by the middle of next year." The progress of the construction has already surpassed 51 percent, as assessed by the Investment Ministry and Energy and Mineral Resources Ministry.
President Jokowi voiced his hopes that the establishment of the smelter would yield significant benefits, including increased export values for copper products and the creation of numerous job opportunities for the local community. Acknowledging the completion of other smelters, such as those for nickel, bauxite, and tin, the president commended PT Amman Mineral Nusa Tenggara (AMNT), a subsidiary of Amman Mineral Internasional (AMMAN), for their efforts in establishing the new copper smelter.
The target production capacity of the smelter is set at 900 thousand tons of copper concentrate processed into copper cathodes per year. President Jokowi highlighted his expectations that AMMAN, with such a significant production capacity, will also construct a manufacturing facility for derivative products of copper cathodes at the site, thereby increasing the added value of the mining commodity. The investment value for the smelter's construction has reached an impressive US$982 million, equivalent to Rp14.7 trillion.
The copper concentrate required for processing at the smelter will be sourced from AMNT's Batu Hijau mine, also located in West Sumbawa District. In addition to the copper smelter, AMMAN is concurrently developing a precious metals refinery facility, showcasing its commitment to the growth and diversification of the mining industry. These projects fall under the National Strategic Projects (PMN), coordinated by the Coordinating Ministry for Economic Affairs, indicating the government's recognition of their strategic importance for the nation's economic development.
President Jokowi's visit to the copper smelter demonstrates his personal involvement and commitment to fostering the growth of Indonesia's mining sector. The completion of this state-of-the-art facility will not only enhance the country's copper production capacity but also contribute to the local economy through job creation and increased export values. As the project progresses towards its mid-2024 completion date, stakeholders eagerly anticipate the positive impact it will have on West Nusa Tenggara and Indonesia as a whole.