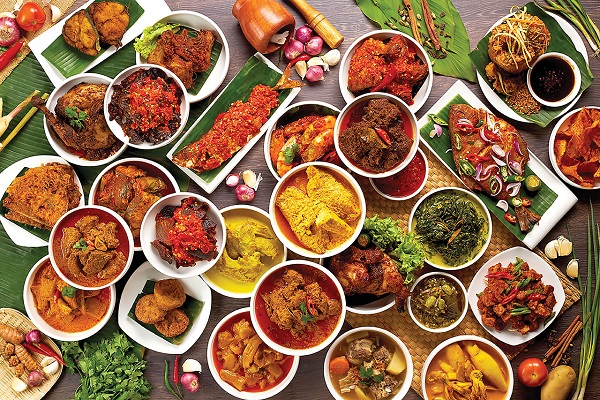 Excellent taste, quality and value – a more than credible challenger for the title of best nasi padang restaurant in Singapore
PUTRA Minang Indonesian cuisine prides itself with freshly imported Indonesia ingredients and spices, lovingly prepared by its chefs. The native Indonesian cooks have honed their skills at famous and established Minang restaurants in West Sumatra and Jakarta.
Putra Minang takes the subject of authencity seriously by cooking and preparing true blue Indonesian Minang Padang dishes, with that home-cooked quality using heirloom recipes, past down generations after generations.
If the restaurant is packed with Indonesians on weekends all day long, you know its serving real delicious homecooked Indonesian Nasi Padang dishes. Offering a feast of 45 to 50 main courses and accompanying dishes freshly cooked daily, Putra Minang believes that everyone should experience tasty authentic Minang and priced it affordably. Its location in the heart of town a stone's throw away from Bras Basah Road on Bencoolen Street with ample parking in the building makes it a convenient dining destination.
Popular Choices
Popular choices includes tender Beef Rendang, Ayam bakar, Gulai Kambing, Udang Sambal Petai, Ikan Asam Pedas, Sotong Masak Hitam, Tahu Telor, Telor Bladeo, Pucuk Ubi served with fragrant nasi rames.
One of the main highlights at Putra Minang is Sate Padang – which tastes different from our local satay – tasting more savory than sweet like our local version. This is one unique dish that we recommend. Marinated for hours and infused with spices, the sate is soaked in gravy and served with lontong and kripik ubi. Chose from options like Sate Ayam, Sate Sapi and Sate Babat.

Beef Lovers
Beef lovers are spoilt for choices here where literally almost every part of the cow is prepared in different spices. Take your pick from must try Beef Rendang to Gulai Cincang, Lemak Babat, Kikil in Belado, Gulai and Samabl Ijo, sop buntut, Paru Belado and Dendeng Belado, all cooked lovingly to tantalize your tastebuds.
Love your ayam? Chef Suriad uses only kampung chicken, known for its tender succulent flesh. Ayam cooked different styles – Gulai, Bakar, Belado, Goreng, Opor, Pop, Rendang are sure to keep you coming back for more. Ambeng set and Bentos are available for takeaways and delivery.
Putra Minang flagship restaurant is at Somerset Bencoolen Service Apartments 51 Bencoolen St, #01-05, S(189630). Open daily: 6.30am – 9pm. Branch outlet at International Plaza #01-33 (next to Coffee Bean), open daily from 10am to 7pm.
For Reservation, Takeaway and Delivery, please contact +6582623535.
Website: www.putraminangsg.com