Marubeni Global and Tuas Power signs MoU for US$9 Billion renewable energy expansion plans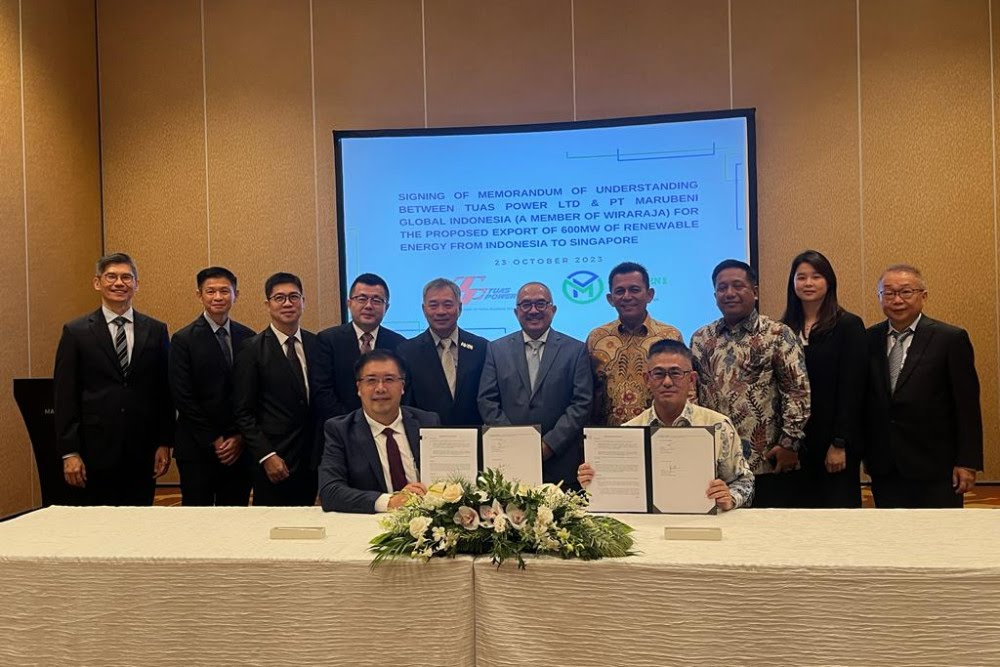 THIS is a milestone for the new and renewable energy (NRE) sector as PT Marubeni Global Indonesia, a key player in Batam with National Strategic Program (NSP) status, has entered into a Memorandum of Understanding (MoU) with Singapore's prestigious NRE company, Tuas Power.
The signing ceremony took place on 23rd October 2023 and under this transformative partnership, Tuas Power is set to import environmentally friendly electricity generated by Marubeni in Batam. Marubeni, a subsidiary of the Wiraraja Group, will make substantial contributions by generating 4.1 GWp of solar energy and storing an additional 10 GWp in a cutting-edge Battery Energy Storage System (BESS). The total investment for this ambitious project is estimated at a remarkable US$9 billion.
This collaboration marks a significant step toward accelerating the shift from fossil fuel-based electricity to environmentally friendly power generation, a move that holds the promise of benefiting both Indonesia and Singapore. It aims to address pressing environmental concerns while fostering the sustainable growth of renewable energy. Zhou Min, President and Chief Executive Officer of Tuas Power, expressed long-awaited enthusiasm for this partnership, with a primary focus on reducing emissions and facilitating the expansion of renewable energy in Indonesia.
Two Phases
This project is planned to unfold in two distinct phases, with the first phase scheduled to commence in the latter half of 2024. Tuas Power, a subsidiary of China's Huaneng Power International, brings valuable experience and resources to this endeavor.
Tjaw Hioeng, Managing Director of PT Marubeni Global Indonesia, emphasized the critical importance of this collaboration for long-term NRE development. He underscored their m commitment to strengthening the agenda for long-term energy resilience, recognizing that environmentally friendly electricity is indispensable for reducing emissions and fostering an improved environment in both Indonesia and Singapore.
This partnership holds significant potential for attracting investments in various NRE aspects in the Riau Islands, particularly in Batam, including solar photovoltaic and BESS in the sustainable energy landscape of the region.