Singapore rolled out the red carpet for President Jokowi's visit. The Singapore – Indonesia Leaders' Retreat 2017 also celebrated a golden jubilee of co-operation and collaboration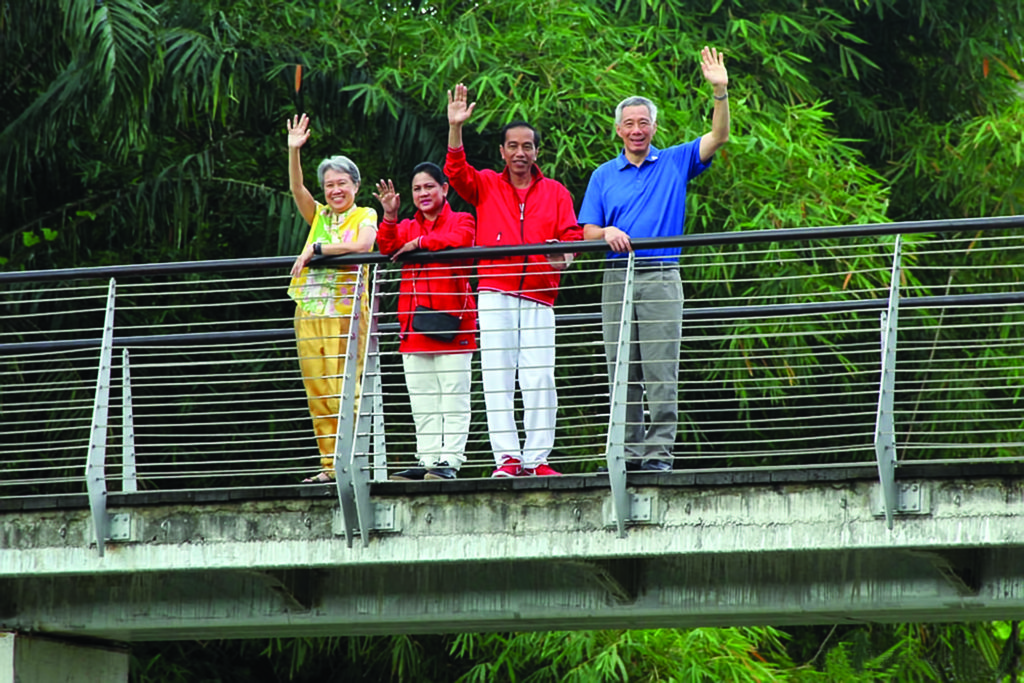 Indonesian President Joko Widodo's arrival in Singapore for the 2-day Singapore-Indonesia Leaders' Retreat with Prime Minister Lee Hsien Loong, held from 6 to 7 September 2017, was timed at a very auspicious moment in the history of the diplomatic relations between the two nations. The Leader's Retreat this year happened to have coincided with the RISING 50 celebrations for the 50th anniversary of diplomatic relations between the two nations which have become quite close in these intervening years.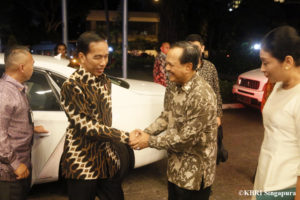 Diaspora Welcome
At the outset the Indonesian president, accompanied by his wife First Lady Iriana Joko Widodo, was greeted with great enthusiasm by over 2,000 members of the Indonesian diaspora at the Indonesian embassy. President Widodo said that Indonesian overseas workers should be proud of their country and resolve any problems encountered in a proper manner. "I want to remind everyone to be united. If you are on social media, use it for positive purposes. Do not get involved in any disputes," he said. A slew of activities were organized for the celebratory arrival of the Indonesia President who enjoyed the many events rallied around the theme of "Trusted Partners, RISING together".
One such event was the planting of the "RISING Tree", a Sunda oak tree—very symbolic as its native to both countries, in the Learning Forest at the Singapore Botanic Gardens, jointly by Prime Minister Lee and President Joko Widodo . Shortly afterwards a private breakfast was hosted by Prime Minister Lee and Mrs Lee for the President and First Lady Iriana Joko Widodo, at the Halia restaurant Singapore Botanic Gardens. Also organized was a formal lunch for the delegations of both countries at the Istana. Attendees from Singapore included Deputy Prime Minister and Coordinating Minister for National Security Teo Chee Hean and several Cabinet Ministers.
Both leaders also unveiled a joint stamp issue and at the Istana they launched a RISING50 commemorative book. It was a historic moment for both countries as both their leaders witnessed the joint flypast by the Republic of Singapore Air Force and the Indonesian Air Force. To mark the golden jubilee of bilateral relations, the F-16s formed the numeral 50 in the sky over Marina South, in a historical first that involved aircraft from the two air forces. The combined military band performance, by both nations at the Marina Bay Cruise proved to be most engaging for the leaders as well as the invitees on this very special occasion. Both these events hallmarked the close and very supportive defence relations that the military of both nations has nurtured over the decades.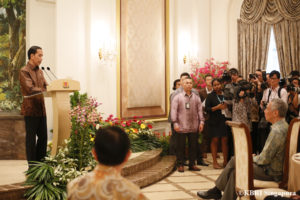 The last retreat between both nations took place in – held in Semarang, Indonesia in November 2016. At this year's retreat at the Istana, residence and official office of Singapore's Prime Minster, the agenda included: exchanging of views by both the Prime Minster Lee and President Joko, on regional and international developments, reviewing the progress of bilateral relations at the historic RI SING 50 milestone, and exploring new areas for cooperation across multiple sectors which also included enhanced economic collaboration, security cooperation, and cultural exchanges.
The Leaders also used the occasion to continue their dialogues from the 2016 Retreat on matters of energy, digital economy, tourism, and skills training. A very important aspect of the Retreat this year was the signing of nine Memorandums of Understanding (MOUs) between the two covering areas of higher education, vocational training and disaster risk management, which will help continue the movement forward in the new era of Indonesia-Singapore bilateral relations.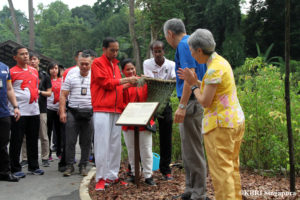 Singapore-Indonesia Investment Forum on Tourism
After the historic fly past both Leaders attended the Singapore-Indonesia Investment Forum at the MBCCS. Also scheduled was a meeting with members of the Indonesia-Singapore Business Council, which was formally established on 28 July 2017 following discussions between the Leaders at the 2016 Retreat.
The Singapore-Indonesia Investment Forum was organised by the Singapore Business Federation (SBF), the Economic Development Board (EDB), International Enterprise Singapore (IE Singapore), the Indonesian embassy here, Indonesia's Investment Coordinating Board (BKPM) and the Indonesian Chamber of Commerce and Industry (Kadin) at the Marina Bay Cruise Centre on 7 September 2017.
Speaking to an august gathering of 600 business leaders and government representatives, the Prime Minster pointed out that "Singapore and Indonesia have long enjoyed substantial economic ties. We have benefitted from each other's success, and also weathered global economic challenges and financial crises together. We are among each other's top trading partners. We receive the largest number of tourists from each other. Every year 1.5 million Singaporeans visit Indonesia, and close to 3 million Indonesians come to Singapore." He also shared that Singapore has been the top investor in Indonesia for several years now, and the investments have grown. Investments range from infrastructure projects and financial services to food and beverages.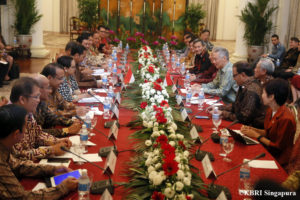 More than 2,000 Indonesian businesses operate in Singapore, including retail, finance, and business services, he pointed out. He also expressed his delight at new initiatives being taken on the bilateral front: "One of the issues which we discussed during the retreat this morning is to negotiate a new bilateral investment treaty (BIT). This will strengthen investors' confidence that Indonesia is open and ready for business and foreign investment. I discussed this with the President and he agreed with me, that we would open discussions on a new BIT."
Reminding his audience that the focus of this forum is on tourism he shared that in 2015-2016 Singaporeans accounted for 12% of Indonesia's 12 million international tourists. This was not surprising, he said, "because Indonesia has endless appeal, with its vibrant cities, rich cultural heritage and natural beauty across 17,000 islands. There is great potential for this to grow further, especially given the right infrastructure and better connectivity."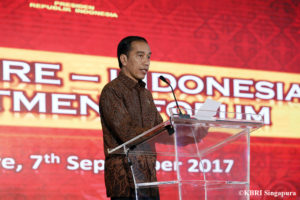 Batam as Digital Bridge
President Joko Widodo pointed out to the "historic opportunity in today's digital revolution." He said that: "We are witnessing a historic boom in e-commerce companies in Indonesia. We have several unicorns, each with a valuation of US$1 billion. Given the size of our domestic market, we will have many more in the years to come… The Indonesian island of Batam could serve as a "digital bridge" between Singapore and many of Indonesia's fast-growing cities" President Jokowi also said the future holds many new challenges but he was "glad that the discussion this morning with PM Lee was focused on our cooperation ahead, including the development of digital economy."
Speaking about the fresh dynamics of the relations between Singapore and Indonesia since 50 years ago, the Prime Minster said that the global economy has undergone dramatic changes. "Now it is in a period of rapid technological change and disruption. It is opening up many new business opportunities, even as it generates uncertainty and fierce competition for all our companies. I hope our two countries will continue in this environment to deepen our economic links and our businesses will form more partnerships which can pursue win-win ventures. This is the way we can build resilience and prosper together," he said succinctly.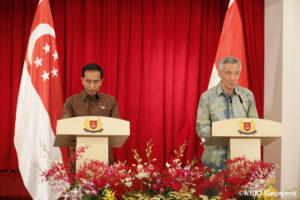 Joint Press Conference
Singapore's Prime Minister Lee Hsien Loong held a Joint Press Conference with Indonesian President Joko Widodo on 7 September 2017. The prime Minster reminded his audience of the time when the two nations first set up diplomatic ties and how that has progressed over time, up to the point of this Leader's Retreat: "Today's Leaders' Retreat coincides with a very special occasion because 50 years ago on this very day, Singapore's then-Foreign Minister S Rajaratnam signed a joint communique with his Indonesian counterpart, the respected Adam Malik, to establish formal diplomatic relations between our two countries. Our bilateral relationship since then has grown and prospered," he said.
Elaborating on the 50 years of friendship and bilateral co cooperation he said: "RISING stands for the Republic of Indonesia, RI, and SING for Singapore. The theme underlines the fundamental basis of our longstanding bilateral relationship, one that is built on strategic trust, and shared vision that we gain more when we progress together. We hope that our close partnership will continue to strengthen and prosper for many more years."