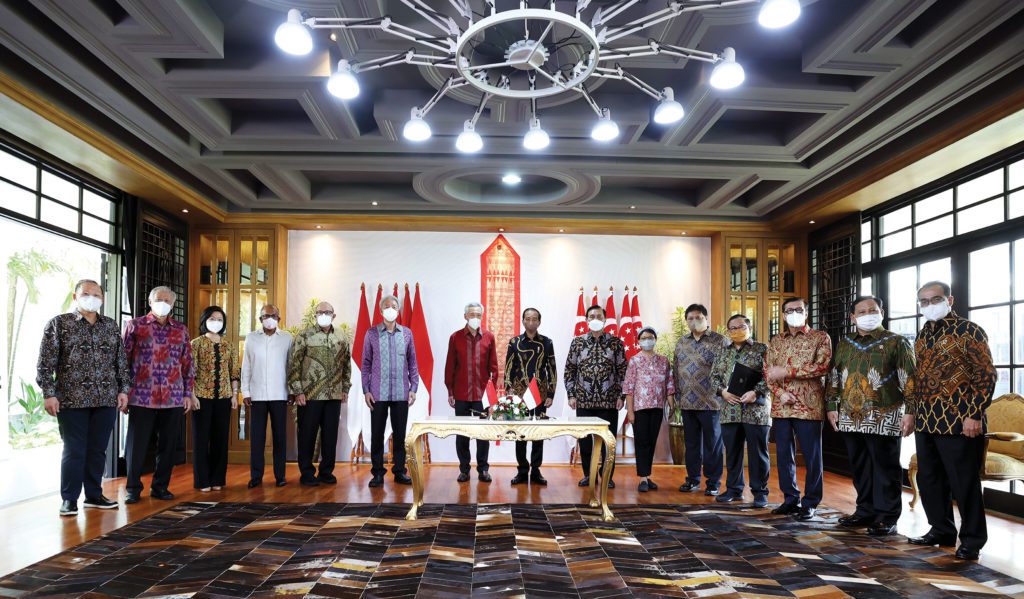 Three significant agreements were reached at the Retreat and both leaders satisfied with state of bilateral ties and progress in various joint projects
PRIME Minister Lee Hsien Loong visited Bintan, Indonesia, on 25 January 2022 to attend the Singapore-Indonesia Leaders' Retreat hosted by Indonesian President Joko Widodo. This is the Prime Minister Lee's fifth Leaders' Retreat with the Indonesian President, following the Leaders' Retreat in October 2019, which was held in Singapore.
President Joko Widodo and Prime Minister Lee reviewed the progress made on bilateral cooperation since the last Leaders' Retreat and discussed ways to expand collaboration in key areas of priority for both countries. They also exchanged views on regional and global developments.
During the Leaders' Retreat, Prime Minister Lee and President Joko Widodo also witnessed the signing and exchange of a set of agreements negotiated on the basis of the 'Framework for Discussions' announced at the Leaders' Retreat in 2019 (see box story).
FRAMEWORK AGREEMENTS
● Realignment of the Boundary between the Jakarta Flight Information Region (FIR) and the Singapore FIR
● Treaty for the Extradition of Fugitives
● Joint Statement between the Defence Ministers on the 2007 Defence Cooperation Agreement and its Implementing Arrangement between the Singapore Armed Forces and the Indonesian Armed Forces (now referred to as "the Indonesian National Defence Forces") for the Military Training Area in Indonesia.

There was also an Exchange of Letters undertaking to bring the above agreements into force simultaneously.
The Leaders also endorsed the announcement of several Memorandums of Understanding (MOU), signed ahead of the Retreat, including in financial and economic cooperation, green and circular economy development, energy cooperation, and human capital development.
Prime Minister Lee was accompanied by Senior Minister and Coordinating Minister for National Security Teo Chee Hean, Minister for Defence Dr Ng Eng Hen, Minister for Foreign Affairs Dr Vivian Balakrishnan, Minister for Home Affairs and Minister for Law K Shanmugam, Minister for Transport S Iswaran, and Minister for Manpower and Second Minister for Trade and Industry Dr Tan See Leng.
Leaders' Remarks in Joint Press Conference
Both leaders noted the excellent level of bilateral and robust economic ties. On their agenda were discussions on ways to build on the success of projects such as the Kendal Industrial Park and the Nongsa Digital Park (NDP). They welcomed the launch of the Nongsa Digital Town (D-Town) in Batam as the next phase of NDP's development. They also recently signed MOUs on Financial and Economic Cooperation between the Singapore Ministry of Finance and Indonesian Ministry of Finance, and the MOU between the Monetary Authority of Singapore and Bank Indonesia to expand cooperation across central banking, financial regulation and payments innovation would also encourage more multi-faceted and forward-looking institutional linkages in developing both countries' digital economies.
President Joko Widodo Statement (Extracts)
"First, strengthening cooperation in efforts to rebuild the economy. Singapore is Indonesia's top investor with an investment value of US$7.3 billion in January-September 2021. The retreat meeting noted that there were new investments worth US$9.2 billion, including in the field of new and renewable energy around Batam and Sumba Island and West Manggarai, East Nusa Tenggara province, as well as the construction of a logistics hub at the Tanjung Priok Port."
"Investment in energy and renewable energy continues to be a priority for the Indonesian Government to promote a green and sustainable economy. To support a green investment climate, in the series of retreat meeting we signed a MoU on energy cooperation and on green and circular economy development cooperation.
We also signed a MoU in the financial sector to maintain financial and monetary stability to support economic recovery. In November 2021, the Local Currency Bilateral Swap Agreement and the Bilateral Repo Line were extended for one year. I also hope that the MoU between central banks related to payment innovation, anti-money laundering measures, and prevention of terrorism financing can be immediately signed."
Related please read:
● Inteview with H.E. Suryo Pratomo – Behind the Scenes…
● Indonesia Gears Up to Host G20 Summit in Bali