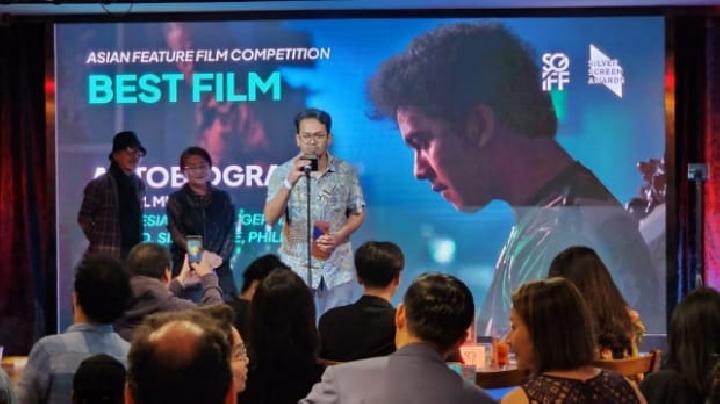 Makbul Mubarak's first major film 'Autobiography' also receives recognition at the 33rd Singapore International Film Festival (SGIFF)
The 33rd Singapore International Film Festival (SGIFF) came to an end on December 4, 2022, with the Silver Screen Awards presentation. At the ceremony, which took place at the Hard Rock Cafe on Cuscaden Road, fourteen awards were given out in six different categories. This included the drama Autobiography.
It is Indonesian director Makbul Mubarak's first major motion picture and it clinched the Best Asian Feature Film award. The film's control and clarity of vision impressed the festival jury, who praised it as "a vivid character study." The work has also won awards at other film festivals in Indonesia, Stockholm, Venice, and Taiwan's Golden Horse Film Festival.
The film examines the life of Rakib (Kevin Ardilova), a guard for a vacant home owned by Purna (Arswendy Bening Swara), a retired soldier, is the subject of this movie. Purna made the decision to return home one day and to run for the position of regional regent. Rakib assisted him and earned his trust before everything abruptly changed and altered Rakib's opinion of Purna.
This movie was selected based on the judgment of the jury panel, which was composed of eminent directors from around the globe, including Lav Diaz, Ritu Sarin, Kim So-young, and Dennis Lim. This film also served as Gunawan Maryanto's final performance before his death in 2021.
Additionally, this movie won the top prize in the main category of the 2022 Jogja-Netpac Asian Film Festival (JAFF). They defeated films from many other countries to win the top prize, the Golden Hanuman, including Like & Share (Indonesia), Return to Seoul (Cambodia), Let Me Hear It Barefoot (Japan), and 24 (Singapore).