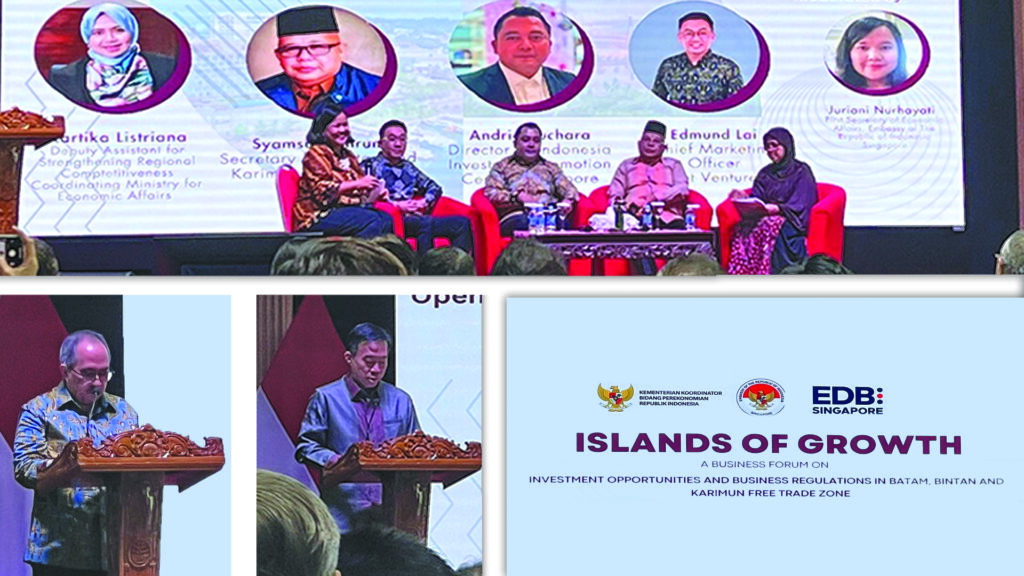 The 'Islands of Growth: Exploring Investment Opportunities in Batam, Bintan, and Karimun Free Trade Zone' seminar helped companies explore the potential in Batam, Bintan, and Karimun (BBK) and connected participants with the relevant government agencies and potential partners
DURING the conference on 20th October 2023 held at the Indonesian Embassy in Singapore, a comprehensive overview of investment potential and business regulations in the dynamic Indonesian Free Trade Zones was presented to attract businesses from SIngapore, ASEAN, India, and Japan.
The Guest of Honour Mr. Png Cheong Boon, Chairman of the Economic Development Board Singapore. said, "Investment success stories reinforce Batam, Bintan, and Karimun Free Trade Zones as a competitive base for companies looking at expanding their footprint in Southeast Asia and into Indonesia." He added that it is hoped, more companies will consider doing the same as they look at strengthening the supply chain and developing new market opportunities in Indonesia.
H.E. Suryo Pratomo, Ambassador Extraordinary and Plenipotentiary Republic of Indonesia to the Republic of Singapore, set the stage for discussions on investment opportunities in the BBK Free Trade Zone. A group discussion was moderated by Jurioni Nurhayati, First Secretary of Economic Affairs at the Embassy of Indonesia, and other participants who shared their views. They included a "Retirement Village Concept" for the elderly in the Free Trade Zone of Tanjung Pinang is on the cards and is estimated to be completed in 2035. This concept is to attract long term tourists to Indonesia and also provide integrated facilities for the elderly. Indonesia seeks investments in this sector and this facility can be made use of by Singaporeans. With good connectivity and reduced cost of living, this can provide a great opportunity for Singaporeans.
Sabang, Batam, Bintan, Karimun, and Tanjung Pinang, strategically located in the Riau Islands Province, offer unique investment prospects for businesses looking to thrive in this dynamic economic landscape.
Batam City recorded an impressive growth of 4.75% in 2021, surging to 6.84% in 2022. Meanwhile, Bintan Regency showed steady progress with 0.23% growth in 2021, and an encouraging 4.44% in 2022.
The speakers also explained about Government Regulation No. 41/2021, which aims to foster an investment-friendly environment, bolster economic growth, and enhance regional competitiveness in Batam, Bintan, and Karimun Free Trade Zones. Key provisions include institutional reforms through the FTZ Council and clarity on facilities and incentives.
The Coordinating Ministry for Economic Affairs of the Republic of Indonesia has set a visionary theme for BBK Development 2023-2047, focusing on advancing BBK as an International Logistic Hub. This ambitious plan incorporates 84 projects in Batam FTZ, 35 in Bintan FTZ, 30 in Karimun FTZ, 23 in Tanjungpinang FTZ, and 11 inter-regional projects.
Non-Fiscal Incentives:
BBK offers integrated business license processes with 67 business permits streamlined under GR No. 41/2021. Additionally, the region provides immigration facilities including free visas, visa on arrival, and multiple entry visas for business purposes.
Development Policies in the Province of Riau Islands:
Syamsul Bahrum PhD, Senior Analyst of the Government Investment and Development Affairs of the Riau Islands' Province, shed light on the strategies driving growth and connectivity in the region, and emphasizing the importance of inter-provincial accessibilities and connectivities among the Provincial Regencies and Cities. Another noteworthy factor is a comprehensive network of distribution points via sea and air routes in Batam, Bintan, Karimun, Tanjung Natuna, Anambas, Lingga, and Pinang ensures seamless accessibility within the FTZ BBKS and beyond.
Edmund Lai, Chief Marketing Officer Gallant Ventures, invited investors and spoke about Batamindo Industrial Park and Bintan Industrial Estate which offer prime locations for industrial ventures. Gallant Venture supports the infrastructure needs of businesses along with essential services like power and water supply,
Other speakers such as Andria Buchara, Director Indonesia Investment Promotion Centre Singapore, also assured potential investors of political stability in the region and invited them to visit Indonesia to see for themselves and make their investment decisions accordingly.