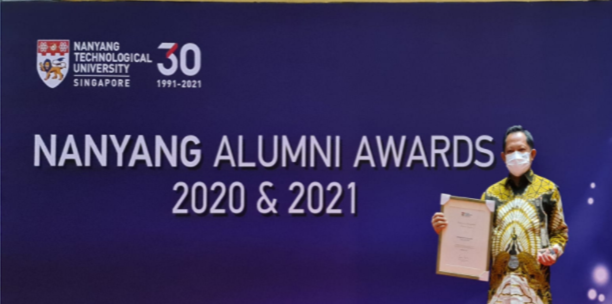 Indonesian Minister of Home Affairs Receives Honored Alumni Award from NTU Singapore
Singapore, 23 October 2021

The Indonesian Minister of Home Affairs, Muhammad Tito Karnavian, received the honorable alumni award from Nanyang Technological University (NTU) Singapore on Saturday, October 23, 2021. The award was presented by Singapore's Minister of Education, Chan Chun Sing at the awards night which took place at NTU Singapore.

Tito Karnavian, who received his doctorate from NTU in 2013 was considered an alumni who gave NTU pride as an alma mater. Minister Chan Chun Sing considered that Tito was a figure who had made a major contribution to the creation of security in the region, especially his role in dealing with terrorism when he led the National Police Anti-terror Detachment 88, at the National Counter-Terrorism Agency (BNPT), and when he served as the Indonesian National Police.

In addition to receiving the award, Minister of Home Affairs Tito also took advantage of the opportunity to visit Singapore to discuss cooperation in improving relations with the Minister of Education Chan Chun Sing, especially for capacity building on public policy, both for regional heads and graduates of the Institute of Domestic Administration (IPDN).
****