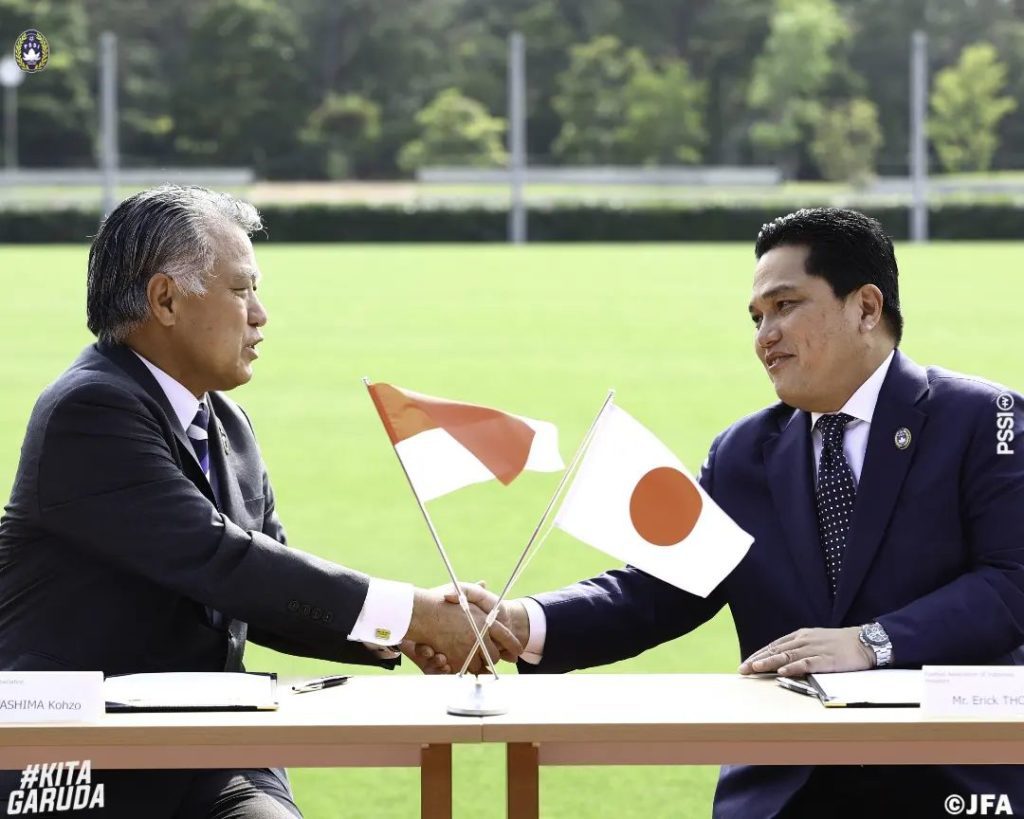 Game-changing collaboration: Indonesian Football Association (PSSI) joins forces with Japan Football Association (JFA) to revolutionize Indonesian football, aspiring to build a stronger national team and elevate the domestic league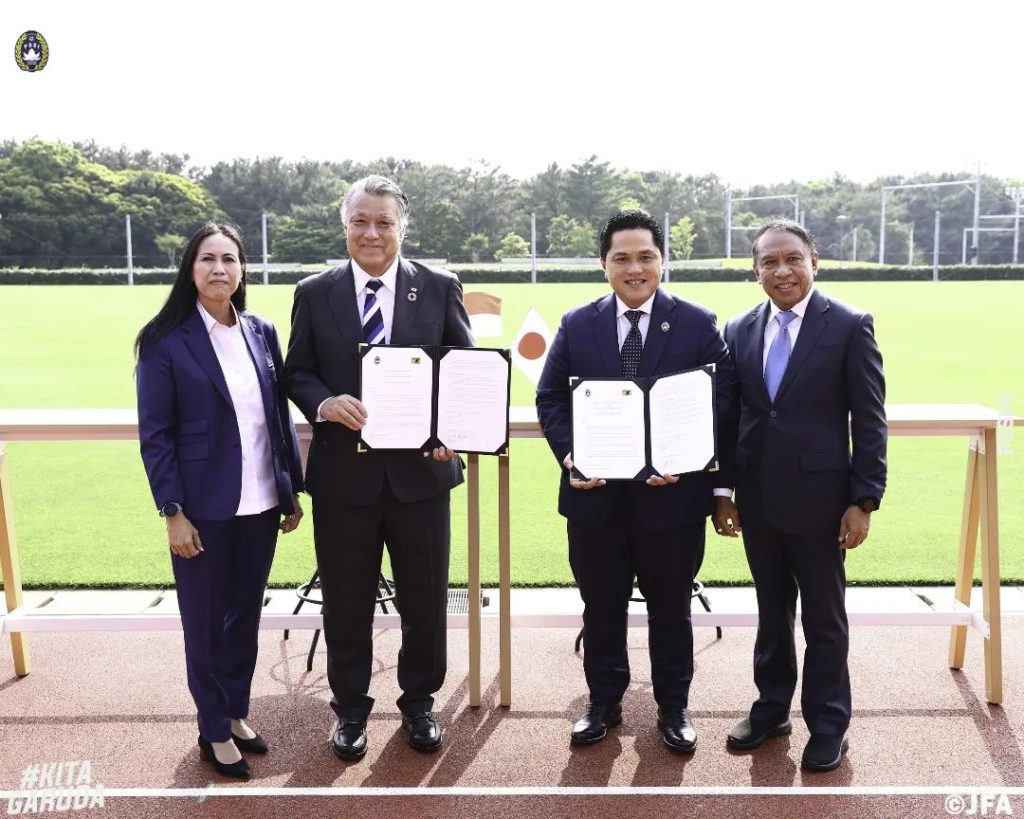 In an unprecedented move that promises to transform the world of Indonesian football, Chairman of the Indonesian Football Association (PSSI), Erick Thohir, has forged a groundbreaking development partnership with the Japan Football Association (JFA). The excitement was palpable as Thohir, accompanied by PSSI Deputy General Chair Zainudin Amali, embarked on a journey to Tokyo for a momentous meeting with JFA President Tashima Kohzo to convey a memorandum of understanding (MoU) that paves the way for an extraordinary collaboration between the two football federations.
During a gripping press conference on Monday, Thohir articulated the immense potential of this partnership, stating, "This collaboration will revolutionize our approach to nurturing young talent, uplifting our senior players, and empowering our women's football teams. Our ambitions extend far beyond the pitch, encompassing the enhancement of our refereeing system, the augmentation of our infrastructure, the invigoration of our domestic league, and, above all, the elevation of our national team."
Thohir's admiration for the Japanese football landscape was unmistakable as he expressed his awe at the stellar development efforts undertaken by the JFA. "We are immensely impressed by the way in which the Japan Football Association has transformed Japanese football, bolstering it with unwavering support, exceptional infrastructure, and a meticulously designed system," he exclaimed. It was evident that Thohir harbored aspirations to emulate Japan's success, as he boldly proclaimed, "Of course, we are determined to build a formidable domestic football scene, and it is from you, esteemed JFA, that we seek inspiration and wisdom to shape an even stronger national team."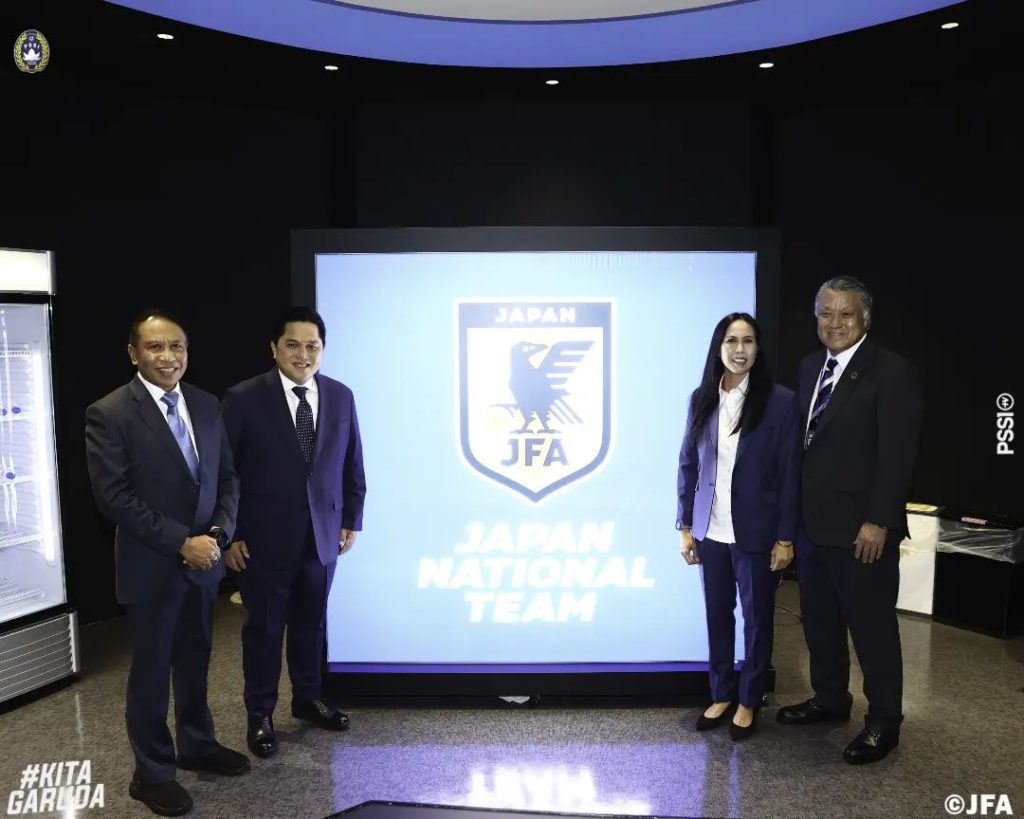 The Minister of State-Owned Enterprises (SOEs) shed light on an exciting aspect of the partnership: the establishment of cutting-edge sports facilities in Indonesia's new capital city, Nusantara. These state-of-the-art facilities will serve as catalysts for football development, providing the ideal environment for aspiring athletes to flourish.
Optimism resonated in the minister's words as he shared, "We fervently hope that this unprecedented cooperation will bestow immeasurable benefits upon Indonesian football. In particular, we will focus our joint efforts on uplifting our women's national team, drawing from Japan's remarkable track record of triumphs, including their U-16 and U-20 victories, as well as their ascent to become world champions."
Thohir's commitment to revolutionizing the domestic league was evident as he unveiled his plans to benchmark the J-League's management, an exemplar of excellence in football administration. Collaborating with Japanese referees, he intends to bolster the refereeing system and ensure the highest standards of officiating in Indonesian football. He shared his strategic vision, stating, "We are resolute in our quest to learn from the success of the J-League, continuously improving our domestic football management. Referees play a crucial role in the game, and in this regard, we eagerly anticipate the invaluable contribution of Japanese referees to our football ecosystem. The anticipation builds as we eagerly await the announcement of their names."
The stage is set for a footballing revolution in Indonesia. With the fervor and determination displayed by Chairman Thohir and the PSSI, coupled with the invaluable expertise and support of the JFA, Indonesian football is poised to soar to new heights. The nation eagerly anticipates the arrival of a brighter era, one where Indonesian footballers shine on the global stage, and the sound of cheering fans reverberates throughout the archipelago.