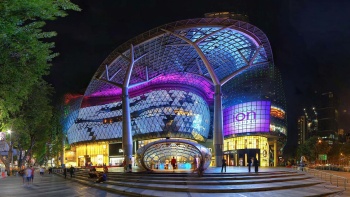 INDOCONNECT'S FIRST IN A PERIODIC SERIES OF GUIDES INTRODUCING ICONIC PLACES TO VISIT FOR THOSE NEW TO SINGAPORE. FIRST STOP IS THE RETAIL HEART OF SINGAPORE THE 2.4 KM STRETCH OF ORCHARD ROAD WHERE SHOPPING, DINING, AND ENTERTAINMENT ALL CONVERGE
Orchard Road, situated in the heart of Singapore, is a renowned and bustling shopping and entertainment district that attracts visitors from all over the world. Known for its wide array of high-end boutiques, department stores, and entertainment options, Orchard Road is a must-visit destination for tourists and a beloved spot for locals.
This iconic street is lined with luxury brands, fashion boutiques, and shopping malls, making it a shopper's paradise. Visitors can explore the latest fashion trends, indulge in delectable cuisine, and enjoy an array of entertainment options ranging from cinemas to live performances.
Orchard Road's charm is not limited to daylight hours. As the sun sets, the street transforms into a vibrant hub for nightlife. Numerous bars, clubs, and restaurants come to life, ensuring a lively atmosphere for those seeking a memorable evening out.
For those looking for a cultural experience, Orchard Road is also home to a variety of art galleries, museums, and historic landmarks. The Istana, the official residence of the President of Singapore, is a notable attraction situated along this bustling street.
Whether you are a fashion enthusiast, a food lover, or simply someone looking to explore Singapore's rich culture, Orchard Road offers a diverse range of experiences.
So, if you find yourself in Singapore, make sure to stroll down Orchard Road and immerse yourself in the city's retail and entertainment wonderland.