The most recent artistic endeavor at Tanjong Pagar Distripark's SAM challenges viewers to reevaluate their conceptions of a world in which nothing is as it seems.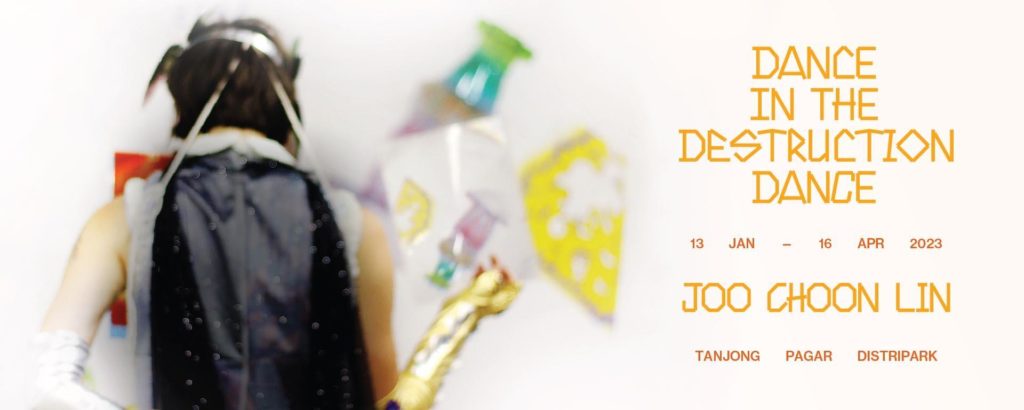 This month, Tanjong Pagar Distripark's Joo Choon Lin's Dance in the Destruction will receive its official opening from the Singapore Art Museum (SAM), welcoming visitors into a sensory-rich environment that reimagines perceptions of form, reality, and human consciousness through ordinary objects. The second solo exhibition in the museum's Material Intelligence series, by Singaporean artist Joo Choon Lin, will be on view from January 13 through April 16, 2023. This follows Thai artist Korakrit Arunanondchai's A Machine Boosting Energy into the Universe, which debuted in January 2022.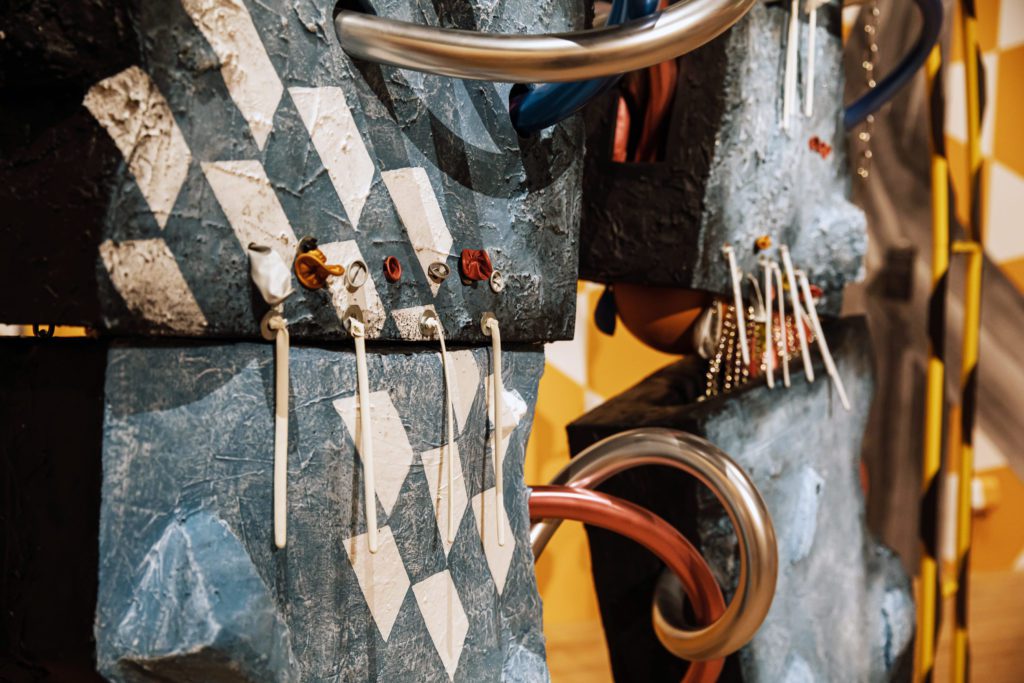 Dance in the Destruction transforms Gallery 2 of SAM at Tanjong Pagar Distripark into a moody setting that serves as both a performance space and an artwork installation. The idea that the present is an illusion and that reality is often deceptive is explored through dance. A number of pieces of art are included in the installation, including Glue Your Eyelids Together (2017), I Only Make Friends With Money (2012), and Beatific Perfume (2020–present), which combines sculpture, video, and drawings to naively query whether there is a distinction between reality and appearance. Through the two-part theatrical production pEARs'— — —'in pring (2018), the artworks will be brought to life. The performance, which Joo wrote the script for and which features original music by sound designer and composer Joe Ng, emphasizes the migration of forms and helps to shape the exhibition's story. Through the exhibition, Joo stimulates discussion about how the objects in our surroundings can activate the thresholds of consciousness and emphasizes how perception is merely the outward manifestation of what we imagine the world to be.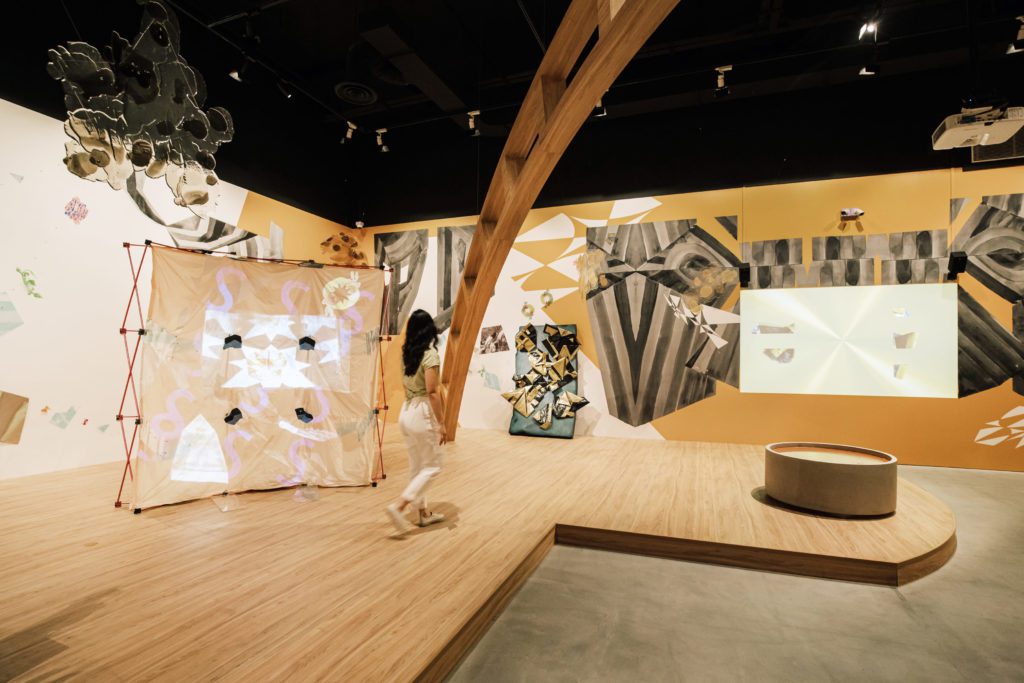 Dance in the Destruction draws from Joo's experimentation with post-industrial materials such as plastics and metals, and how they constantly shapeshift and come to be adapted for myriad functions. It also exemplifies her ongoing explorations into how imagination can become a vehicle to make the invisible world visible through a play of the objects she creates and the performances she stages in her large installations", said Shabbir Hussain Mustafa, Senior Curator at SAM. "This exhibition extends SAM's curatorial agenda to present experimental, object-based and materially-oriented artistic practices to facilitate new forms of presentation that make meaning of our everyday experiences. We invite visitors to stretch the limits of their imagination as they examine the way Joo presents and activates materials through different modes of presentation, from installation, to animation and performance."
The experimental and practical material work of Joo Choon Lin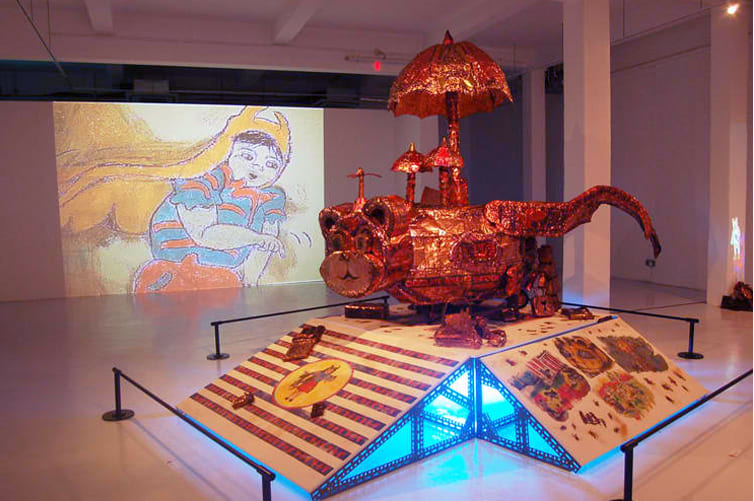 In 2009, Joo debuted with SAM for the first time with her stop-motion animation installation, Come Out And Play! She then returned in 2010 with STOP in here and get into the MOTION. The 2013 Singapore Biennale also featured her mixed-media installation, Your Eyes Are Stupid. SAM commissioned Dance in the Destruction as part of its ongoing efforts to support artistic practices in Singapore that investigate fresh approaches to exhibition-making. It will also be the first time Joo's practice has been critically contextualized, with connections made between bodies of work created over the past fifteen years.
In order to question the norms of human perception, Joo's work engages with the transformation of materials through technology and other modes of making, transforming ordinary objects into novel tools and cybernetic assemblages or activating them in films and performances. Dance in the Destruction also reflects her interest in scenographic design and theatrical performance because the gallery space will transform from a stage set to an installation when components are changed during performances. The unconventional use of sculpture, video, and performance will entice viewers into a world with an infinite number of forms and interpretations.
Pushing the limits of perception and reality through shape-shifting objects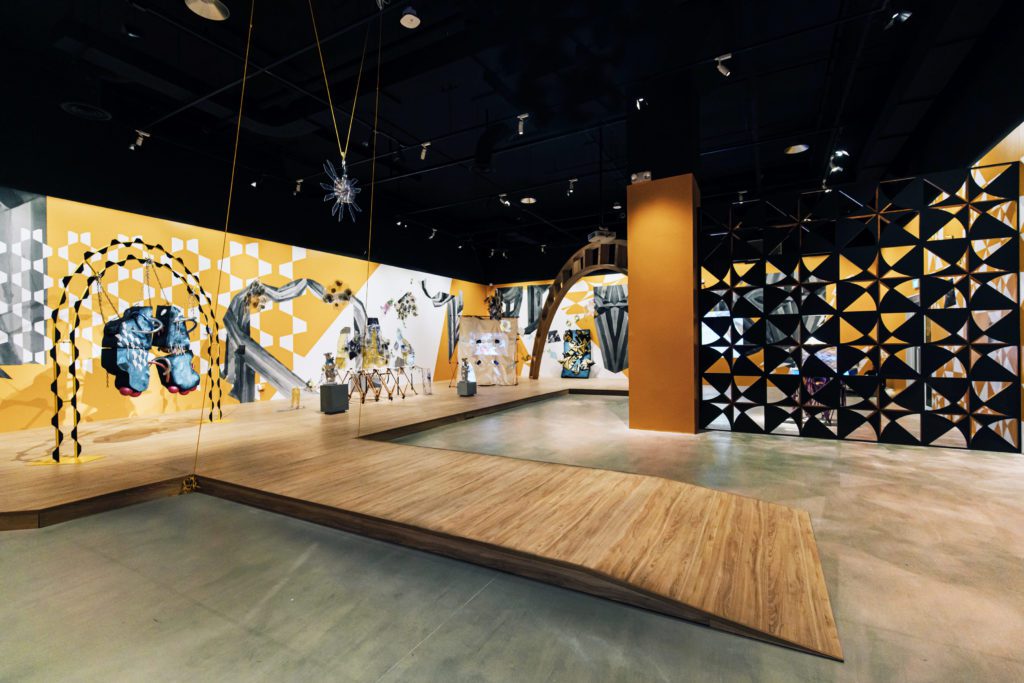 Returning visitors to the exhibition can witness the installation's constant evolution, accompanied by immersive soundscapes and video projections. Live theatrical performances will take place in the gallery space from January through March 2023 to bring the installation and its various components to life. These activations will involve the manipulation of installation sculptures as they change into bizarre shapes and arrangements. Joo will script and perform them alongside other performers.
With each new performance, the installation evolves into a place for fresh encounters while also keeping a record of its previous iterations. The exhibition will include video projections that blend digital animations of the sculptures with physical activations.
Additionally, there will be complimentary public events like curator tours, performances with artist collaborators, and talks.
The exhibition is part of the SAM's Material Intelligence exhibition series, which investigates how artists link modes of making associated with materials to speculations about our ecological and technological futures, and reflects the museum's vision of pushing the boundaries of experimental ideas and practice.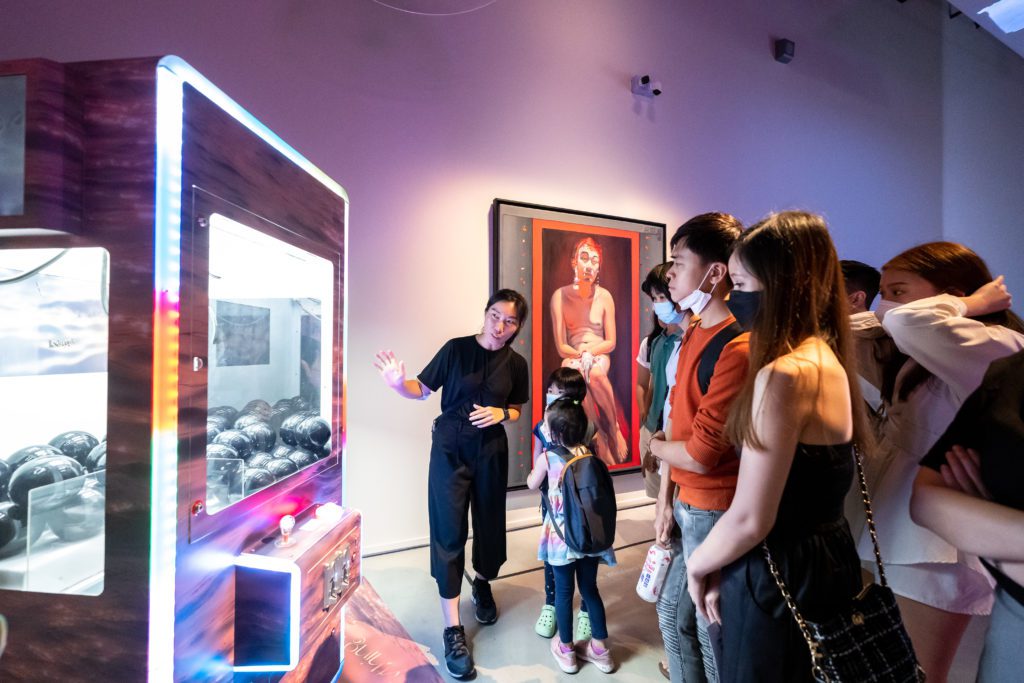 Joo Choon Lin: Dance in the Destruction will be on display at Gallery 2 of SAM at Tanjong Pagar Distripark from 13 January to 16 April 2023. All visitors are welcome at no cost during the entire run of the exhibition. Visitors can take advantage of extended museum hours on Fridays and Saturdays, as well as a variety of programs, including performances, tours, workshops, and family-friendly activities, during Singapore Art Week 2023. SAM will also grant free entry to the Singapore Biennale 2022 from January 6 to January 15, 2023.
You can find program information for SAW 2023 here