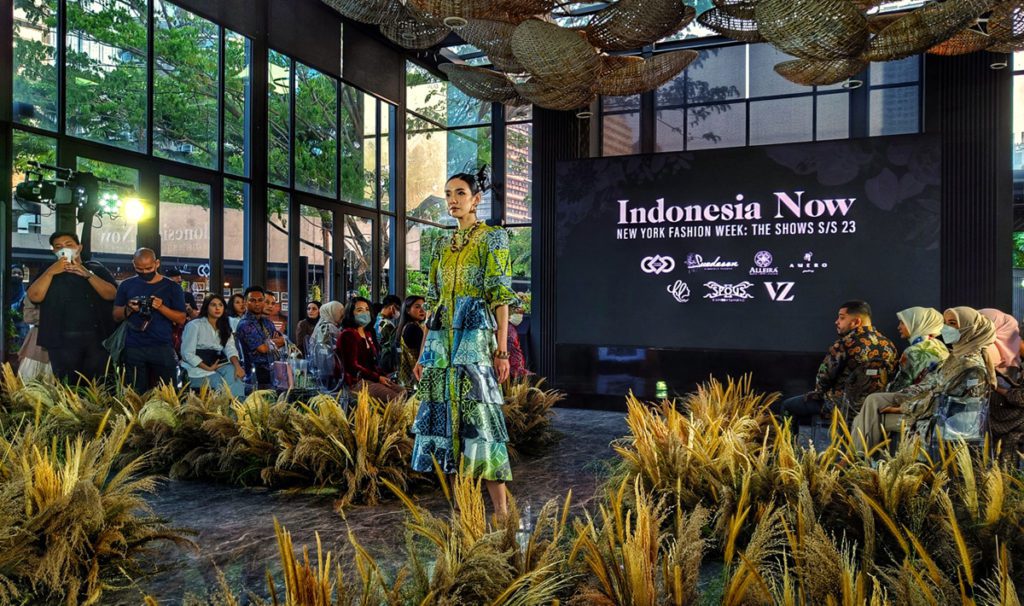 Last September Indonesian fashion designers strutted their creations at North America's premier fashion event. Indonesia is already exporting large quanities there but under foreign labels and is working on penetrating the US market with original Indonesian labels
FOR fashionistas, it is one of the most exciting times of the year as from 9th to 14th September 2022 high-profile fashion designers, fashion connoisseurs and representatives of top fashion labels from across the globe flocked to the Big Apple for the prestigious New York Fashion Week (NYFW). A group of Indonesian fashion designers, known as Indonesia Now, also presented their collections in one of the NYFW's official shows.
A total of 60 looks were presented by six Indonesian fashion labels at Spring Studios, New York on 11th September 2022.:
– Alleira Batik
– Coreta Louise
– Heaven Lights
– Suedeson by Kimberly Tandra
– Spous by Priyo Octaviano and
– Vivi Zubedi
The show was also supported by the Embassy of the Republic of Indonesia in Washington, DC.
According to a report by The Jakarta Post: "Indonesian designers have a large opportunity to enter the US market," Ayu Heni Rosan, spouse of Indonesian ambassador to the US, said in her televised speech during the press conference in Hutan Kota by Plataran, Central Jakarta, on 25th August 2022.
"Indonesian exports to the US keep increasing. And currently, the United States is the main export destination for Indonesian fashion products."
In 2021, the export value of Indonesian garment and textile products to the US almost reached US$4 million, or an approximate 17 percent increase from the previous year.
"Most of these exports are still under foreign labels," Ayu continued. "But with quality products and the right marketing strategies, Indonesian labels can definitely penetrate the US market."
There are several challenges for Indonesian fashion designers to overcome when entering the US market.
For the full report visit here.