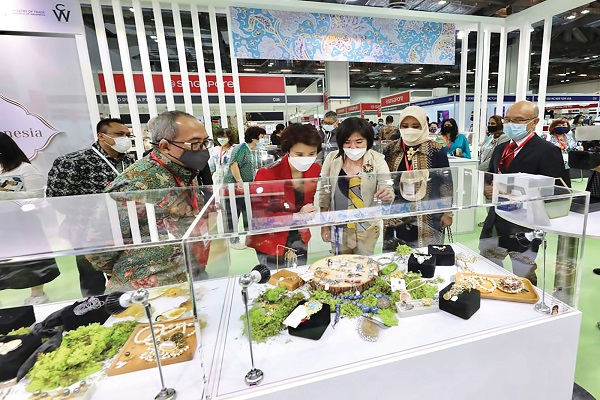 Boutique jewellery exhibitors at the Indonesian Pavillion received a spectacular reception at the Singapore International Jewellery Exhibition (SIJE). Many may not also realise that there is a long history that connects gold and gemstones with the country as well that dates back to the first millenium BPE
THERE are over 400 distinct ethnic groups in Indonesia each with their own language and culture, as also their own jewellery making traditions. And like many other cultures across the world a bride's jewellery serves as both an ornament and a financial resource, as regulated by ancient traditions and rituals as well as a precious heirloom which is handed down from one generation to the next.
If not all of it, at least some part, the role of Indonesian jewellery traditions has been lucidly recorded in the historical and cultural context and linked to bridal jewellery. And, of course, jewellery traditions are also expressions of social rank and prestige and symbolic linkages with the spiritual and supernatural world as well!
One of the most thrilling chapters in the annals of Indonesian jewellery traditions is the contribution of ethnic jewellery in all its creative richness. This is where the story is brought up to date at last December's Singapore International Jewellery Exhibition (SIJE) held at the Marina Bay Sands Expo and Convention Centre from the 2nd to 5th of December 2022.
One other highlight is that Indonesia is a partner country for this year's SIJE. In the run up to the event at the Indonesian Unique Jewellry Craftsmanship webinar held in September, the Indonesian Ambassador to Singapore HE Suryo Pratomo highlighted Indonesia has lots of unique jewelry craftsmanship which are made by talented and creative jewelry designers. Indonesia will showcase Indonesian unique jewelry craftsmanship from several provinces and these include several Small Medium Enterprises (SME) among them brands that feature highly original accessories designs!
There were seven boutique jewellery accessory exhibitors and one fine jewellery company (out of a total of 23 that participated) from Indonesia at the SIJE that were assisted and organised by Bank Indonesia and the Embassy of Indonesia in Singapore:
Joglo Ayu Tenan
Pyo Jewelry
Bara Silver
Nio – EL
Nahdi Jewelry
NTB Ana Pearls
Lilara/ Pandora Mutiara and
Zamrud Jewelry (fine jewellery)
An Important Trade Component As part of the run-up to the SIJE the Indonesian Embassy held a webinar with the theme "The Truth Behind Gemstone Authentification" which was held in collaboration with Conference & Exhibition Management Services (CEMS) and Singapore Jewellers Association. Ambassdor Surya Pratomo in his welcome address highlighted Indonesia has recorded that jewelry export (HS Code 71) to Singapore US$2,97 billion in value and has positive trend 10.01% since 2016 and even had reached US$3,23 billion in 2019 as the biggest jewelry export value.
Indonesia jewelry export dominated the entire non-oil and gas goods which were exported to Singapore. The total value of non-oil and gas export of Indonesia to Singapore had been reached US$8.5 billion in 2020. Total trade between Indonesia and Singapore had reached US$23,0 billion in 2020 and even reached US$34.35 billion in 2018.
IndoConnect was privileged to talk to some of the exhibitors and the owners of the SME who are also talented jewellery designers in their own right. Following are some excerpts and images from their collections!
SIJE Exhibitors from Indonesia
■ JAna Pearls
■ Bara Silver
■ BEADSTOWN
■ CW Jewels
■ Gallery Zahra Mutiara
■ Iges Jewelry
■ Jayadi
■ Joglo Ayu Tenan
■ Kalsel Iges Jewel
■ Lombok Pearls
■ Maza Handcrafted
■ Pearls & Jewelry
■ Nio EL
■ Pandora Mutiara
■ Pegadaian
■ Pyo Jewelry
■ Riana Meilia
■ Santhos Jewellery
■ Vite Jewelry
■ Zamrud Jewelry
■ Zem Silver
JOGLO AYU TENAN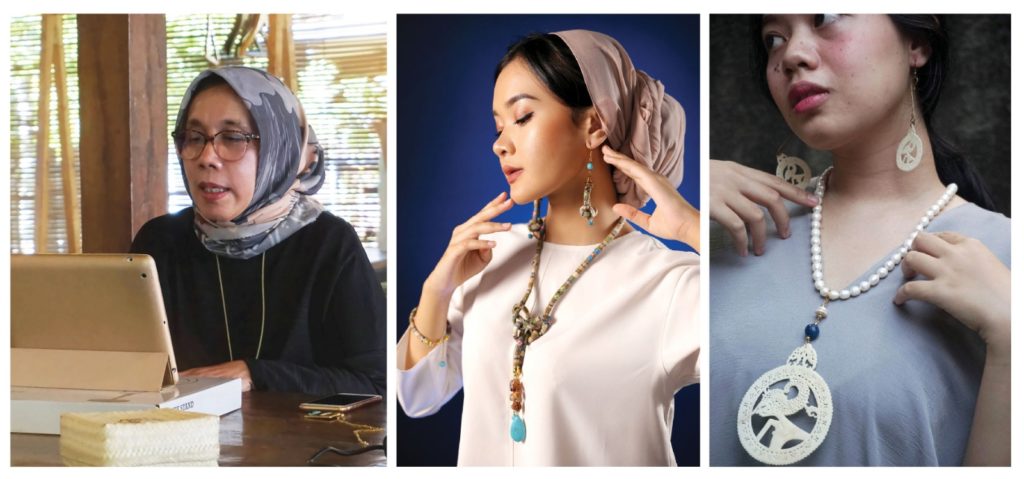 Ibu Rahayu Dwiastuti is the owner of the Yogyakarta-based SME Joglo Ayu Tenan. She also happens to be the chairperson of the Crafters Association there. She started weaving her dream about a space for sharing as she founded a hub for crafters to get together and share their knowledge. Here, foster housewives and people with disabilities are empowered. Caring for nature, they select eco-friendly materials as well as apply sustainable methods and work principle.
BARA SILVER

Bara Silver is based in Celuk, Bali and produces jewellery made from silver, gold and various gemstones. Ibu Putu Sudiadnyani established her business in 2003 with the aim to promote Indonesian cultural heritage worldwide through its beautiful designs which find inspiration from nature's flora and fauna as well as Balinese cultural motifs. Ibu Sudiadnyani 's Bara Silver is committed to greater creativity and innovation in expanding into the world market, including greater use of online digital marketing.
NIO-EL

Nio-El is owned by Lydia Waskita who established her firm in 2011 in Sidoarjo, East Java. She designs all the jewellery accessories herself and works together with another craftsman to produce them. She finds inspiration from nature and her own imagination using materials such as copper, gemstones, fresh water pearls and crsytals in her her modern contemporary creations. Her exhibits at SIJE are divided into two categories: Exclusive Masterpieces and Mass Produced.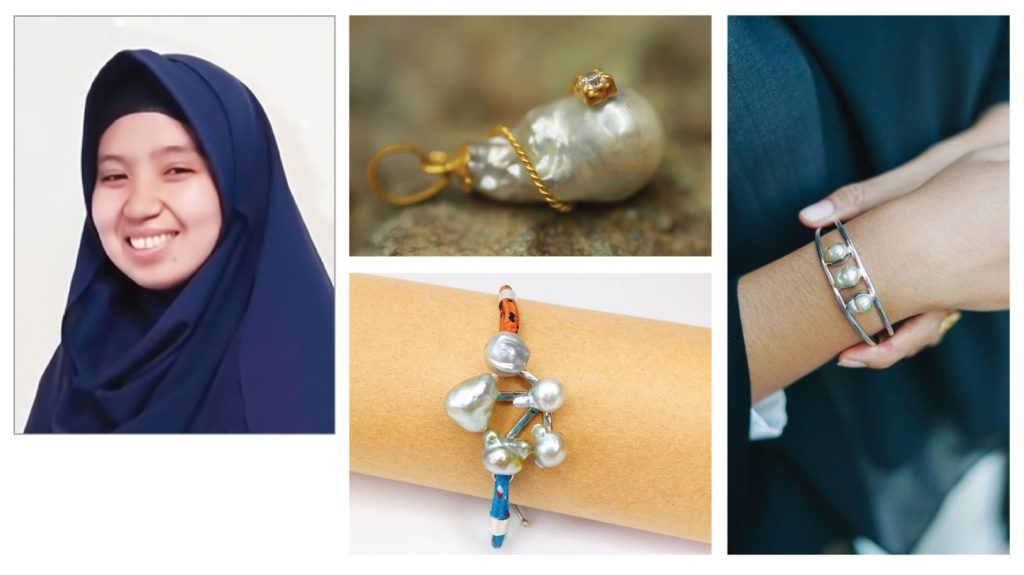 LILARA PANDORA MUTIARA
Lilara was founded in 2020 by Laillina Mardhiyati who championed the cause of women empowerment. Adopting the symbol of the baroque pearl as something that is 'Perfectly Imperfect!' she wanted women to be okay with their imperfections and strive for happiness. She characterised her creations as having a casual, sporty and elegant design and always mindful of three issues: Support women's cause by supporting the hire of more women workers; partner with local artisans and purchase from local pearl farmers and where ever possible create using sustainable materials. Lailliani says she tries to touch a women's deepest feelings in each of her collection.
PYO JEWELRY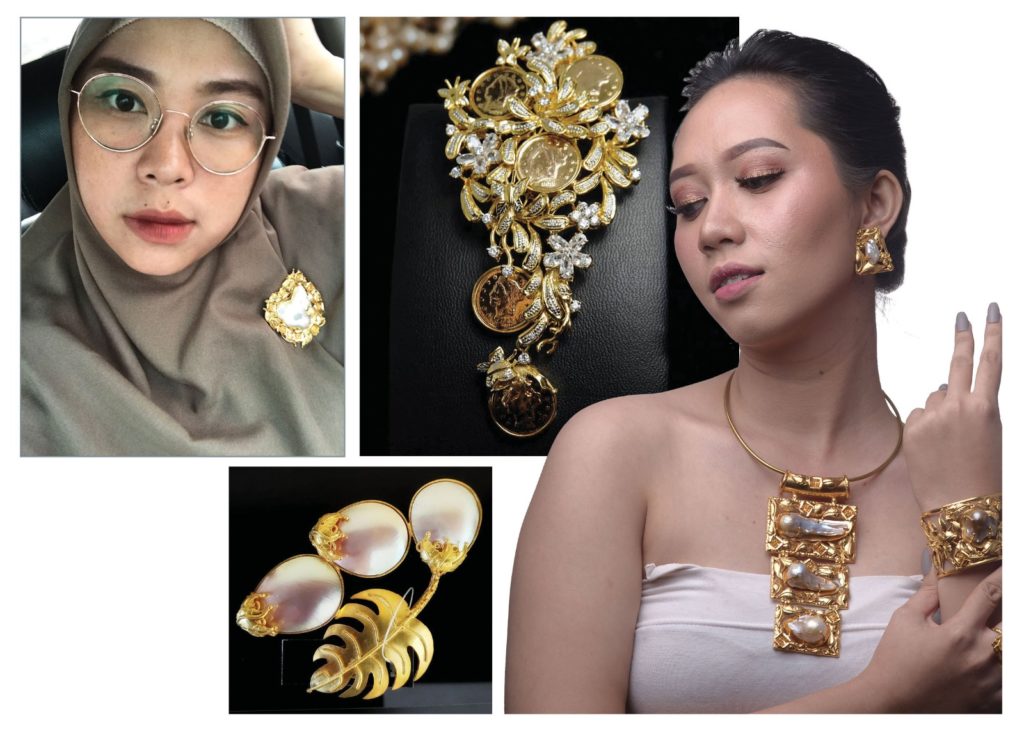 The Palembang-based business in South Sumatra was started by Luthfia Fataty in 2015. The owner cum designer divides her collection generally into two categories: Heritage and Contemporary. The Heritage collection are replicas of old jewelry made with more affordable raw materials – considering that such jewelry usually use pure gold, and has a philosophical meaning, and function. 'Heritage' is made with pride in Indonesian culture and include replicas of historical archipelago jewelry such as Sriwijaya accessories, anak ayam necklaces, and tapak jajo necklaces . The 'Contemporary' collection consists of necklaces and bracelets made of natural Sumatran natural stones and Indonesian sea pearls.
.
---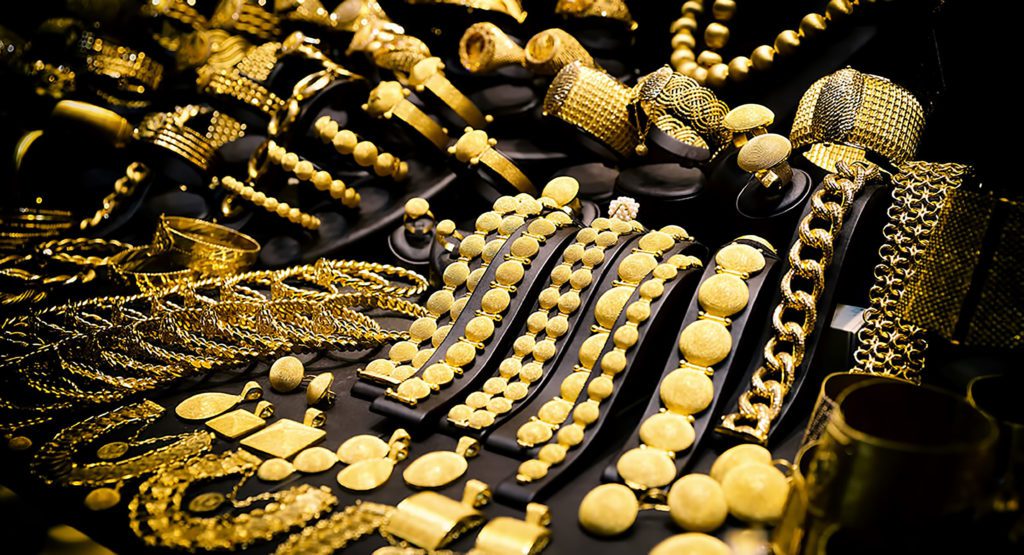 The Story of Gold and Indonesia
Revered and coveted by kings and commoners… straddling the spiritual and temporal world, gold is one of the most precious and rare gifts of Mother Earth to humankind. Gold, the most malleable or ductile metal, is regarded as a precious metal because of its texture, density and high melting points.
Indonesia produces around four percent of global gold production, half of which originates from the giant Grasberg mine, the world's largest gold mine, in the western half of Papua. Records reveal this mine is believed to contain the world's largest gold reserves (67.4 million ounces). Indonesia's most prolific gold producing areas are Sumatra and West Java.
About 60 percent of the gold production is used for jewellery, 40 percent for investments (for example central bank reserves as a hedge against inflation or recession), and 10 percent for industries. Its excellent ability to conduct heat and electricity is the reason gold is used in industrial applications, ceramics and electronics. As gold production in Indonesia outstrips domestic gold demand, by far, most of production is shipped abroad.
---