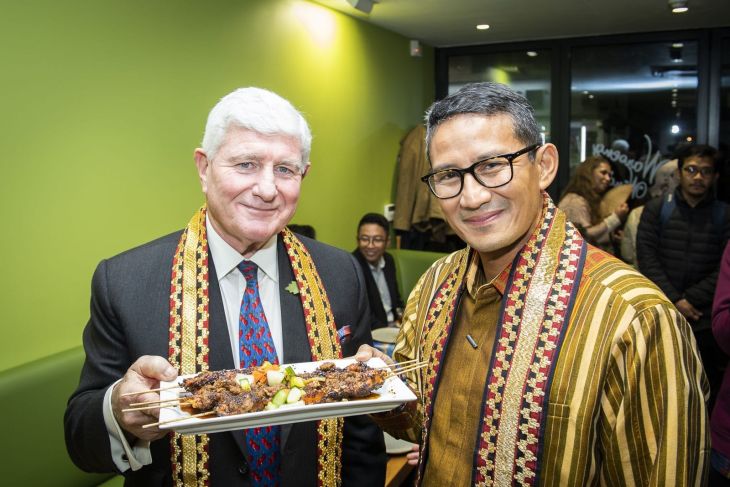 Indonesia's Tourism Ministry launches the IndoStar program, providing training and support to 50 selected Indonesian restaurant owners abroad, aiming to scale up their businesses and attract potential investors, while promoting Indonesian cuisine and culture globally.
The Tourism and Creative Economy Ministry of Indonesia is taking a proactive approach to support and enhance the growth of Indonesian restaurants around the world. With the launch of the Indonesian Restaurant Fundraising (IndoStar) program, the ministry aims to assist 50 restaurant owners in scaling up their businesses. Out of a total of 68 applicants, these 50 selected participants will undergo a rigorous incubation process involving comprehensive training and support. The program not only focuses on expanding the businesses but also aims to make the restaurant owners more attractive to potential investors by improving their financial readiness. This initiative is part of the larger Indonesia Spice Up The World Program, which aims to promote Indonesian gastronomy and culture globally through banking and non-banking funding schemes.
To facilitate the IndoStar program, the Ministry of Tourism and Creative Economy has formed strategic partnerships with various organizations, including MBN Consulting, BNI, Fintech Securities Crowdfunding, angel investors, and other funding sources. These collaborations will provide the necessary expertise and financial backing to ensure the success of the program. The curated participants will undergo a two-month incubation process, during which they will receive specialized training and mentoring. Subsequently, they will have the opportunity to meet potential investors, allowing them to secure the necessary financing to expand their businesses.
The IndoStar program addresses a common challenge faced by Indonesian restaurant owners overseas, which is the difficulty in obtaining financing due to the lack of promising and bankable business models. By providing the necessary training and support, the program aims to increase the number of successful Indonesian restaurants abroad. This initiative has received widespread appreciation from various stakeholders and is highly anticipated by the public. Not only will it contribute to the growth of Indonesian cuisine and culture, but it will also help in promoting tourism and showcasing Indonesia's culinary delights to a global audience.
Tourism and Creative Economy Minister Sandiaga Salahuddin Uno emphasizes the importance of maintaining a positive image and effective management for Indonesian restaurants abroad. By doing so, these restaurants can increase the popularity of Indonesian processed foods and spices on the global stage. This aligns with the objectives of the Indonesia Spice Up The World Program, which seeks to achieve an export value of US$2 billion and establish four thousand Indonesian restaurants overseas by 2024. With the IndoStar program as a catalyst, Indonesian cuisine is set to make a significant impact in the international culinary landscape, further enhancing the country's reputation and attracting more tourists from around the world.