The first Indonesia-Singapore Interfaith & Intercultural Dialogue (ISID) highlights common traits among religions and measures to counter radicalism as well as strengthen relations between Singapore and Indonesia
The idea was initiated by the Indonesian Embassy in Singapore as part of the ongoing celebrations between Indonesia and Singapore to commemorate its 50 years of diplomatic ties or RISING 50. Ambassador Ngurah Swajaya welcomed the religious leaders to Singapore on 10th July 2017 at the Indonesian Embassy. The Ambassador expressed the hope that this first Interfaith dialogue exchange will not be the last, and that, "more of such exchanges will continue so that we can learn from each other as we both have multi-cultural, multi-religious and multi-ethnic communities in our countries." The participants engaged in open discussions and public dialogues and also visited Singapore's Hindu Endowments Board, the Islamic Religious Council of Singapore, the Mahakaruna Buddhist Society and the Church of St. Mary of the Angels. IndoConnect talked to three members of the ISID group (see accompanying story) for some insights on the issues discussed during their visit from 10th to 14th July 2017.
Religious Extremism
The issue of religious extremism and conflict were also raised by Indonesian Religious Affairs Minister Lukman Hakim Saifuddien, who in his keynote speech at the inaugural ISID session on Tuesday 11th July 2017 laid out the challenges coming from fast-paced globalization and digitalization and how they can affect religious values.
According to a statement released by the Indonesian Foreign Affairs Ministry, Lukman said in spite of the great progress brought about by technology and digitalization, they could also potentially cause a shift in the way people understand or learn religions. "Digitalization should support educational efforts to help the public understand the values taught by religions," Lukman said. He also spoke of the challenges faced by religious leaders and heads of states to revive the essence of all religions: to honour and respect all human beings.
"Many people now try to use religions to help them come up as victors in a conflict. Then they use religions again to justify their victory," Lukman added.
The Singaporean Social and Family Development Minister Tan Chuan-jin also gave a speech at the start of the four-day interfaith exchange programme where he urged individuals to engage with each other. "Religions or cultures don't enter into dialogue – people do. Governments can support dialogue, morally and financially, but in the end it's up to individuals to
engage each other," said Mr Tan. He added that those who do not affiliate themselves
to any religion should also be included in such dialogues.
ISID officially ended on Friday 14th July 2017 in a closing reception attended by Indonesian Deputy Foreign Minister A.M. Fachir and Singaporean Coordinating Minister for Infrastructure and Transport Minister Khaw Boon Wan.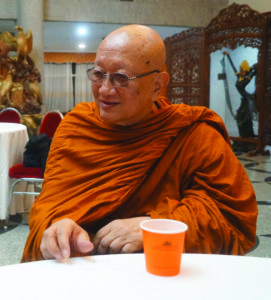 Seeing as there can be turbulence between sections of religious groups today, Mrs Nomita asked Bhante Jayamedho about his thoughts on this. He responded humbly saying, "Communication is very important. One should not live in isolation, but work together as one. Religion is like a river, there are many rivers in Indonesia itself. But in the end, they all meet at one ocean. We do not know its depth, nor its borders."
He cited some examples demonstrating the religious harmony that exists in Indonesia saying, "The interfaith community in Surabaya celebrated Eid al-Fitr in a Buddhist temple last week!" "I think all people can cooperate as the essence of any religion is love, compassion, forgiveness and helping each other."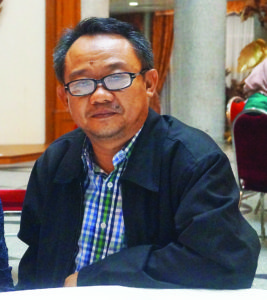 Pak Abdul Mu'ti, Secretary General of the Central Board of Muhammadiyah spoke with great pride of his organization being a modernist movement established first in 1912 in Jakarta, with a sister organisation in Singapore, both having been recognised by United Nation's ECOSOC. "The main goals of the organisation," he mentions, "remains education and networking between Indonesians of different faiths." When asked about the impact he wished to see following the visit of the Indonesian Interfaithgroup to Singapore, he says:
"Indonesia and Singapore are very important neighbouring countries and partners. We share a lot of similarities as Southeast Asian countries, and in terms of culture, religion, education and economy. The (Interfaith) programme could strengthen not only networking, but more importantly, the relations between both countries."
As for the acts of radicalism and terrorism, that takes place round the world, such acts are inhuman and despite their small numbers, they are not to be taken lightly in terms of what they are capable of doing. The motivation for such people doing such acts is beyond religion, and instead we should focus on the motivation for such acts of terrorism being driven by social, economic and political reasons. It is also, I think, their lack of understanding of the religion combined with their psychological and spiritual problems. My understanding of where Indonesia stands at the moment regarding the matter of terrorism is one that is fairly positive and optimistic, although countermeasures should be seriously taken into consideration on three levels: the military, the economic and the social level.
Issues of terrorism rise when people deliberately use, misuse and abuse religion for the sake of their political agenda. From an Islamic point of view, they are contradictory to the teachings of Islam; Islam is a religion of peace."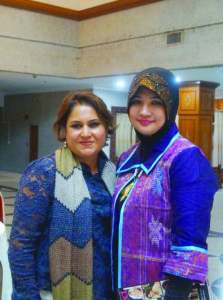 Singapore-born Umi Waheeda narrated to Mrs Nomita Dhar the story of her Islamic boarding school, Al-Ashriyyah Nurul Iman Boarding School, coming about in 1998 as a result of her and her husband's compassion towards helping poor and orphaned children who were victims of disasters and have no family, and their desire to provide access to free and quality education, shelter and food. However, in 2010 when her husband died, she was left with the school to her name: "I couldn't take it. I wanted to run back to Singapore but if I left Nurul Iman, everything would be lost. I met with the Indonesian authorities, who told me they would have to close the school if I left. I decided to hold on although I felt then I was not fit to run it because I had not much work experience. However, one strength I had throughout the next seven years was my children standing beside me, supporting me to help develop the school to be self-sufficient."
"We currently produce everything ourselves with our bread factory, our fisheries, our soya.. I hope, Inshallah, that we can be independent and sustainable. I pray that my children and students will learn how to work hard and earn an honest living . In our culture, if you're a learned man, people will come to you for doa (supplication). When it is answered, they will donate to you. That was the basis of the school's previous financial foundation under my late husband. Today, I can share the story of Nurul Iman with others."
"Last October, I was invited to Taipei to speak at an inter-religious cooperation forum attended by professors from Oxford, Harvard and UCLA, and I was the only woman. We spoke about independence and sustainability, and how all religions can work together as we all share one planet."