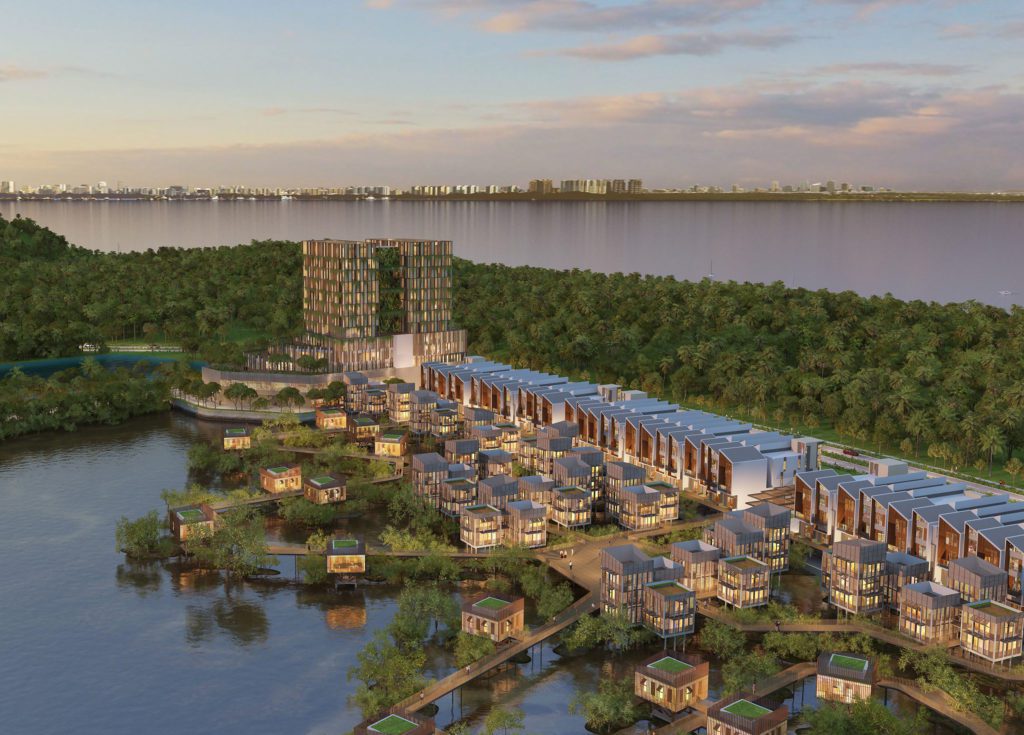 D-TOWN in Batam is the next phase of the Nongsa Digital Park (NDP) development and President Jookowi and Prime Minister Lee look forward to further areas of collaboration to support common interest in the digital economy
Town is being developed by two large and established Indonesian property developers Citramas and Sinar Mas Land based on a master plan by Singapore's Surbana Jurong which has helped developed moe than 100 industrial parks in the world. In 2018 the Citramas Group launched the Nongsa Digital park (www.nongsadigital.com). It was envisaged as an integrated digital park providing a place for digital businesses to grow, an ideal site for data centre development (up to Uptime Institute tier IV certified), residential facilities that will blend ideally with the current Nongsa Resorts operated by the Group.
Last year in March, Nongsa D-Town a "digital downtown" was launched by PT Citra Sinar Global – a joint venture between Citramas Group and Sinar Mas Land. The launch was graced by both Singapore and Indonesia's economic ministers. The new downtown features co-working and co-living spaces alongside digital campus, office towers as well as lifestyle and shopping centres and hotels.
At the launch Indonesia's Coordinating Minister for Economic Affairs, H.E. Airlangga Hartato, said, "Batam has the geostrategic advantage of being located close to Singapore, and can serve as a digital bridge to connect Singapore to other growing cities in Indonesia."
When completed the 62-hectare development will be able to accommodate up to 8,000 tech workers and be a digital bridge for tech companies in Singapore and Indonesia. As far back as during his first term President Jokowi with Prime Minister Lee has envisioned Batam's Nongsa Digital Park as a "Digital Bridge" connecting Singapore and Indonesia's digital economies.
D-Town and the'D' is for…
The "D" is for "Downtown." As explained by Citra Sinar Global most cities in the world have their own downtown areas that embody ecosystems of diversity and creativity. "Nongsa D-Town" will be place where diversity of people and ideas converge, to spark creativity. Nongsa D-Town is also designated as the strip of downtown connecting and supporting the various developments within the Citramas and Sinar Mas Land masterplans in Nongsa, which comprise of Nongsa Digital Park, Infinite Studios, Nuvasa Bay, and the various resorts and golf courses.
Related stories:
● 5th Leaders' Retreat: Bilateral Agreements Finalised in Bintan
● Interview with H.E. Suryo Pratomo – Behind the Scenes @ 5th Leaders' Retreat
● Indonesia Gears Up to Host G20 Summit in Bali