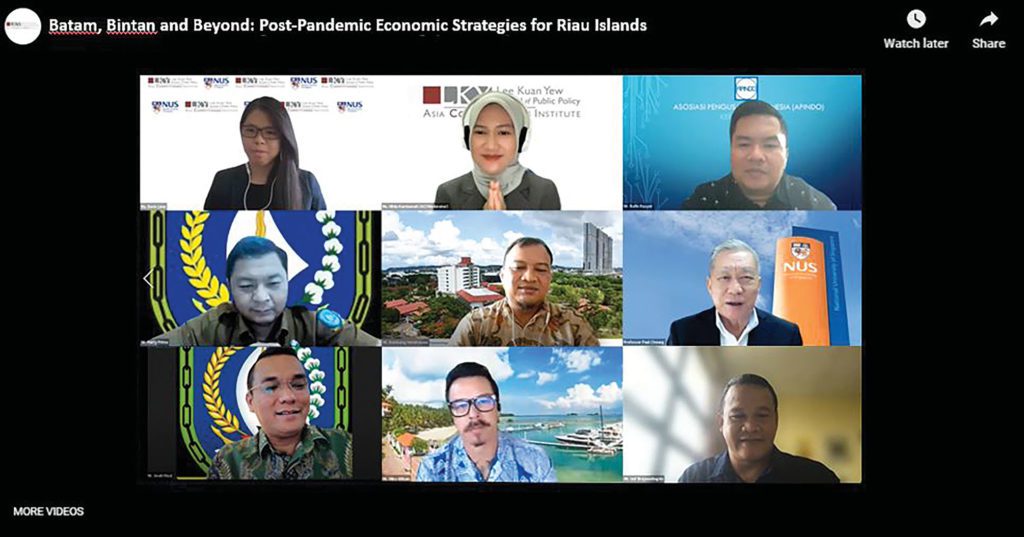 The Lee Kuan Yew School of Public Policy hosted a webinar by the Asia Competitiveness Institute (ACI) and Politeknik Negeri Batam (Polibatam) on the subject 'Post-Pandemic Economic Strategies for Riau Islands' and posits that in post-pandemic Indonesia, the province should get ready to once again become a "hot spot" for foreign investments
RIAU islands is one of Indonesia's premier manufacturing hubs with industry contributing more than 40% to its economy. Home to large industrial estates like Nongsa Digital Park and the BintanBatam-Karum Free Trade Zone. The webinar presented by the respected Lee Kuan Yew School of Public Policy (LKYSPP) invited several presenters from the educational, public as well as private sectors of Batam to provide some ideas on what are the "growth catalysts" of the Riau province and how has the Indonesian government supported its leading industries. The speakers included:
Guest of Honour, H.E. Ansar Ahmad, S.E., M.m Governer of the Riau Province
Mr Andri Rizal, Head of the Regional Planning, Research and Development Board
Mr Mike Wiluan the CEO of the Nongsa Digital Park
Mr Rafki Rasyid, Head of the Batam Chapter of the Indonesian Employers' Association of Raiu Islands
Mr Bambang Hendrawan, the Head of ASEAN and Regional Competiveness Research Centre of Politbatam.
From LKYSPP's Asia Competitiveness Institute (ACI) was Prof Paul Cheung and the Dean of the Politeknik Negeri Batam, Uuf Brajawidagda, S.T, M.T, Ph.D. Ms Doris Liew Wan Yin was the Project Coordinator from ACI / LKYSPP. for the event.
In his introduction, the Governer of Riau said the Riau province is unique in that 96% of the ocean makes up the total area and it is bordered by other countries such as Singapore, Vietnam, Cambodia and Malaysia. This he said makes the area a "strategic province in economic, political and defence" terms. He was also happy to report that Riiau's economy continues to show a positive trend after overcoming the challenges posed by COVID-19.
Economic measures by the provincial government has resulted in growth in 2021 reaching 3.43% and is dominated bymanufacturing, construction, quarrying and mining sectors. This is very much in step with the Riau Islands' Province Regional Medium Term Development Plan that targetted 1.5 to 3.5% growth in 2021.
Several strategic policies were implemented that encourage the rise of small, micro and medium enterprises as well as the provision of various relaxations of invesment permits to attract as many investors as possible.

SEZ Strategy
One of the main measures undertaken by the provincial governemnt he said was the encouragement of the growth of Special Economic Zones (SEZ) in Batam, Bintan and Karimun with various convenience facilities in licensing. One example of the economy recovery mode policies in Batam was the establishment of the Batam Aero Technic SEZ, the Batam Nongsa Digital Park SEZ and the Batam Sekupang International Health SEZ. The SEZs have several advantages, such as business tax and income tax cuts as well as special investment incentives. The infrastructure tends to be of a higher quality and benefit from industry clustering.
[PICTURE]Foreign Direct Investment of Secondary & Tertiary Sectors
In Ms Doris Liew's address on presenting The Case for Riau Islands (see accompanying diagrams) she also highlighted untapped resource-based potential for the province with its vast sea area which is ideal for fishing and aquaculture, and great potential in agricultural production in wood, rice, soy, fruits, vegetables and palm oil. The Riau Islands also offers seven tourism corridors that can encourage:
Batam – MICE and cultural tourism
Bintan – Family and eco-tourism
Karimun – Heritage, eco- and marine tourism
Tanjung Pinang – Heritage and cultural tourism
Natuna – Marine and eco-tourism
Anambas – Marine and eco- tourim
Lingga – Heritage and eco-tourism
Business Outlook & Sentiments
Mr Rafki Rasyid, who was representing the Batam Chapter of the Indonesian Employers' Association of Riau Islands, in his presentation said that 2022 marked the turning point of the "economic awakening" of the Riau Islands and spoke on the outlook and sentiments held businesses whose stance was that all economic sectors will begin to recover (including tourism) since the COVID-19 pandemic was under control. There are other positive sentiments said Mr Rafki with the following factors bolstering confidence in the province's economic outlook:
World trade voulme and commodity prices continue to increase thus underpinning the export outlook
Expectations and optimism is improving and this is reflected in the consumer index
Batam has already started attracting investment in renewable energy
Batam's strategic position makes it very suitable as a digital hub
Building of the Batam-Bintan bridge will attract more investment and create economic equality between the regions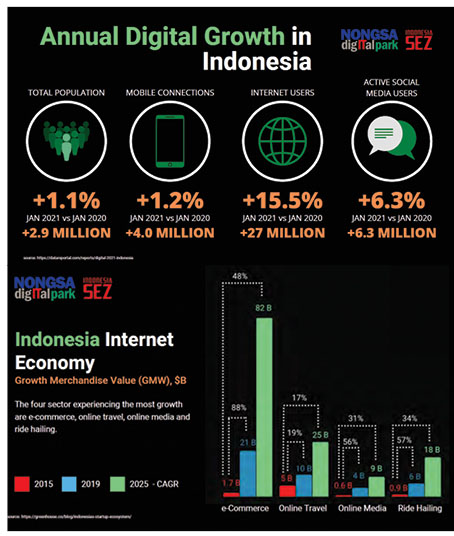 Digital Pace Growth
Mr Mike Wiluan, CEO of Nongsa Digital Park gave a talk on Building Industry Resilience through the Digital Ecosytem that included the impressive growth registered by both users services of digitalisation that have climbed in a short space of time (see accompanying diagrams). Indonesian President Joko Widodo officially granted Special Economic Zone status to Nongsa Digital Park in 2021 and the 166.45 ha Park said Mr Wiluan is targetted to bring in investments totalling 16 trillion rupiah (S$1.49 billion) and create 16,500 jobs.
He revealed by the end of 2021 the Park had already attracted more than 80 companies and 1,250 workers as well as investments of US$500 million for the establishment of two data centers. He also said that to ensure a constant deep pool of digital talent the Park has partnered with Apple Academy, RMIT, AWS and Kampus Merdeka to provide education for digital studies.
Medium-Term Development Plans for Riau 
Mr Andri Rizal, from the Panning, Research and Development Agency of the Riau Islands Province, gave a comprehensive outline for the Regional Medium-Term Development Plan (RPJMD) for the Province from 2021 to 2026. He said the Government is working towards achieving several regional development goals and presented the accompanying programmes to meet the targets set in the following areas:
Accelerating Recovery and Increasing Economic Growth
Acceleration of Infrastructure Development and Inter-Island Integration
The realization of Maritime and Environmental Optimiation
The Realization of Strengthening Social Safety Nets
The Realization of Superior Human Development and Character
The Realization of Clean, Strong and Anticipatory Governance
The Realision of Religious Guidance , Cultural Preservation, and Community Harmony