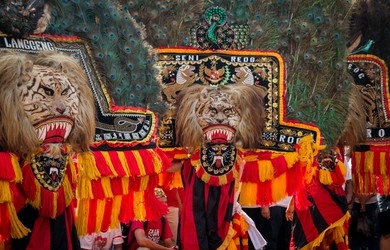 Ponorogo District in East Java, Indonesia, garners UNESCO's support in its quest to become a global creative city, with its vibrant cultural heritage and art form of reog. Through innovative policies and the Circle-P model, Ponorogo aims to boost its international standing, inviting communities worldwide to join in shaping its journey to UNESCO recognition.
Ponorogo District in East Java, Indonesia, is making strides towards joining the esteemed global creative cities network, receiving full support from the United Nations Educational, Scientific, and Cultural Organization (UNESCO). The district government's efforts to secure UCCN (UNESCO Creative Cities Network) status have gained recognition and praise from Vicky Arief Herinadharma, the Indonesian Executive Committee for ICCN East Java Region. With its rich cultural heritage, particularly the captivating art form of reog, Ponorogo is poised to compete against Bantul District and Surakarta in Central Java for the coveted title of "City of Craft and Folk Art" within the UCCN framework.
To realize their ambitions, Ponorogo District Head Sugiri Sancoko has emphasized the implementation of policies that address the challenges faced in achieving sustainable development goals (SDGs). The district government aims to leverage the immense potential of local creativity and cultural performing arts, such as reog, to contribute to the SDGs. Taking a collaborative approach, they have introduced the Circle-P model, which involves the active participation of regional governmental apparatus organizations (OPDs) and community organizations.
The Circle-P model serves as a platform to promote economic equality by nurturing and elevating the creative economy potential within the district from a local to national and international scale. Through this innovative initiative, Ponorogo aims to enhance its global reputation and create opportunities for local artists and artisans to showcase their talents on an international stage.
With the unwavering support of UNESCO's extensive network of 240 creative districts and cities, Ponorogo is poised to follow in the footsteps of successful Indonesian cities like Bandung, Pekalongan, Ambon, and Jakarta, which have already become part of the UNESCO world creative cities network. As Ponorogo District already holds the status of a creative city within the national context, it is primed to take the next step towards UCCN recognition.
The district government invites all communities, both locally and internationally, to actively participate in realizing Ponorogo's entry into the UNESCO Creative Cities Network. By embracing and celebrating the unique cultural heritage of reog and fostering a thriving creative economy, Ponorogo aims to position itself as a hub for artistic excellence and cultural innovation, contributing to the enrichment and diversity of the global creative cities community.