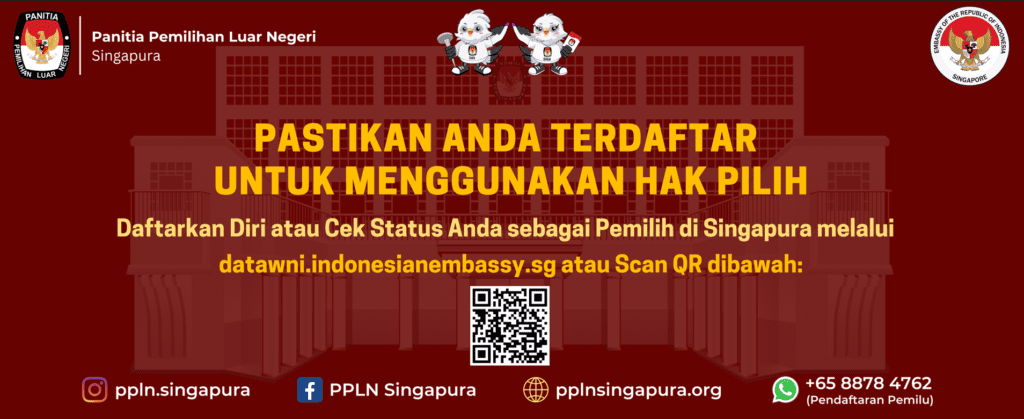 In preparation

for t

he Indonesian General Elections in 2024, the Indonesian Embassy in Singapore is open for voters to register themselves

APART from confirming their voter data to Voter Data Updating Officers (Pantarlih LN) Indonesian citizens can also register independently via Whatsapp, phone calls, or other social media channels.

​The Overseas General Election Committee in Singapore (PPLN Singapura) invites all Indonesian citizens in Singapore to register and vote in the 2024 Indonesian General Elections in Singapore (Election of the President and Vice President of Indonesia, as well as Members of the House of Representatives/ DPR of DKI Jakarta 2).

Independent registration can be done through https://datawni.indonesianembassy.sg/

Registration is only possible if the following criteria are met:
Indonesian national
On February 14, 2024, at least 17 years old or married.
Singaporean resident (Permanent Resident/Work Pass/Student Pass/Dependent Pass/LTVP)
To apply, please bring Indonesian passport and NIK/Nomor Induk Kependudukan (if you have one) to fill out the required information.
The registration process is simple and quick. Make certain that you are registered to vote in the 2024 elections. I vote for Indonesia!
Please visit the following PPLN social media channels for more information:
https://www.facebook.com/PPLN.SG
wa.me/6588784762 (Election Registration) or wa.me/6588784766 (Election Information)