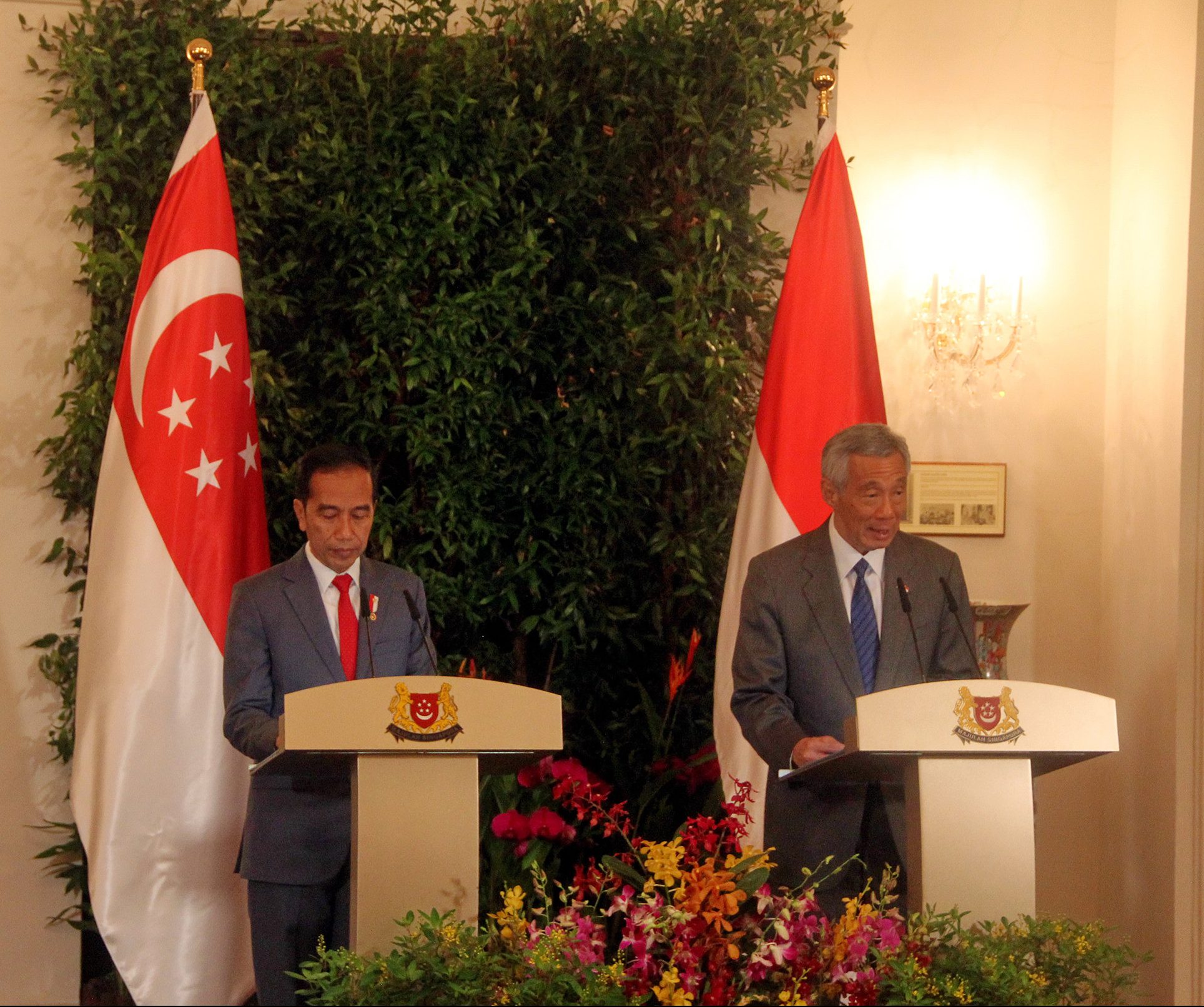 PRIME Minister Lee Hsien Loong met Indonesian President Joko Widodo in Singapore on 8 October 2019 for the Singapore-Indonesia Leaders' Retreat. This was Prime Minister Lee's fourth Leaders' Retreat with President Joko Widodo. Both Leaders reaffirmed the excellent state of relations between Singapore and Indonesia. They agreed that the bilateral relationship had strengthened substantially over President Joko Widodo's first term as President, providing a solid foundation for further mutually beneficial cooperation between the two countries.
The Leaders noted with satisfaction that economic links between both countries have steadily expanded over the years, with cooperation in trade, investments and tourism growing from strength to strength. Singapore has consistently been among the top investors in Indonesia, and has been the largest foreign investor in Indonesia since 2014, with realised investments reaching US$9.2 billion in 2018. Both countries have also consistently been among each other's largest sources of tourist arrivals, with 1.8 million visitors from Singapore arriving in Indonesia in 2018 and over 3 million visitors from Indonesia visiting Singapore in 2018. The Leaders agreed to make progress to update the Avoidance of Double Taxation Agreement, and affirmed the importance of an early ratification of the Agreement between Singapore and Indonesia on the Promotion and Protection of Investments (Bilateral Investment Treaty). Both agreements would boost investor confidence and further increase two-way trade and investment flows.
Bilateral Investment Projects
The Leaders reviewed and welcomed the good progress that had been made on flagship bilateral investment projects. The Leaders noted that the Kendal Industrial Park (KIP) in Central Java had attracted 59 tenants and over US$800 million of investments since it was jointly opened by the two Leaders at the 2016 Leaders' Retreat, and is projected to create almost 7,000 jobs. A new polytechnic in the KIP had also been inaugurated in 2019 to provide training for the local workforce. The Leaders agreed that the KIP's designation as a Special Economic Zone would further enhance its competitiveness and attractiveness to businesses and investors. Prime Minister Lee and President Joko Widodo also discussed economic developments in Batam, Bintan and Karimun (BBK), which both countries had collaborated on since the 1980s. They agreed that bilateral cooperation in BBK had made a positive impact on the region and on both economies. They reaffirmed the importance of continuing to enhance the investment climate in BBK.
The Leaders underscored the growing salience of bilateral digital economic cooperation and welcomed the swift progress that had been made thus far, including in Nongsa Digital Park (NDP). NDP continues to serve as a "digital bridge" between Singapore and Indonesia, and currently has almost 800 Indonesian tech talent working for 90 local and international companies. Both Leaders noted plans to develop additional capacity for tech talent in NDP. For example, the "Eco Digital Project" would create a new ecosystem to connect tech companies and talent in Nongsa. The Leaders also welcomed the plans by the Ministry of Communications and Information of Singapore and the Ministry of Communications and Informatics of Indonesia to further deepen digital collaboration.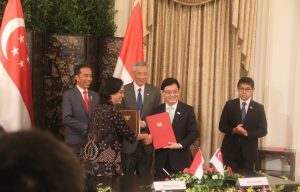 MOU Signing
Prime Minister Lee and President Joko Widodo witnessed the signing of an Agreement between Indonesia and Singapore on Electronic Data Exchange to Facilitate and Secure Trade, which would provide for the link-up between the National Single Windows of both countries, so as to bring about a seamless, paperless and secure business environment which would facilitate cross-border trade between the two countries. The Leaders agreed that both sides would continue to make progress on strengthening connectivity between the two countries and to deepen transport cooperation.
Prime Minister Lee also affirmed Singapore's commitment to support the growth and development of Indonesia. Both Leaders noted that there had been strong interest in the development of infrastructure in Indonesia, with Infrastructure Asia and PT Sarana Multi Infrastruktur having recently signed a Memorandum of Understanding to support public-private partnership project development in the country. Prime Minister Lee and President Joko Widodo discussed ways to further strengthen financial cooperation. Given current global economic conditions, they agreed that the Monetary Authority of Singapore and Bank Indonesia would work together to renew for another year their existing bilateral financial arrangement to support monetary and financial stability, which expires on 4 November 2019. The Leaders agreed that the central banks would discuss and finalise the details and announce them in due course.
Singapore Training
Prime Minister Lee welcomed President Joko Widodo's interest for both sides to continue to deepen human resource cooperation. They agreed on the importance of developing and up-skilling human resources to meet the needs of our industries, and to support our expanding economic ties. Prime Minister Lee noted that Singapore had trained thousands of Indonesian officials and trainers under more than 20 bilateral MOUs. Prime Minister Lee and President Joko Widodo also noted the wide range of existing projects in this area, such as SMRT International and PT MRT Jakarta's ongoing collaboration in various areas, including in capacity building and human resource development.
In addition, Prime Minister Lee and President Joko Widodo discussed security relations, and welcomed the strong and longstanding ties between the defence establishments and militaries of both countries. They encouraged both sides to continue deepening the extensive cooperation in areas ranging from counter-terrorism to maritime security, through professional exchanges and exercises, and noted the full calendar of collaborative events in the joint update on defence cooperation submitted by the Defence Ministers.
Prime Minister Lee and President Joko Widodo agreed that their good working relationship and the strong relations between Singapore and Indonesia enabled both sides to discuss longstanding issues in an open and constructive manner. Two such issues were that of airspace management, and of military training in accordance with the United Nations Convention on the Law of the Sea. In this regard, the Leaders welcomed the agreed framework for discussions, which laid out the core principles and considerations based on which discussions on these issues will be conducted. The framework acknowledges that the core interests and rights of both countries must be recognised and respected, and that Singapore and Indonesia will negotiate subsequent agreements on these two issues which are durable and for the long haul. The Leaders noted that the framework was a sound and comprehensive basis to work out solutions to these issues, separately and concurrently. They instructed the relevant Ministers and officials to follow up with detailed negotiations on the basis of the framework, and to conclude and implement any agreements in a timely manner.
Both Leaders also agreed on the importance of strengthening people-to-people ties, which were the foundation for continued strong links between both countries. They tasked their officials to organise a Singapore-Indonesia Civil Service Forum, for civil servants from both sides to learn from each other's best practices. Improving excellence in public administration and implementation of bureaucratic reforms would catalyse further mutually beneficial cooperation across various sectors, and strengthen ties between the officials of both sides. The leaders also welcomed the signing of a Memorandum of Understanding on Archives Cooperation between the National Archives of Singapore, an institution of the National Library Board, and the National Archives of Indonesia, which would deepen mutual understanding of the history, culture and heritage of both sides.
Click here to view President Joko Widodo's address at the Leaders' Retreat Press Conference at the Istana.