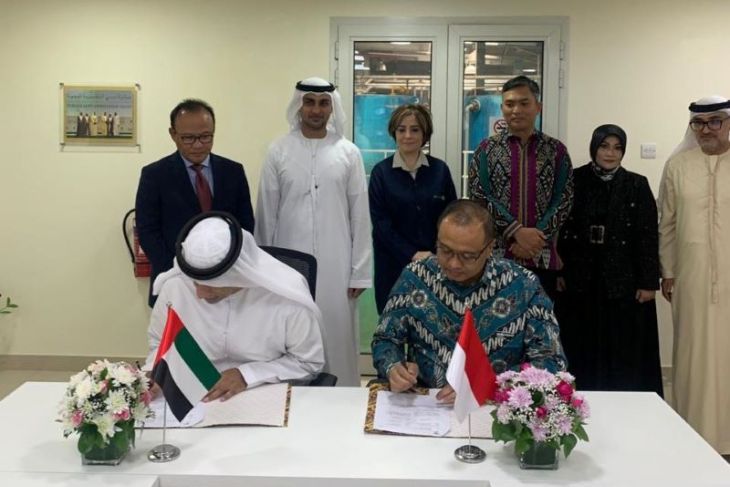 United Arab Emirates' Envirol partners with Indonesia's Nusantara Capital Authority to revolutionize waste management in the future capital, Nusantara, emphasizing sustainable development and Middle East investment interest.
Nusantara Capital Authority (OIKN) and Envirol, a prominent United Arab Emirates (UAE) company, have recently sealed a non-disclosure agreement (NDA) to collaborate on waste management projects in Indonesia's forthcoming capital, Nusantara, situated in East Kalimantan. The signing of this agreement not only signifies the increasing interest of Middle Eastern investors in Indonesia but also strengthens the trade relations and bonds between Indonesia and the UAE.
Agung Wicaksono, Deputy for Funding and Investment of OIKN, expressed his satisfaction with the growing interest of investors from the Middle East. "It proves that the interest of Middle East investors (to invest in Indonesia) continues to increase," Wicaksono stated. He further highlighted the positive relations between Indonesia and the UAE, citing the example of President Joko Widodo, whose name has been honored by having a street named after him in Abu Dhabi, the capital of the UAE.
The NDA signing occurred during OIKN's visit to Dubai and is anticipated to have a significant impact on the development of Indonesia's future capital, as well as the overall investment climate in the country. The collaboration between OIKN and Envirol, a subsidiary of Alserkal Group, will focus on the construction of waste management facilities specifically designed for fat, oil, and grease (FOG). These state-of-the-art facilities will play a crucial role in supporting the development of Nusantara as a smart and environmentally friendly city. The proper disposal of waste cooking oil and food fats is expected to help maintain the cleanliness and sustainability of the city's environment.
Maher Al Kaabi, a Member of the Board of Directors of Alserkal Group, emphasized the importance of establishing FOG waste management infrastructure in the region. He expressed his hope that the expertise and experience of Alserkal Group in managing similar projects with the Government of UAE could be effectively applied in Indonesia, particularly in the Nusantara capital.
Envirol has previously signed a memorandum of understanding (MoU) with the Surabaya City Government and the Tangerang City Government to implement FOG waste management systems in their respective cities. This indicates Envirol's commitment to promoting sustainable waste management practices in Indonesia.
During a presentation at the 2023 Hannover Messe in Hannover, Germany, on April 18, 2023, Wicaksono revealed that OIKN had received an impressive number of 182 submissions of letters of intent (LOIs) from business entities across 16 countries as of April 10, 2023. These LOIs demonstrated investment interests in various sectors, including 22 in technology, 21 in energy, 15 in education, 15 in housing infrastructure, and several others in health, waste management, office buildings, and other sectors. This significant level of interest reflects the growing confidence of international investors in Indonesia's potential and underscores the nation's attractiveness as a destination for foreign investments.
The collaboration between OIKN and Envirol marks a significant milestone in the development of Nusantara's waste management infrastructure. With the support of a renowned UAE-based company like Envirol, Indonesia is poised to make significant strides in creating a sustainable and eco-friendly future capital. This collaboration also highlights the ongoing efforts of the Indonesian government to attract foreign investments and establish strong partnerships with international entities, contributing to the country's economic growth and development.
Sourced from ANTARA news