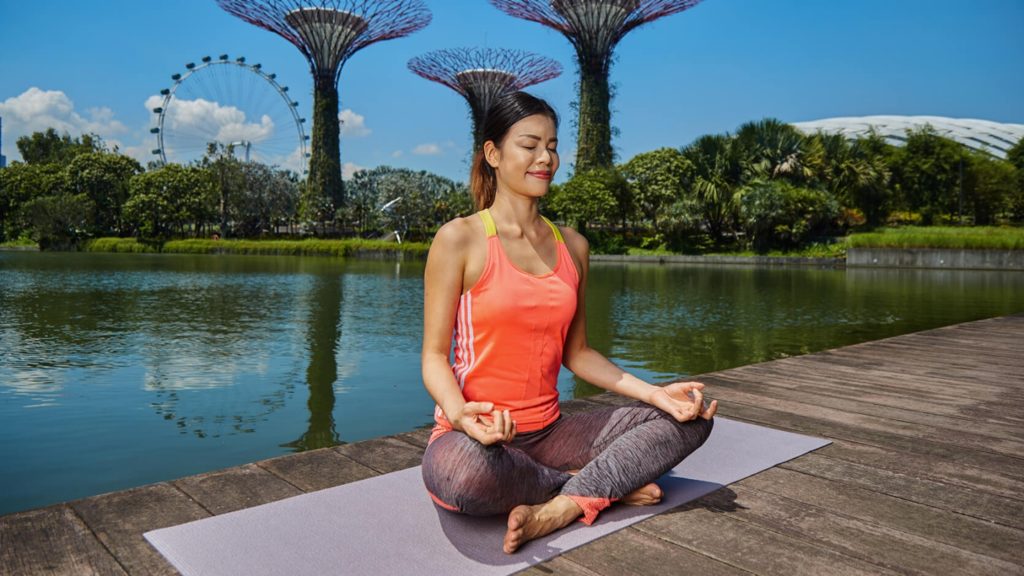 At the first-ever Wellness Festival Singapore, you could meditate, exercise, and discover novel approaches to wellness through multisensory exhibits and interesting workshops. Wellness Festival Singapore will happen from 3 – 12 June 2023
Through more than 120 events and installations, you can learn about and put physical, mental, emotional, and lifestyle well-being into practice at this island-wide festival. Here's a sneak preview of what to expect. At the inaugural Wellness Festival Singapore (WFS), you can recharge, rejuvenate, and refresh physically, mentally, and emotionally.
Engage The Senses
You can't miss The Wellness Sensorium, a multi-sensory pop-up amongst nature in the city. The Meadow at Gardens by the Bay will be transformed into a vibrant wellness space, complete with six zones offering innovative and Instagrammable experiences. From participating in the mindful and collaborative Stone Ritual to finding immense calm in the atmospheric Light and Sound Bath, there are a variety of ways to experience wellness
Discover even more ways to live well through a series of free, daily programs at the Masterclass Studio. Programs include slow-stitch meditation with textile artist Agatha Lee, a nutritional cooking workshop that celebrates local flavors with nutritionist Charlotte Mei and food content creator Sarah Huang Benjamin, and much more.
Go for an island retreat
Have a getaway without going away with Sentosa's Zentosa Fest.
The island will be transformed into a wellness retreat with a slew of programs, beach activities, and more throughout the month of June. Shed the stresses of urban living at the Stress Stop at The Southernmost Point of Continental Asia, and learn healthy ways to refresh your every day with masterclasses, sports workshops, and more at Palawan Green.
Break a sweat
Get moving at the Wellness Festival Weekend @ Jewel! in the airport's serene Shiseido Forest Valley, set against the backdrop of the Rain Vortex.
Look out for exclusive classes covering spin-cycling, K-pop-led workouts, and even a mass Taichi workout with SEA Games Gold Medallist, Lee Tze Yuan.
Explore new ways of wellness
Recentre yourself with yoga classes aboard a luxury tall ship with Royal Albatross, up in the air at the Singapore Flyer, within the peacefully pink Museum of Ice Cream, or amongst historical buildings in Chinatown and Collyer Quay with Urban Yogis.
Learn about holistic treatments like equine therapy at the Singapore Turf Club, Ayurveda in Little India, forest bathing among lush greenery at Jewel Changi Airport, and somatic movements inspired by Singapore's different cultures at the National Gallery. There's something for everyone, no matter what you're into.
Get the family together
It's never too early to learn how to live well. This coming June holidays, bring the whole family on health and wellness adventures islandwide. Slow down and immerse yourselves in farm life at Hay Dairies, where you can learn about local agriculture, have a farm-to-table dining experience, and even meet and feed farm animals.
Cultivate wholesome mental health habits through play and other activities like creating calm jars and picking affirmations. Then, take part in wellness talks and workshops that span nutrition, mindfulness, Traditional Chinese Medicine, and more with COMO Shambhala.